When you are ready to upgrade your vehicle, you will need to decide what to do with your current car.  Or, maybe you just want to sell your current vehicle.  There are plenty of articles detailing the pros and cons of a Private Sale versus Trade-in; and recommending one over the other.
What most of the articles don't tell you is that you have other options.
They also don't tell you how to get the most out of your car, regardless of the year, make, and model.
Additionally, not all car buyers are purchasing cars from dealerships.
What if you buy a car from a private party or an online service?
Is a private party sale your only option?  No, there are others.
There are several methods you can use to sell your current vehicle.  This can include purchasing a new one or be an independent sale.
Assess the vehicle:
The first step, before deciding what to do with your current vehicle, is to assess its condition.  The best candidates for a private sale are vehicles in decent condition with plenty of life left, but not worth over $10,000.00.  We'll go over why later.
Cosmetic Condition:
Honestly assess your vehicle's cosmetic condition, inside and out.  Cleanliness at this point is not important, just assess the overall condition.
Exterior:
Paint – What condition is the paint in?  Is it peeling and chipping or will it look new after a wax?
Body – Is there damage? Minor dents and scratches?
Wheels – Aluminum wheels show wear if not cleaned regularly.
Interior:
Seats – Are there rips and tears?  Well worn or like new?
Dash – Are there cracks and are buttons worn?
Carpet – Is the carpet worn and stained or well taken care of?
Steering wheel – Mileage and neglect show on steering wheels.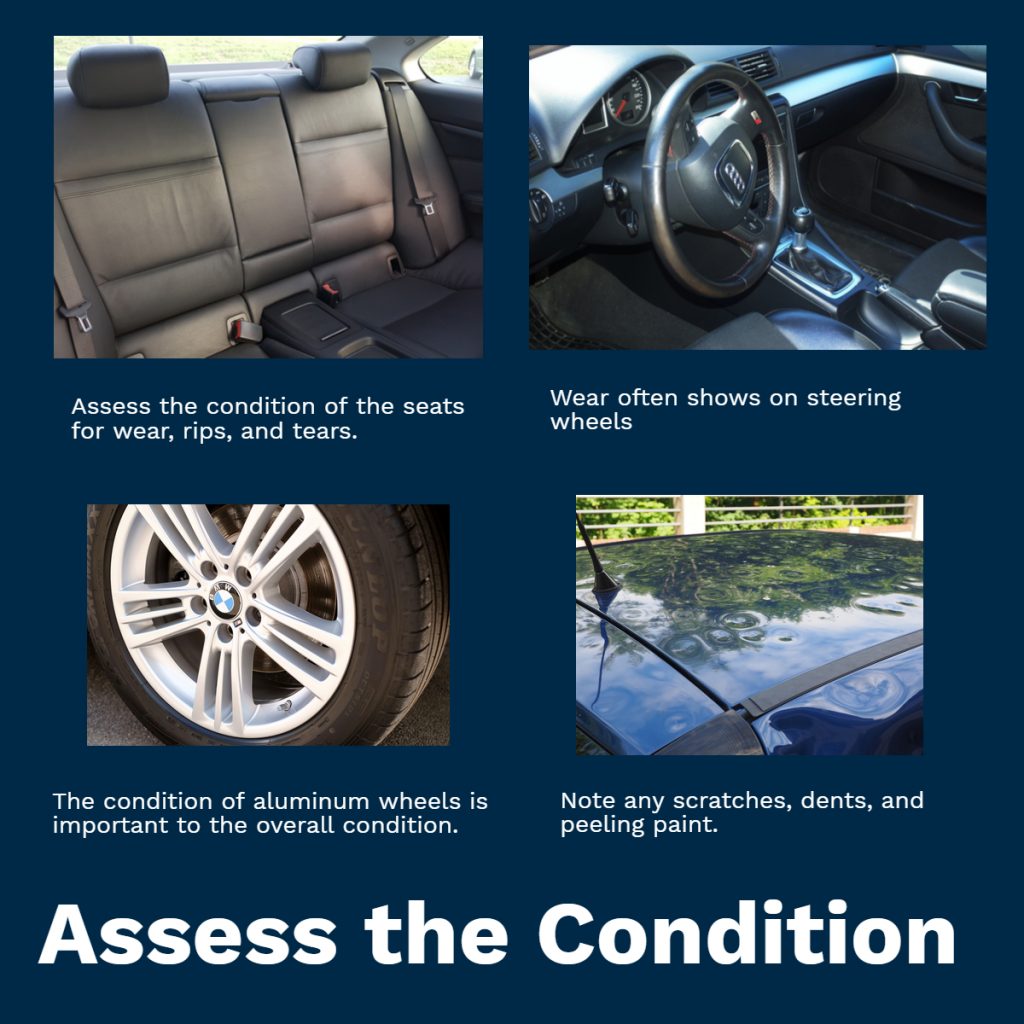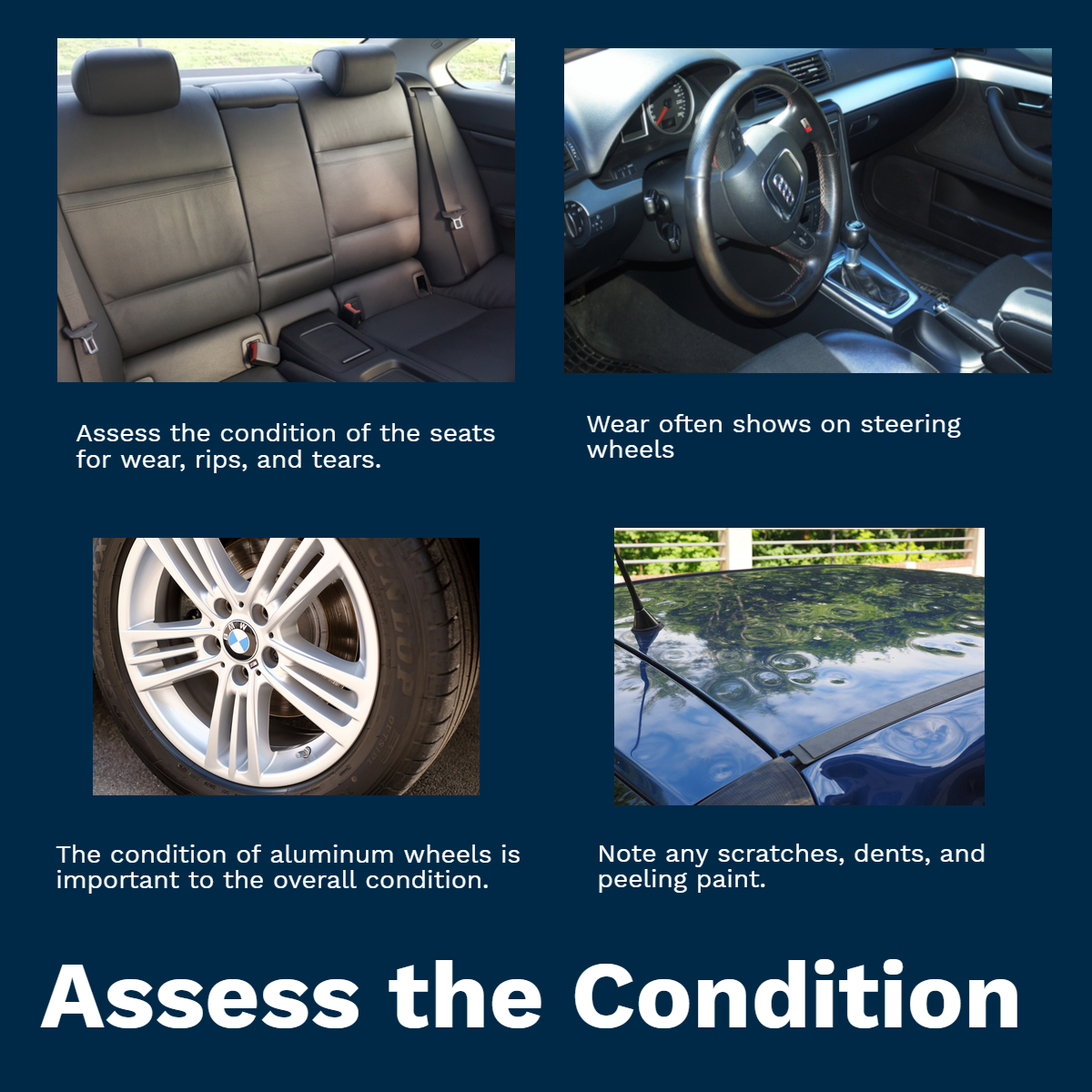 Mechanical Condition:
Next you will need to assess the mechanical condition.
Are you upgrading because you know the vehicle needs maintenance that you don't want to perform?
Does the vehicle need repairs to pass inspection?
Or is it in great shape with all maintenance records?
Vehicle History:
Check your vehicle's history report.  This is an important step some people overlook.  A vehicle's history report is an important factor in determining the value.  You can use carfax or autocheck, and pay a fee, or get a free vehicle history report.  Review the report to find out if there is any negative information (salvage history, accidents, mileage discrepancies, etc.).
Assessment Table:
The following table shows the general condition factors for the vehicle interior, exterior, mechanical, and history. Use the table to get the overall condition of your vehicle to use when determining the value.
 
Vehicle Condition (Cosmetic, Mechanical, and History)
Condition Factors:
Excellent
Very Good
Good
Fair
Poor
Interior
Like New condition
No rips, tears, and can be reconditioned
Minor wear
Some rips tears, steering wheel worn
Significant wear and/or damage
Exterior
Like New condition
No major scratches or dents, wheels look new
Minor scratches and dents, minor wheel wear
Scratches, dents, and paint fading
Body damage, paint damage
Mechanical
Like New Condition
No mechanical work needed, everything functional
No major mechanical problems.
Needs some mechanical work.
Needs a major repair.
Vehicle History
Clean vehicle history, one owner no accidents.
Clean vehicle history, no accidents.
No salvage, flood or fire damage.
Vehicle history shows accidents.
Salvage, flood, fire, or other problem.
Use the table to determine your vehicle's condition.
Value the Vehicle:
Now that you have the vehicle's condition and history you can get an estimate of the value.  There are a few ways to do this. Some of the most popular are kbb, autotrader, and edmunds.  I prefer kbb car valuation because it will give you a range for both trade-in and private party, and will show you listings of other vehicles for sale near you and how they are priced.  You will want to get two values, the trade-in value and the private party value.
Keep in mind, this does not take into account the vehicle's history.  If you ran a vehicle history report and came up with salvage, flood, or other serious issue this will negatively affect the value. For now we will assume the history report is ok.
Vehicle Sale Methods:
It is time to choose the sale method.  The most common methods that we have already mentioned are dealer trade-in and private party.  We'll go over the details of how to get the best price in each method in the Selling your Car section below.
The following is the full list of sale methods:
Trade-In
Private Party
Car Buying Service
Independent Dealer
Consignment
Mechanics
Family and Friends
Donate
Trade-In:
This one is obvious and provides the lowest price and the most convenience.  The only thing you need to do is bring the car with you when you buy your new one.  If you choose this method, make sure you get the best deal for your trade-in.  Unfortunately, this is not always the best option; and in some cases is not an option at all.
Private Party:
A private party sale will, most of the time, net you the most money for your car.  This method requires the most time and effort, and there is no guarantee that you will net more than the other methods.  This is why it is important to choose the most appropriate method.  We go over this in the next section.
Car Buying Service:
There are several companies that specialize in buying used cars.  One of the most well know is Carmax.  Autotrader and KBB also have services that provide you with a quote, usually from a local dealer.  This requires slightly more effort than trading your vehicle in, but may result in a slightly better price than trading it in. These buyers will usually resell the car at wholesale value and need to make a profit to stay in business.
Independent Dealer:
All independent dealers buy and sell cars.  Some only buy cars from wholesalers, others operate as wholesalers themselves (meaning they purchase their own inventory and wholesale their inventory that doesn't sell quickly).  Many of them will purchase your car from you for more than the offer you get from Carmax or KBB.
Consignment:
Some car dealers will sell your car for you for a fee.  This is a great alternative to a private party sale if you do not want to deal with the hassle.  The dealer usually charges a flat fee and does all the work for you.  They sell the car at retail (or as close as they can get), take their fee, and you get the sale price minus the fee.
Mechanics:
Auto mechanics that do not have dealer licenses are not allowed to sell cars in most states.  However, they usually know someone looking for a car or they may be looking for a car themselves.  Before selling your car, let your mechanic know you are selling it.  If you are selling it because of a big repair they may be interested in purchasing it and fixing it themselves.
Family and Friends:
If you car is in good shape and you have taken good care of it, let your family and friends know you are selling it and ask them if they know anyone that is interested in purchasing it.  It is best to get an offer first from one of the buying services, and let them know what the offer is.
Donating:
There is also the option to donate the vehicle for a tax deduction.  The vehicle is auctioned, and you get to claim the auction sale price as a deduction.  This method doesn't net much, but for an older car that isn't worth much it may not be a big difference. And, your helping a charity out.
How to choose the best sale method:
Now we know the vehicle's condition, value, and the sale methods that are available, which one do we go with?  Each has their pros and cons, but I like to take all of the circumstances into account before deciding.
Vehicles in excellent condition with low mileage are great candidates for consignment or private party sale.  On the other end of the spectrum, vehicles in poor condition with high mileage are not worth much and trading them in may be the only viable option.
I use the following table to narrow down the options:
 
Vehicle Condition (Cosmetic and Mechanical)
Mileage:
Excellent
Very Good
Good
Fair
Poor
Less than 50K
Consignment/

Private Party

Consignment/

Private Party

Private Party/

Independent Dealer

Trade-In/

Car Buying Service

Trade-In/

Car Buying Service

50k – 100k
Consignment/

Private Party

Consignment/

Private Party

Private Party/

Independent Dealer

Trade-In/

Car Buying Service

Trade-In/

Car Buying Service

100k-150k
Consignment/

Private Party

Consignment/

Private Party

Private Party/

Independent Dealer

Trade-In/

Car Buying Service

Trade-In/

Car Buying Service

More than 150k
Independent Dealer/

Car Buying Service

Independent Dealer/

Car Buying Service

Independent Dealer/

Car Buying Service

Trade-In/

Donate

Trade-In/

Donate
Once I have the options narrowed down I weigh the pros and cons of each.
Trade-In versus Car buying service:
When you have to choose between trading the vehicle in and selling it to a car buying service, the first thing I suggest is getting an offer from Carmax and one from one of the online services (Autotrader, KBB, etc.).    This gives you an idea of what the car is really worth.  Bring this offer with you to the dealership when you purchase your new car.  Negotiate your offer for your new vehicle and have them appraise and value your trade-in.
If they offer you more than the other offer, than it is a no brainier.  Simply trade the car in and you're done.
If they offer you less, show them the offer and ask them to beat it.  If they at least meet it (or come close enough that it is not worth the hassle of taking the vehicle with you) trade-it in and you are done.
Purchase your new car and sell your car to the company that made you the higher offer, if the dealer will not match it.
Private Party versus Consignment:
If you have the time and don't mind showing the car, then I would recommend selling it yourself.  This will net you the most money most of the time, and the worse case scenario is, if you don't sell it quickly, and run out of patience, simply take it to a car buyer.
The one exception to this is if the vehicle is worth more than $10,000.00.  I mentioned this in the beginning for a few reasons.  Most buyers do not have $10,000.00 cash to spend on a vehicle, meaning they will need to secure financing. This is not necessarily a deal breaker; but it may add to the time it takes to sell the car.
Also, you will need to keep your vehicle registered, insured, and pay property taxes, while you sell it to allow buyers to test drive the vehicle.  This tends to be more expensive on vehicles worth over $10,000.00.
Additionally, there are scam artists who try to take advantage people selling higher dollar vehicles.  I'm not saying you will fall for one of them, but this combined with the other reasons, for me, makes consignment the right choice here.
Independent Dealer versus Car buying Service:
To choose between Independent Dealer and a Car buying service, the first thing I do is get an appraisal from Carmax or other buying service.  Next, call a few independent dealers and ask if they are interested in purchasing the vehicle.  Most of the time you can find an independent dealer willing to pay more than the appraisal from Carmax.  Depending on the vehicle, the difference can be significant.
Conclusion:
Before making a decision, it is worth taking the time to do some research.  Sometimes the best option is one of the less common ones.  Vehicles continue to increase in cost, and some depreciate faster than others.  Weigh all your options when selling your car and choose the method that best fits your needs.