Car title loans can be, and often are, expensive forms of credit. The fact that interest rates and total loan costs for these loans can and often do vary widely from lender to lender means that some borrowers may end up with very expensive loans. This leaves many borrowers asking how to refinance a title loan to save on repayment costs.
While these loans are meant for very short terms, some lenders are making longer term high interest loans. Add these two things together and costs can get excessive as shown in the title loan costs article.
Part of the reason this happens is that many times these loans are used for urgent and emergency expenses. Often borrowers perform a simple web search for title loans near them and rush to the closest title loan place without exploring other lending options.
The urgent nature of the unplanned expense can override the thought of taking time to find the best possible title loan. Sometimes borrowers don't take the time to read the loan agreement in full and in some cases regret entering into a loan agreement with unfavorable terms.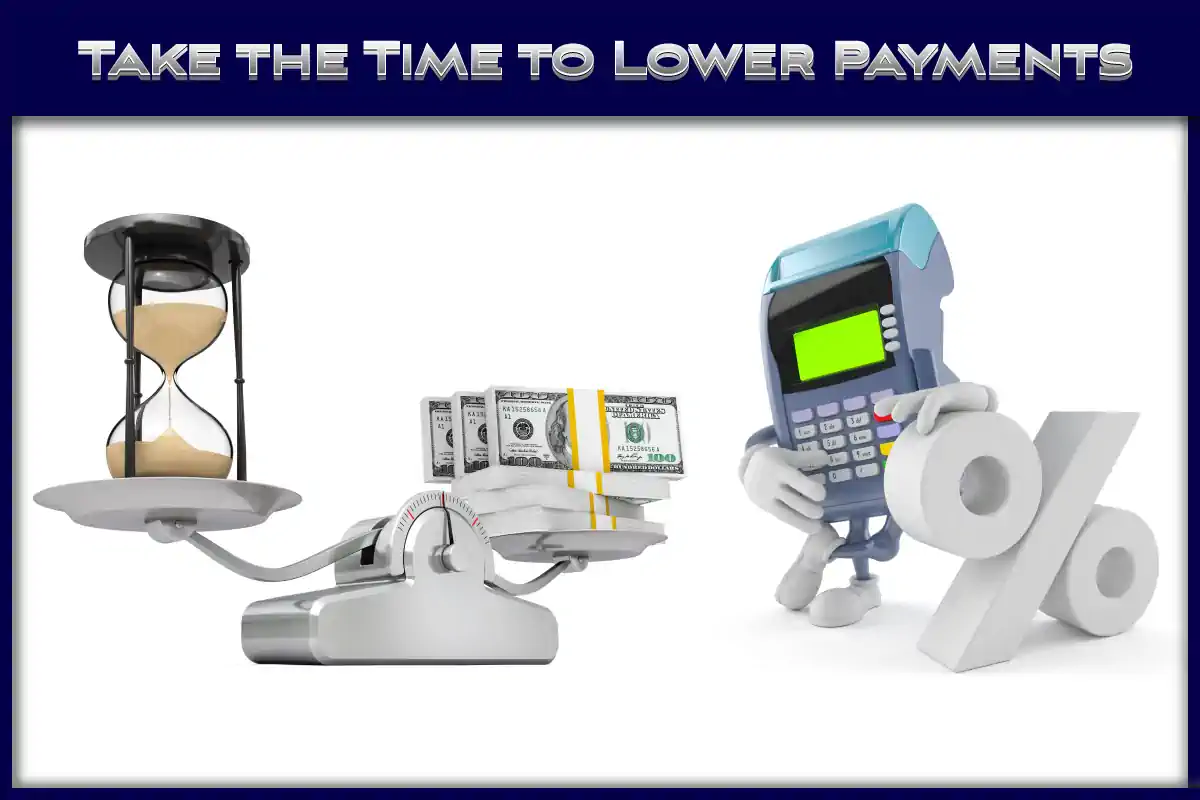 This can and often does lead to rushing into the loan without fully examining the repayment terms. In fact, unfortunately some lenders count on this.
In the worst cases this results in a very expensive loan with excessive interest charges. This can make the loan very difficult to repay and is not a great position to be in as a borrower.
Getting stuck in one of these loans can cause financial difficulties, especially if the loan is for more than a month or two. Finding a way to reduce the cost is important.
One way to do this is to consider a title loan refinance. This is where you can take the time needed to find the best solution. First we need to know if refinancing is even an option.
Can I Refinance my Title Loan?
A common question for borrowers that did rush into a high interest loan is can you refinance a title loan? The answer is yes, you can refinance a title loan as long as your state permits it. There are also other options like an auto equity loan in some situations where refinancing may not be available.
This is good news for those that may have rushed into the title loan place closest to them without thinking about repayment costs. There is a way to lower your payment if you rushed into a title loan with a very high rate. If you still own your vehicle a title loan refinance is an option.
Refinancing a High Interest Title Loan
Getting stuck in a high interest title loan is not ideal. Finding out you've spent months paying hundreds of dollars a month and still owe as much as you borrowed can be very frustrating.
One way to reduce your monthly payment, and total interest charges, is to refinance your title loan. If you do so with a lower rate, and a better title loan company, the savings can be significant.
Refinancing a car title loan can save hundreds of dollars a month. It is important to note that not all states allow car title loans to be refinanced. Each state has different rules and regulations about how title loans can be refinanced.
How to get a Title Loan Refinance
Getting a title loan refinance is similar to getting a title loan. The process and requirements are very similar, so if you have already been through the process once then refinancing should be fairly easy. We suggest following the same steps:
Prepare for the loan,
Find the best title loan company,
Meet the requirements,
Apply online,
Complete the agreement, and
Get the loan funded.
If you rushed into your first loan, now is the chance to take the time needed to make sure you get the best deal possible. Preparing properly will hep ensure this is the case.
---
---
Preparing for the Title Loan Refinance
If you've read any of our information about getting a title loan then you are already aware of the emphasis we place on preparation.
Proper preparation, especially for online title loans, helps ensure you make the best decision for your situation as well as reduces the chance of unnecessary delays.
Part of this preparation is making sure you meet the requirements. For refinancing a title loan the first step is a bit different. Instead of making sure the title loan is worth it we suggest making sure refinancing the title loan is worth it.
Title Loan Refinance Requirements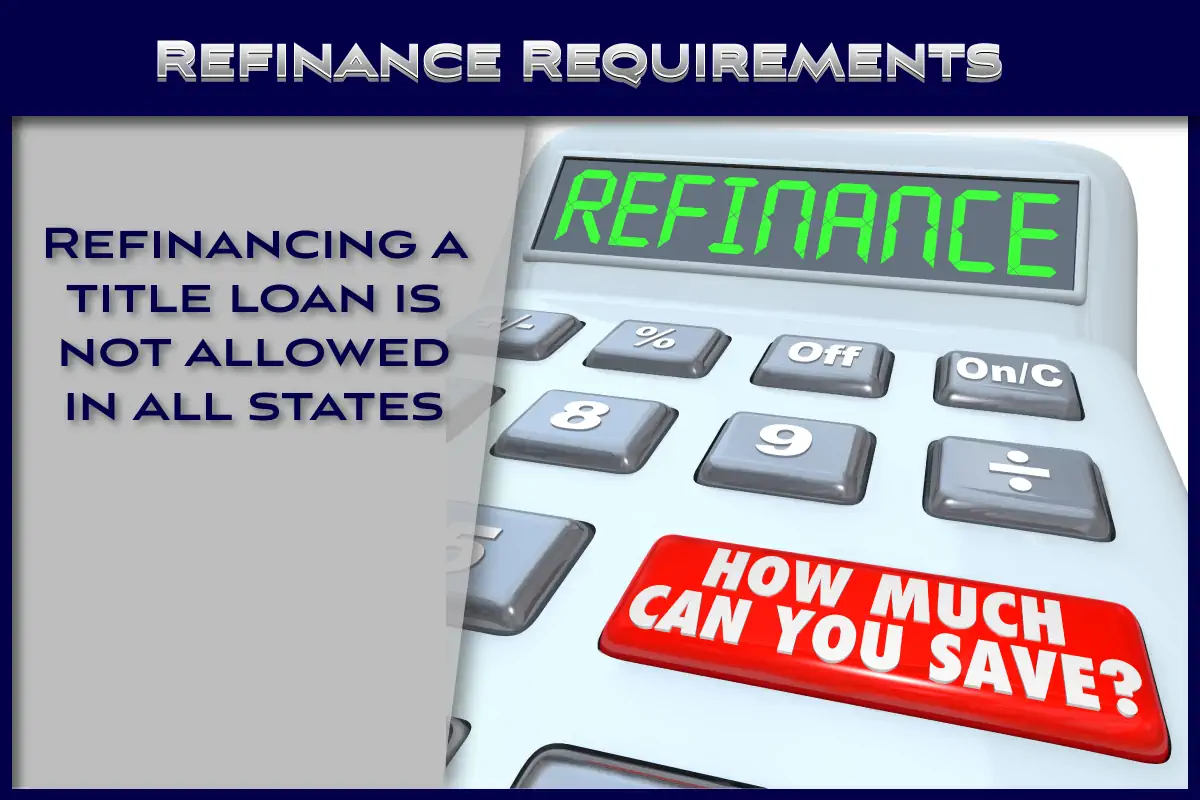 To refinance a car title loan, you will usually need to meet some general requirements.
You will need to still own the vehicle, provide proof of insurance, proof of income, and a valid drivers license. To see if refinancing your title loan is an option, simply find a lender with a lower rate and contact them.
The refinancing requirements for a car title loan are very similar to the requirements when you initiated the loan. Depending on the state, there may be a requirement to have paid some portion of the loan back.
Finding the Best Title Loan Company
The other part of preparation is finding the best title loan company. In the case of a title loan refinance this is the company that will provide you with the best deal based on your current and future needs. A couple of questions to consider are:
Are there addition funds needed, or a simple refinance?
Which lender can provide the best deal (largest savings)?
Take some time and inquire with several title loan companies and find the one that offers the best deal for your specific requirements.
Apply Online and Complete the Refinance Agreement
Once you've prepared, confirmed you meet the requirements, and found the best deal, then simply apply online for the title loan refinance. You will usually be approved quickly.
After approval you'll be presented with a title loan agreement to read and sign. Make sure to read the agreement in full and ensure you understand all terms and conditions.
What if my State doesn't allow Refinancing?
If you live in a state that does not allow you to refinance your title loan you may need to close out the current loan before getting another title loan. Find out how to get a title loan while still making payments.
If you are stuck in a very high interest loan and want to lower your payments, first get a few quotes from other lenders. Use these quotes to determine how much you can save with another title loan with a lower rate.
If the amount you can save is significant, consider asking a friend or family member to lend you the money to close out the current loan so you can open a new loan at a lower interest rate.
Title Loan Refinance Payment Dates
Some title loans have payment dates that do not necessary coincide with paychecks. One advantage of refinancing your title loan is you can do so with a date that is more convenient.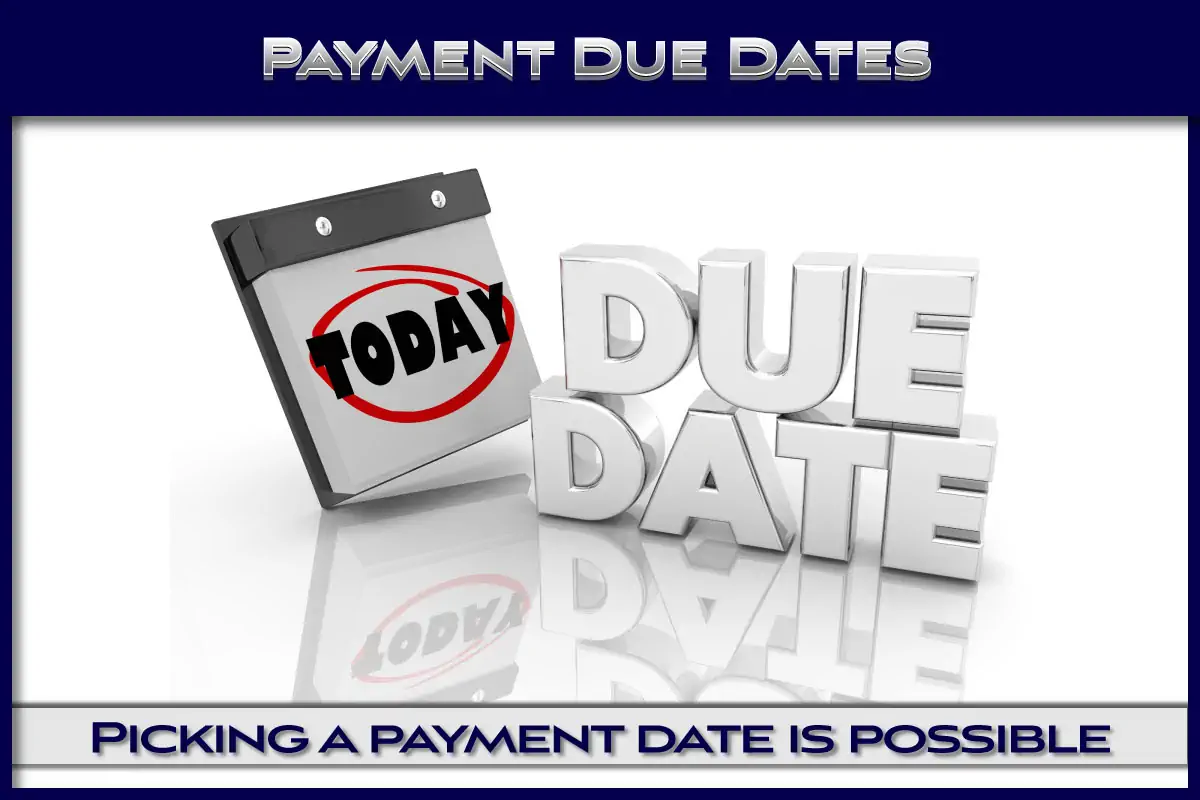 Sometimes it can be easier to pick a date to complete the process that lines up with your typical pay period. This can make it more convenient to make your payments on time.
Finding the Best Title Loan Refinance Company
Just like with getting a car title loan, the lender is an important part of refinancing your title loan. Take some time, do you research, and choose a lender that best meets your needs.
If the reason you need to refinance is because you rushed into a title loan with the nearest lender, then don't make the same mistake. Find one of the best title loan places and contact them about refinancing your loan.
Car title loans often have a bad reputation. Unfortunately, the actions of some lenders have gained title loans this reputation and is not representative of the entire industry.
There are plenty of good lenders. Finding a title loan with better rates and terms is possible. With the urgent expense out of the way take the time needed to find the best solution and always read the loan agreement in full.
Online Car Title Loan Refinancing
Car title loans online are becoming more available to many consumers in many different states. These allow you to complete the process online versus in-person.
A car title loan refinance can also be done online; assuming it is permitted in your state and online title loans are available in your state.
Before applying, figure out how much your current balance is, and the amount you want to refinance for. In some cases, you can get a loan for more than the current balance depending on the equity in your vehicle.
Then, simply apply online with the lender to start the process. There are several types of online title loans including same day and 24 hour title loans as well as online title loans with no inspection and no store visit.
Summary
Rushing in to a title loan can often lead to a very high interest loan with terms that are not optimal for the borrower. It may be possible to refinance your title loan at a lower rate.
This is certainly worth looking into if you feel like you are overpaying for your current title loan.
Additional Questions
Can you Refinance a Title Loan?
Yes, in many cases refinancing a title loan is possible. This depends on several factors including the state, existing loan balance, and vehicle value.
How do you Refinance a Title Loan?
To proceed with a title loan refinance simply find the lender you want to do business with, apply online, and complete the process.
What is my Car Worth?
Vehicle value is a key detail in determining whether or not you can refinance a title loan. Title loan amounts are based on vehicle value. Figure out what your car is worth.
Is Refinancing a Title Loan Worth It?
The fact is refinancing a title loan is worth it in some cases and in others it's not. Making the decision to move forward depends on how much you'll save.