A car title loan is a unique way to borrow money using the equity in your vehicle. Considering the fact that the vehicle is used to secure the loan, this makes the vehicle itself a key aspect in obtaining the loan.
In fact, the maximum allowable loan amount is usually based on a percentage of the value of the vehicle. This makes knowing the value of your vehicle important to know when getting a car title loan.
Title loans are typically limited 50% of the vehicle's fair market value. This percentage can vary, depending on the lender and the state.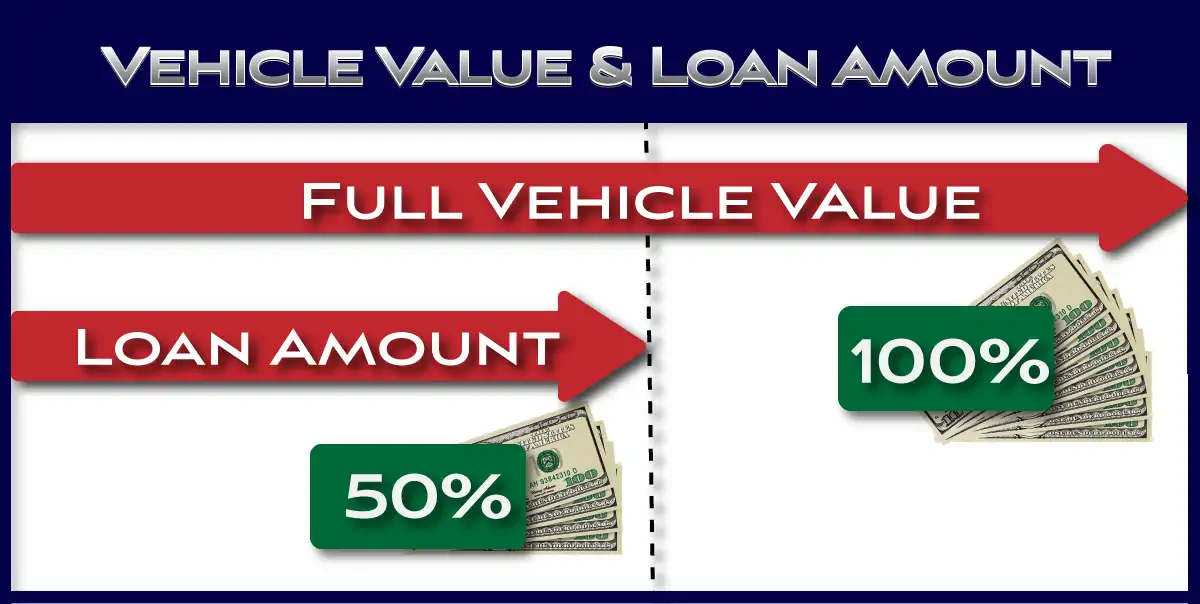 Regardless, the amount you can borrow is usually based on the value of your vehicle. So getting an idea of your car's value is an important part of getting a car title loan. Vehicle values have risen significantly in the past year, making the max loan amount higher for most borrowers.
What is my Car worth for a Title Loan?
Traditional car title loans, or loans from a storefront title lender, simply require a short visit to get the cash you need using the equity in your vehicle. These are available in many states and are an option for borrowers that want to visit a lender.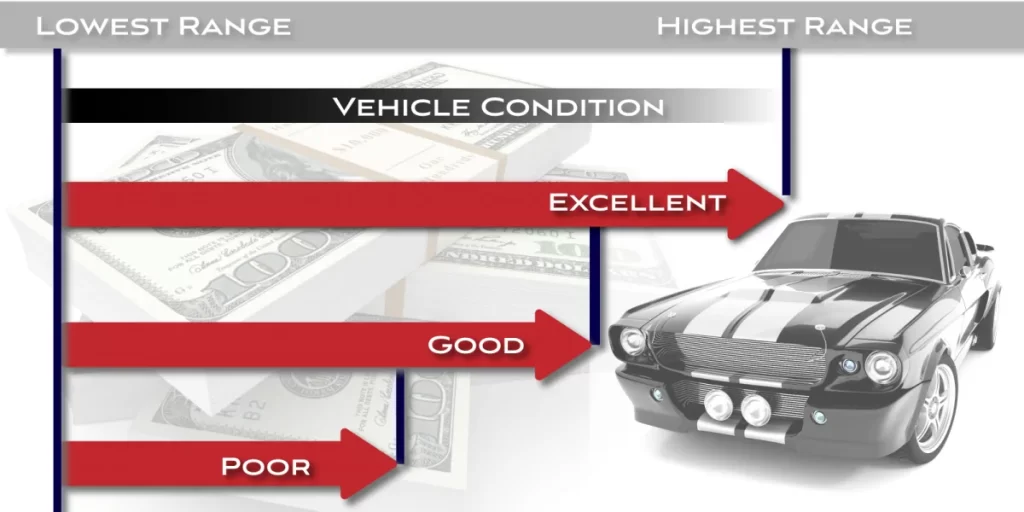 Online title loans, however, are growing in popularity and availability. These loans do not require a visit to lender. The entire car title loan process can be completed 100% online.
For these loans, and any title loan for that matter, it is a good idea to determine the value of your vehicle before applying. This provides several benefits including:
Gives you an idea of what you can borrow
Allows you to plan for your loan
Provides information to evaluate the lender
Can help determine if the vehicle will support your loan amount
Before applying for a car title loan online it is a good idea to value your vehicle so you know what to expect. This will help prepare for the loan.
How to Appraise your Vehicle for a Title Loan:
When you apply for a title loan, before getting approved for a maximum loan amount the lender will perform an appraisal. To get ahead of the lender and get an idea of what you may be able to borrow you can perform a self appraisal.
In fact, we recommend doing so to make sure that the lender's assessment is accurate. This is especially important for title loans online where vehicle pictures are used instead of an in person inspection.
To determine a vehicle's value, first let's look at the factors that affect the value and how this value is determined.
Factors that Affect Value:
The main factors that affect how much your car is worth are:
Make and Model
The year, make, and model of the vehicle. This is straightforward. Late model vehicles usually have more value than older vehicles and certain makes and models are worth more than others.
Mileage
Vehicle mileage has a big affect on the value. Higher mileage translates to lower value, and lower mileage to higher value. Some makes and models hold their value better than others as mileage increases.
Condition
The vehicle's condition also plays a major role in determining the value. Below we provide a process for assessing your vehicle's condition with how to assign the accurate adjectives.
Vehicle History
The history of the vehicle also factors into the valuation. This includes factors like number of owners, accidents, salvage history, rental use, and a variety of other data points.
Options and Equipment
Finally, any additional options and aftermarket equipment will play a role in determining the value.
Fair Market Value
A vehicle's fair market value is what the vehicle is worth today to a willing buyer. This is typically the wholesale value. Car dealers buy and sell vehicles at wholesale auctions every day.
This data is collected and aggregated to allow wholesalers to quickly place an accurate value on cars. Most title lenders have access to this today through services like Black Book.
Public Data for Vehicle Value
There are also a number of free vehicle valuation tools that are available to the public. For purposes of evaluating a single vehicle, these will work fine.
Kelley Blue Book, NADA, Edmunds, and others are fairly easy to use. These do require the condition and history of the vehicle. We discuss how to do this below.
How to Assess a Vehicle's Value
To assess our vehicle's value we will first assess the condition and history using the process and table below. Then, we'll consider any additional options and aftermarket equipment.
Following that we'll enter the data into the valuation tool. Finally we'll interpret the values the tool provides to determine the number to use for preparing for the title loan. and then use an online valuation tool.
Valuation Step 1 – Assess Vehicle Condition
An accurate vehicle valuation begins with a thorough and honest assessment of the vehicle's condition (described in detail below). Once you have the vehicle condition, simply enter the details into the chosen valuation tool.
Cosmetic Condition:
Honestly assess your vehicle's cosmetic condition, inside and out. Cleanliness at this point is not important, just assess the overall condition.
Exterior: The vehicle exterior includes the condition of the paint, body, and wheels.
Paint – What condition is the paint in? Is it peeling and chipping or will it look new after a wax?
Body – Is there damage? Minor dents and scratches?
Wheels – Aluminum wheels show wear if not cleaned regularly. Do they have chips or major flaws?
Interior: The vehicle interior includes the seats, dash, carpet, and trim.
Seats – Are there rips and tears? Are the seats worn or like new?
Dash and Console – Are there cracks? Are the buttons worn or like new?
Carpet – Is the carpet worn and stained or well taken care of?
Steering wheel – Mileage and neglect show on steering wheels.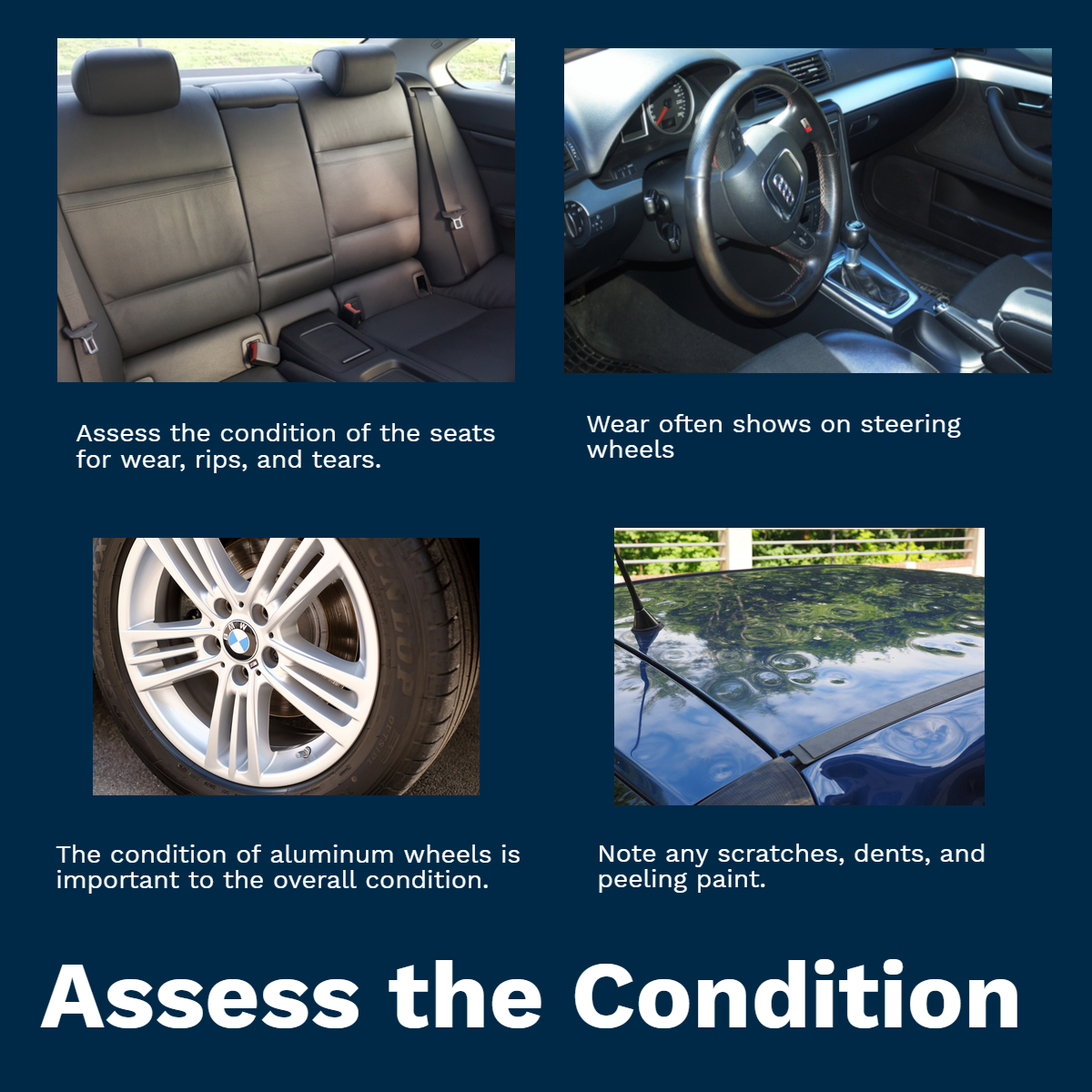 Mechanical Condition:
Next you will need to assess the mechanical condition.
Are you upgrading because you know the vehicle needs maintenance that you don't want to perform?
Does the vehicle need repairs to pass inspection?
Or is it in great shape with all maintenance records?
Vehicle History:
Check your vehicle's history report. This is an important step some people overlook. A vehicle's history report is an important factor in determining the value.
You can use carfax or autocheck, and pay a fee, or get a free vehicle history report. Review the report to find out if there is any negative information (salvage history, accidents, mileage discrepancies, etc.).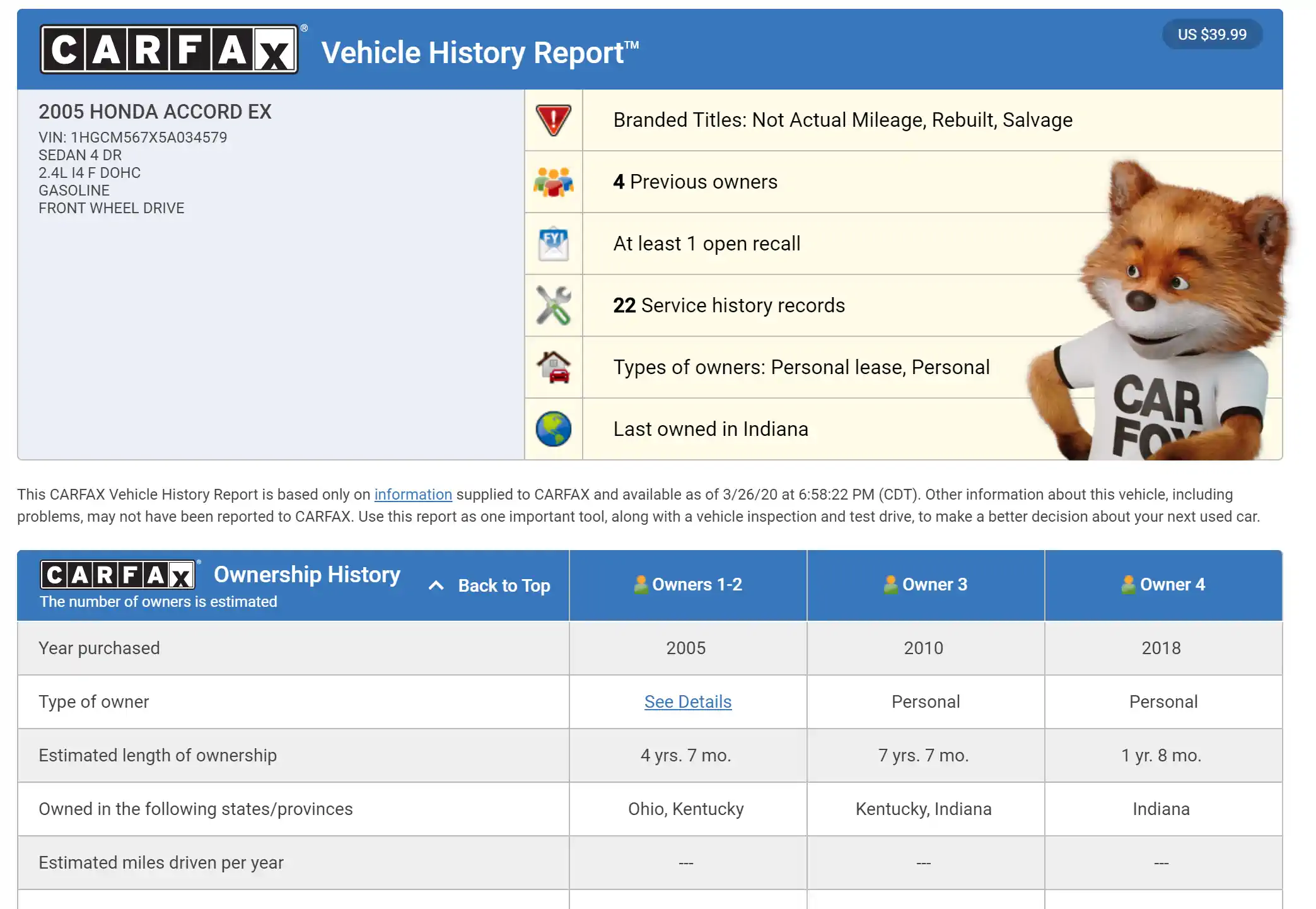 Condition Assessment Table:
The following table shows the general condition factors for the vehicle interior, exterior, mechanical, and history. Use the table to get the overall condition of your vehicle to use when determining the value.
Vehicle Condition (Cosmetic, Mechanical, and History)
Condition Factors:
Excellent
Very Good
Good
Fair
Poor
Interior
Like New condition
No rips, tears, and can be reconditioned
Minor wear
Some rips tears, steering wheel worn
Significant wear and/or damage
Exterior
Like New condition
No major scratches or dents, wheels look new
Minor scratches and dents, minor wheel wear
Scratches, dents, and paint fading
Body damage, paint damage
Mechanical
Like New Condition
No mechanical work needed, everything functional
No major mechanical problems.
Needs some mechanical work.
Needs a major repair.
Vehicle History
Clean vehicle history, one owner no accidents.
Clean vehicle history, no accidents.
No salvage, flood or fire damage.
Vehicle history shows accidents.
Salvage, flood, fire, or other problem.
Use the Assessment Table to assign a condition.
Use the table to determine your vehicle's condition. You should now have a good idea of the condition of the vehicle. You can use this to input into the online valuation tool in step 3.
Valuation Step 2 – Additional Equipment
The next step is to note any additional equipment and options. This can include non-standard options like heated seats, a sunroof, and any aftermarket equipment. Note these and have them ready to enter into the valuation tool.
Valuation Step 3 – Enter the Data
Now that you've gathered all needed data the hard part is done. Simply choose a valuation tool and enter the data. Some tools allow you to enter the VIN to confirm year, make, model, and trim.
Once you've entered all relevant required information you'll be provided with your vehicle's value. Often there are several different values depending on who the vehicle is for (retail, trade-in, etc.).
Valuation Step 4 – Interpret the Different Values
There are usually multiple values for each vehicle. These typically include:
Retail
Private Party
Trade-In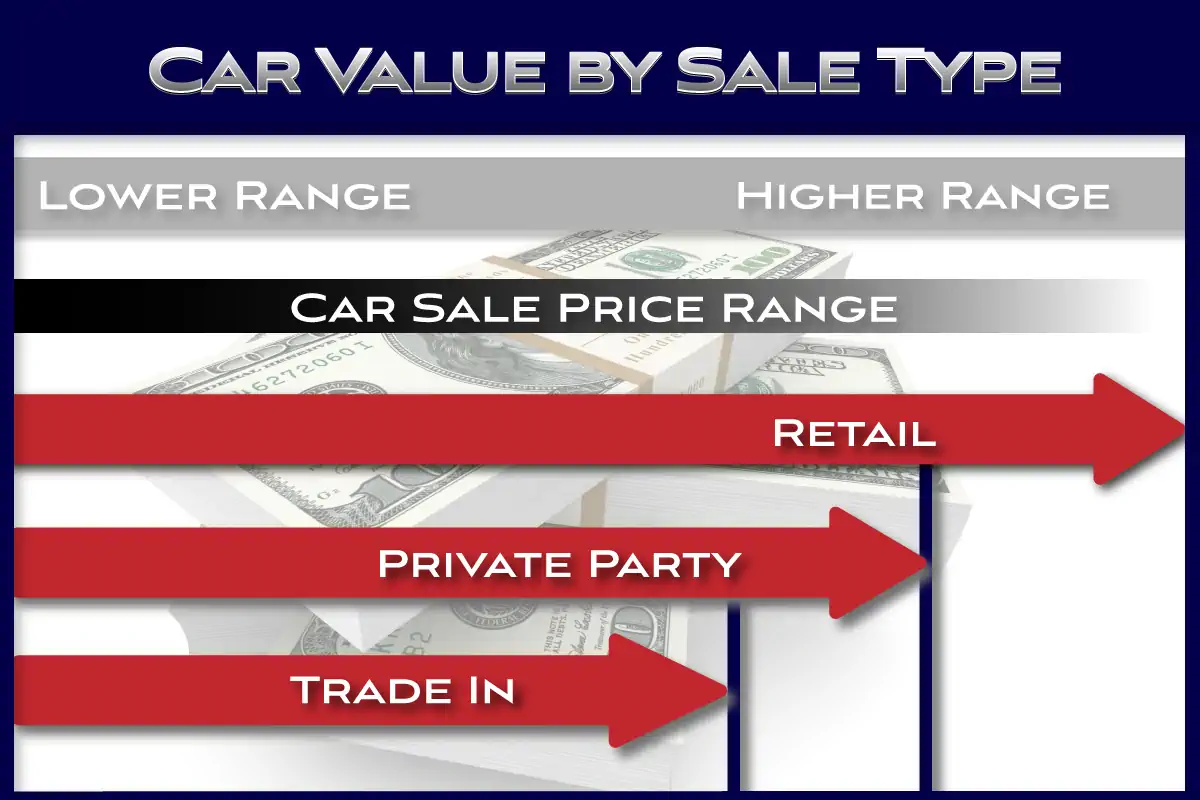 Retail
The retail value is what the vehicle would sell for at a car retailer. This value is not very useful for purposes of a car title loan for several reasons.
First, the retail value includes the overhead and profit from the dealership. It also includes reconditioning costs for preparing the vehicle for sale. This value is always higher, sometimes significantly higher, than the fair market value.
Private Party
The private party value is an estimation of what you could sell the vehicle for to a private party if you chose to do so. Again, this value is not what we want to focus on for purposes of a title loan.
This value includes the cost of preparing the vehicle for sale, placing and ad, and selling the vehicle. It is closer to the fair market value, but may be a bit higher depending on the vehicle and the tool.
Trade-In Value
For purposes of preparing for a title loan this is the value we want to focus on. This is approximately what we could get for the vehicle today if we had to immediately sell it to a car wholesaler. This does not include any reconditioning costs or other costs related to selling the vehicle.
When we discussed wholesale value at the beginning of the post, this is much closer to the trade-in value. If anything, the wholesale value may be slightly higher than the trade-in value.
This means we should be able to safely use this value when preparing for a title loan. This should provide us with an accurate minimum amount for our vehicle value.
Title Loan Amount from Vehicle Value
Now that we have a value, we can estimate the maximum amount for the title loan. Most lenders limit the loan amount to 50% of the fair market value of the vehicle. This is the also the same for truck title loans.
So, we simply take our valuation and divide it in half to get our maximum loan amount. For example, if our trade-in value is $8,000.00, then it is a safe assumption that our title loan amount will be limited to $4,000.00.
Vehicle as a Payment Method
If you've been looking for a title loan you may have noticed while they do not require a credit check, many do require proof of income. More importantly, borrowers need to have an ability to repay the loan.
As a last resort, if you find yourself without a job or means to repay a title loan, the vehicle itself can be used to repay the loan. This will involve selling the vehicle. Getting a good idea of what your vehicle is worth will help determine whether or not this method makes sense.
This means it is possible to get a title loan without income verification. Just let your lender know your back up plan is to sell the vehicle should you need to. Selling the vehicle is usually a better option than having it repossessed.
Older Vehicles
Some lenders have arbitrary year cutoffs on the car they will lend on. Others will lend on literally any vehicle. Our view is that both of these methods don't make sense. Here is why:
Arbitrary year cut-offs:
Vehicle value is not necessarily tied to a year. Some cars that are over 15 years old are still worth a significant amount of money. This is especially true if it is a luxury car, rare car, classic car, or collector car.
Simply not lending on these vehicles because of the year they were manufactured does not make a whole lot of sense. This means you can get a classic car title loan if there is enough value in the car.
Lending on any vehicle:
Other lenders will make a loan on any vehicle. Unfortunately, some vehicles just do not have enough value to lend against. Typically, these are high mileage vehicles with body damage or in poor mechanical shape. These vehicles usually will cost more to repair than they are worth.
Making a loan against them is a risk. Adding risk adds costs. Many lenders will distribute this extra risk and cost across all borrowers. We prefer the lowest rates instead. It is possible to get a title loan on an older car if it has value.
Online Title Loan Considerations
If you choose a completely online title loan, one without a physical inspection or appraisal, make sure to take that into consideration.
In these cases, without seeing the car, the lender will provide an appraisal based on the information you provide about the vehicle (i.e. pictures). They will also check the vehicle history report for anything that may lower the value
Taking clear pictures of the vehicle can make the appraisal easier. Also, make sure to find an online title loan company that can meet your requirements.
Next Steps
Now that you have an accurate assessment of what your car is worth you can prepare for a title loan. Make sure that your car is worth enough to support the loan amount you need.
Then, use the car title loan calculator to find a loan term that results in an affordable payment. Once you have found a loan amount the next step is finding a lender.
Finding the Best Title Lender
Preparation for a car title loan includes finding the best car title loan from the lender that best fits your needs. This is a critical step that is often overlooked and can save you a significant amount of money. Do you need a title loan near you? The closest lender is not always the best.
Make sure to choose a lender that is direct and upfront about what they charge and how they operate. Take the time to fully understand your options and always read the loan agreement in full before signing.
This is one of the reasons we are considered one of the best title loan companies and offer the best title loans. If you are already stuck in a title loan with unfavorable terms, consider refinancing the title loan at a lower rate.