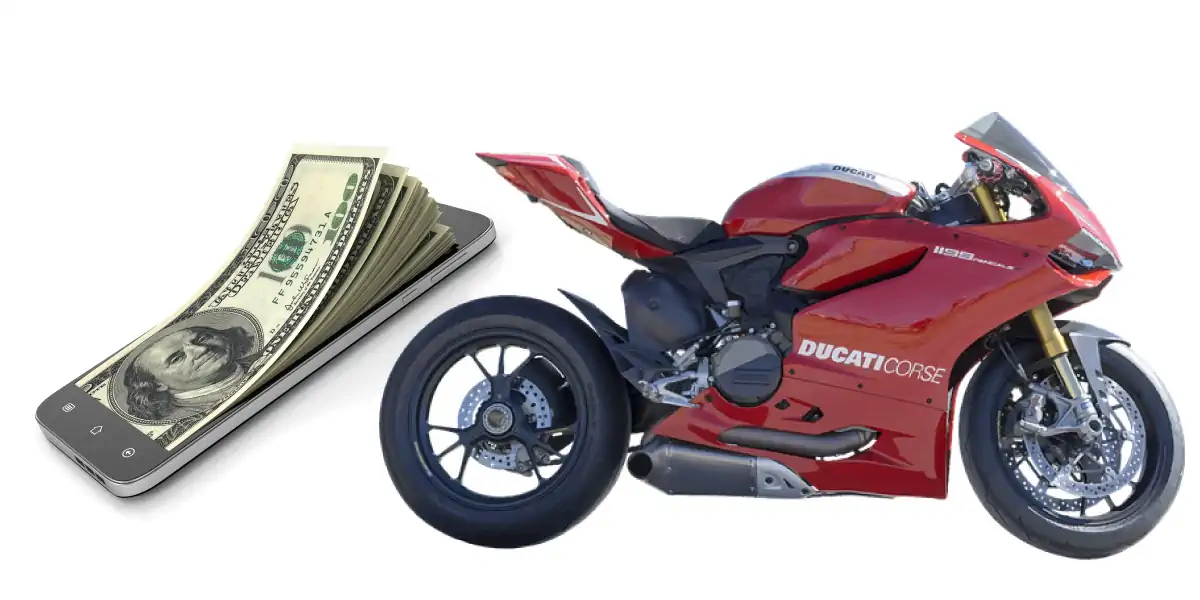 Motorcycle title loans, also know as motorcycle title pawns, are a fairly easy way to get cash quickly using your motorcycle title.  Getting a motorcycle title loan is quick and easy. Before moving forward you should understand a few important items like how they work. 
How do Motorcycle Title Loans work?
Motorcycle title loans work by providing cash using the equity in your motorcycle as collateral. This is similar to pawning your motorcycle, only with a motorcycle title loan you continue to keep and drive your motorcycle during the loan term instead of leaving it with the lender. 
This is very similar to the way car title loans work. There are two main types of motorcycle title loans:
Single payment title loans and
Monthly Installment title loans.
We'll go into a little more detail about these different types. 
Single Payment Motorcycle Title Loans
Single payment motorcycle title loans are usually for a very short period, typically 30 days. For these types of loans the entire amount borrowed, plus interest and fees, is due at the end of the loan term.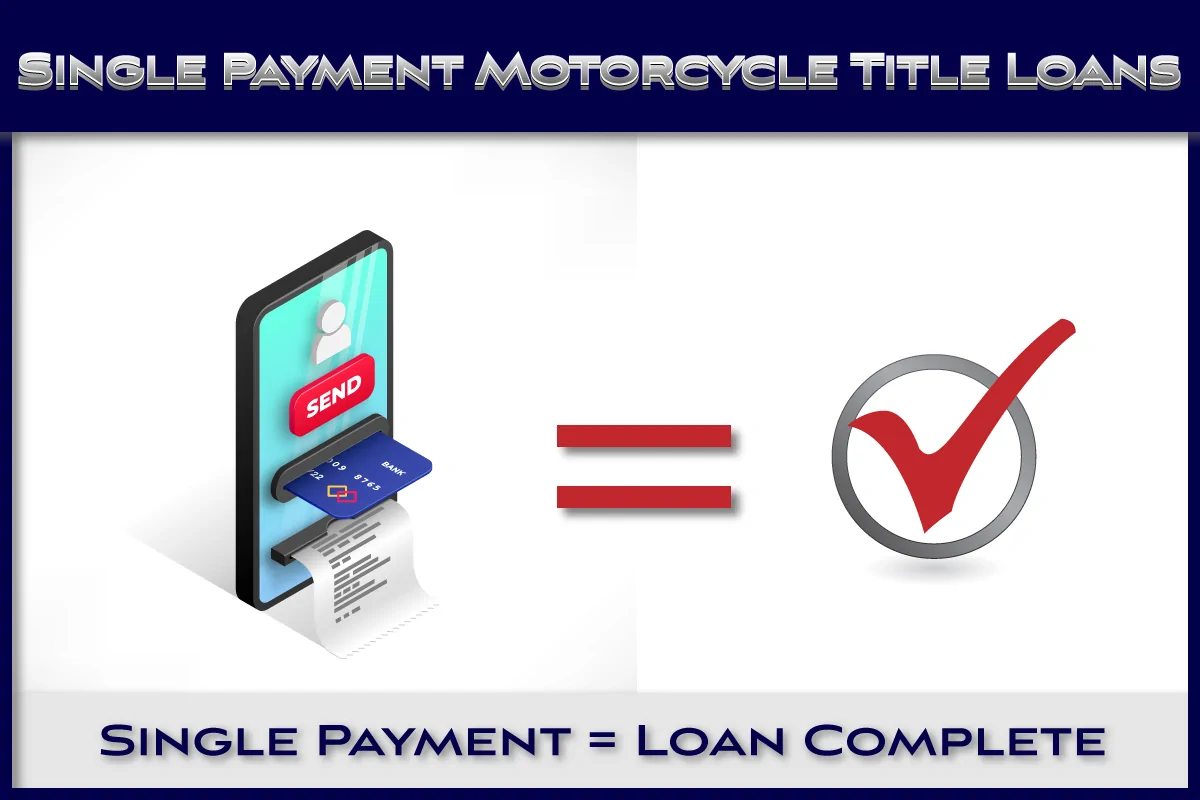 As an example, let's say you borrowed $1,000 for one month at a monthly rate of 15% with a lien fee of $20. The total due would be:
Total due = Principal + (Principal x Monthly Rate) + Fees = $1,000 + ($1000 x 15%) + $20
= $1000 + $150 + $20 = $1170.
In some cases you can roll over the loan for an additional term; although this can get costly. See why roll overs are not a great idea.
Monthly Installment Motorcycle Title Loans
The second type of motorcycle title loan is one with monthly installments. These can be anywhere from a few months to over a year. Many online motorcycle title loans have monthly installments. With these types of loans the amount is amortized over the loan term. 
Then, equal monthly payments are made until the balance is paid. Monthly installment motorcycle title loans work the same way car title loans work. They are secured by the equity in the motorcycle. 
This means if you default on the loan you may lose possession of the vehicle. This is why it is critical to borrow only what you can afford to repay.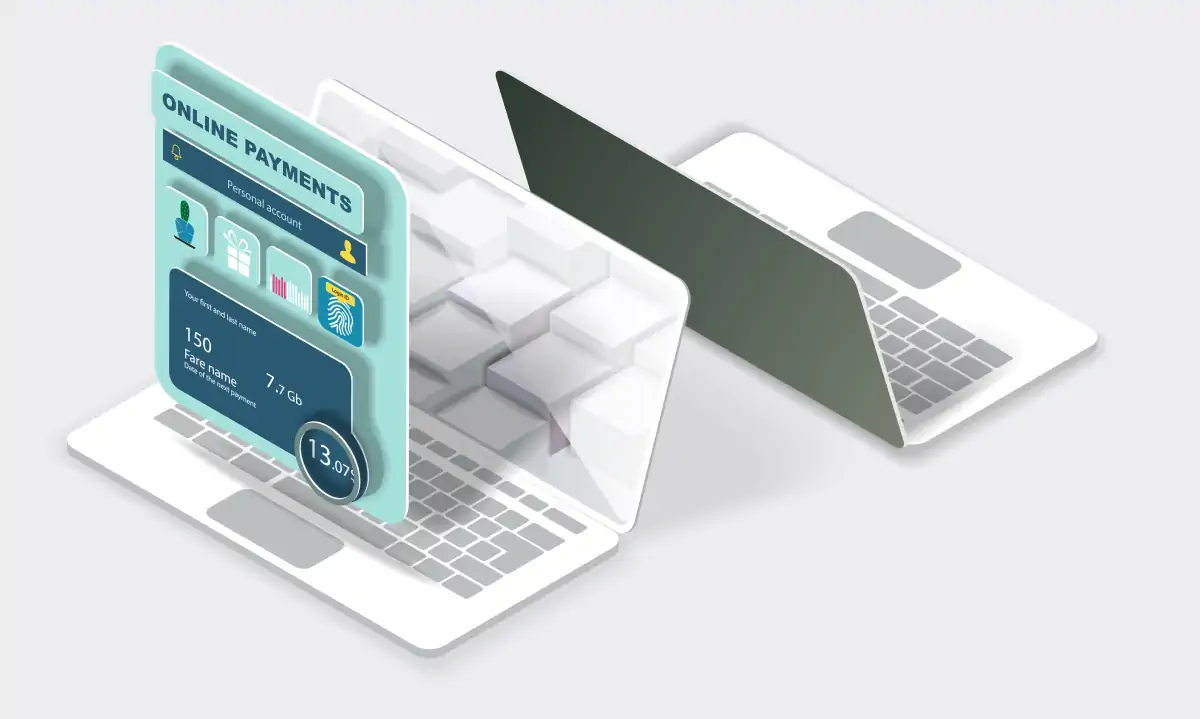 One benefit of a motorcycle title loan is that typically they are not used for day to day transportation. This means, if necessary, you can sell the motorcycle if necessary to make the payments should something unexpected interrupt your ability to repay the loan.
Motorcycle Title Loan Requirements
Motorcycle Title Loan requirements are basically the same requirements as car title loans.  These typically include:
Lien Free Title
Proof of Insurance
Valid Drivers License
Income information
Proof of Address
1. Lien Free Title
The first requirement is a Motorcycle Title with no existing liens.  This means you have a free and clear title to the motorcycle.  
You may have had a loan on the motorcycle at one time, when purchased new for example, as long as that loan has been fully paid and the lien satisfied. 
Typically, when you make your final payment, the lender will send you a copy of your title with the lien released.  
If you live in a state that participates in the Electronic Lien and Title program, the lien can usually be released online. Then, the lender send you a free and clear title.
If you have made your final payment and are still not sure if you have a lien free title, check with your finance company. 
If you have a few payments left, but are close to repaying the loan, consider a motorcycle title loan refinance. 
2. Proof of Insurance
Full coverage insurance is required for motorcycle title loans.  Motorcycle insurance is usually quite a bit cheaper than car insurance. 
As a result, if you have a motorcycle with a decent amount of equity in it, you may already carry full coverage insurance to protect your investment. 
If not, the good news is it can be added the same day of the loan simply by making a phone call to your insurance carrier. In many cases, you can also update the coverage requirements online in a few minutes. 
3. Valid Drivers License
A valid (current) Drivers License.  Make sure your drivers license is current and if you are driving a motorcycle that you have the proper license type. 
For in person loans, you will need to bring the motorcycle for an appraisal. This is not necessary for completely online motorcycle title loans with no inspection or store visit. 
There are advantages and disadvantages to these types of loans.
4. Income Information
Before getting a title loan you should come up with a plan to repay the loan. If you have no way to repay the loan then you should not be seeking it.
Many lenders require proof of income in the form of pay statements. It is, however, possible to get a title loan without income verification. This is different than no way to repay the loan.
5. Proof of Address
While there is an address listed on your motorcycle title and your drivers license, these are not always accurate. This is why some lenders require proof of address. 
Typically this can be a utility bill, insurance statement, or other piece of mail that proved you reside at the location.
How much can I borrow with a Motorcycle Title Loan?
Motorcycle Title Loan amounts are determined by two factors. The first is the fair market value of the motorcycle.  With a title loan you can usually borrow up to 50% of the vehicle's fair market value.  This is true for cars, trucks, and motorcycles.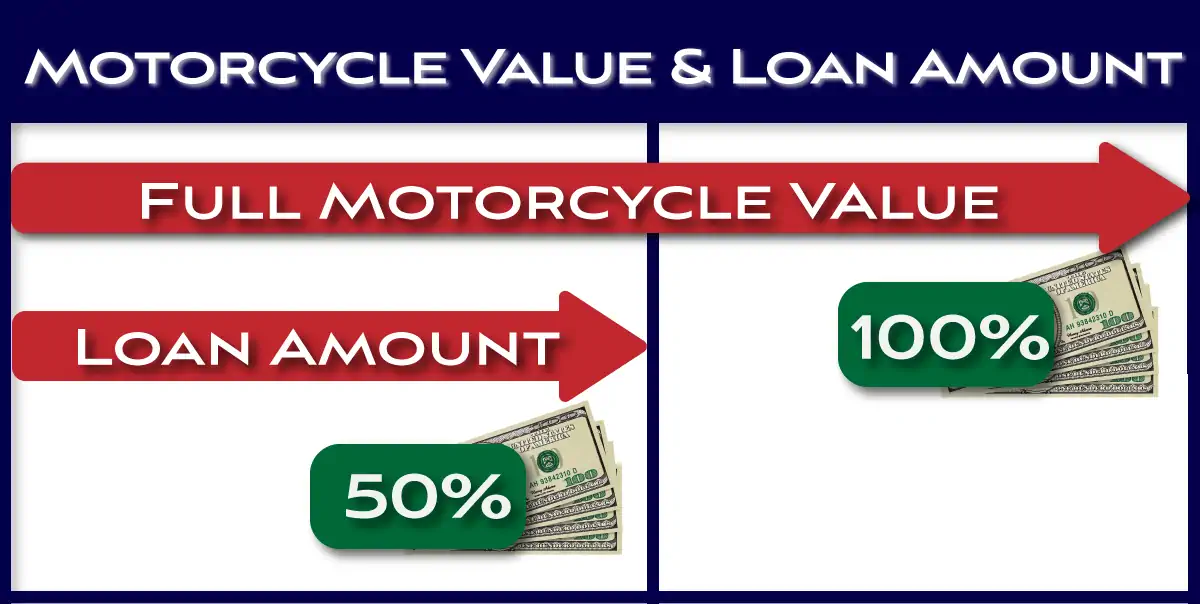 The second factor is your ability to repay the loan.  You must have some way to repay the loan.  It does not help anyone to make a loan with a payment that exceeds what the borrower can afford. 
Ultimately this will lead to a default and only benefit the recovery company.
Motorcycle title loan and title pawn amounts are directly related to the value of the motorcycle. The two main factors that contribute to a motorcycle's value, all else being equal, are mileage and condition. 
Motorcycle Loan Amount Examples
Considering the fact that most of the time you can borrow up to 50% of the motorcycle's value, the following table provides some examples of loan amounts:
| | |
| --- | --- |
| Motorcycle Value | Max Title Loan Amount |
| $20,000 | $10,000 |
| $12,000 | $6,000 |
| $4,000 | $2,000 |
Motorcycle Loan Amounts based on Value
This is one area where cars and motorcycles differ. Mileage, for example, is usually much lower on a motorcycle. A car with 50,000 miles may be considered low mileage depending on the year; where the same can't be said for motorcycles.
Condition is also quite a bit different but there are similarities. Some questions to ask when evaluating the condition of your motorcycle include:
Is it garage kept?
How many owners?
Has it ever been laid down?
Was the motorcycle ever involved in an accident?
Has it been properly maintained?  
These are the types of questions you will want to ask when determine an estimate of the value in preparation for a motorcycle title loan. 
How much is my Motorcycle worth?
Given the importance of motorcycle value to determining how much you can borrow with a motorcycle title loan you will want to get an idea of what your motorcycle is worth prior to applying. Perform an honest assessment of condition and history, and use Kelley Blue Book's Motorcycle Value Tool.  
This will give you an idea of what your motorcycle is worth and help you figure out what amount of motorcycle title loan or pawn you will qualify for. 
The costs of a motorcycle title loan are usually the same as the costs of a car title loan.  This information is important to have when deciding whether or not to move forward with a title loan.  
Use our Motorcycle Title Loan Estimate Calculator to enter your loan amount, term in months, and get your monthly payment estimate.  Then decide is one is right for you.
Motorcycle Title Loan Timeframes
Just like car title loans the loan timeframe can range from very short to several years depending on the state. Title loans are meant to be short term loans and are not meant to solve long term financial problems. 
Each state is different; some states have single payment loans and other monthly installment loans. Title loans in Orlando, for example, are different than a California title loan.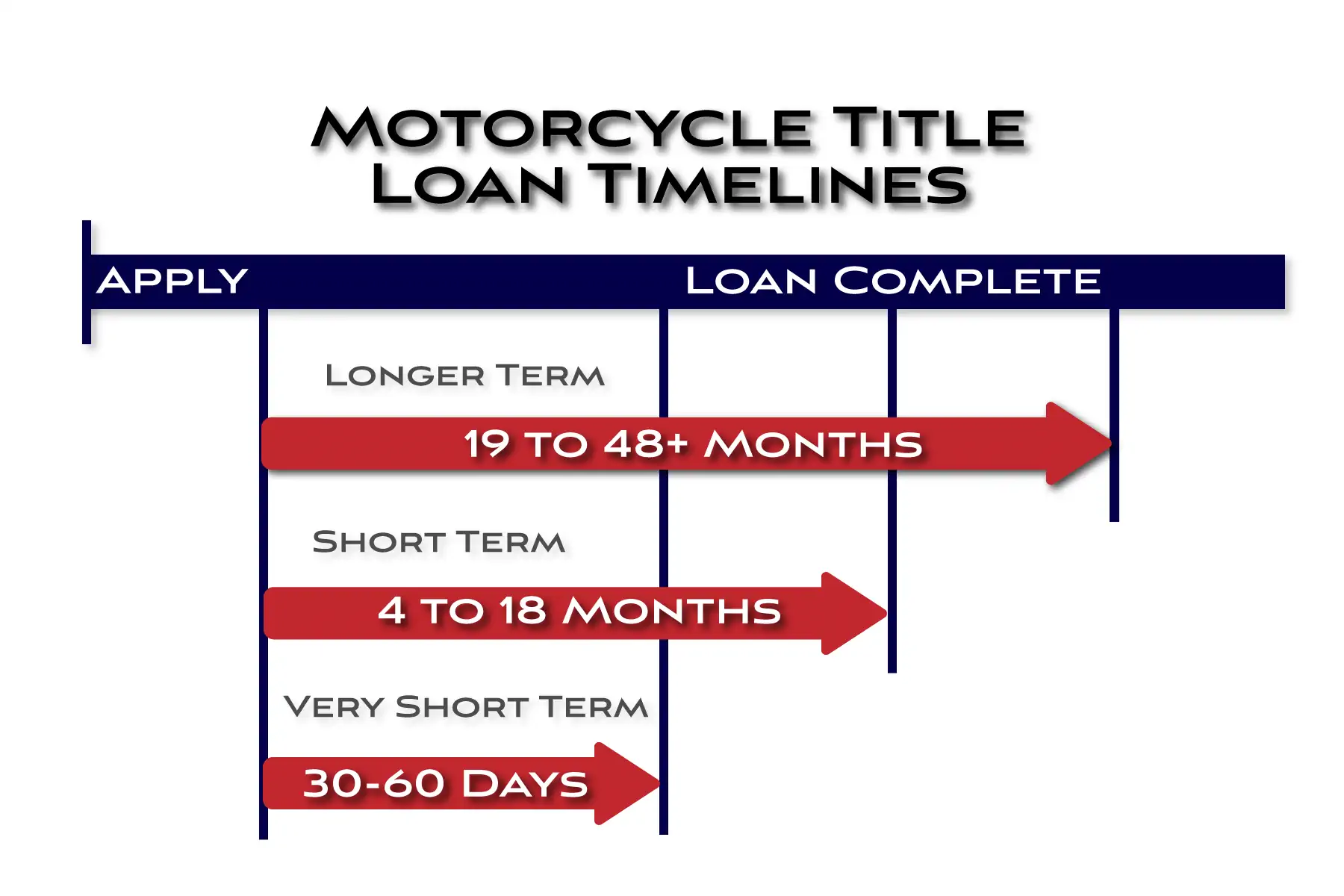 Motorcycle Title Loan Alternatives
Prior to proceeding with any title loan you should consider real alternatives to title loans. Alternatives to motorcycle title loans include one additional alternative. 
Unless you use the motorcycle for commuting to work, selling it could be a source of funds. 
If you have an urgent financial need and cannot wait to place an ad and sell the motorcycle, you can get a title loan for instant cash, and sell the motorcycle to payoff the loan. 
Make sure to let your lender know this is your plan if you do decide to do so.
Online Title Loan Options
The addition of online title loan options has increased significantly in the past few years. Finding a title loan near you is no longer as important; finding the best title loan is. 
For motorcycle title loans the same is true. Instead of searching for "title loans near me" take a few minutes to find the best solution for you. There are plenty of online options including completely online motorcycle title loans no inspection, and even completely online motorcycle title loans with no phone calls.  
How to get a Motorcycle Title Loan
The process for getting a motorcycle title loan is very similar to the car title loan process. As we have written many times, preparing for the loan is a key part of the process.
Once prepared, then follow the five step process shown below:
Apply – fill out an online title loan application
Get Approved – verify information with the lender and get approved.
Loan Funded – complete the motorcycle tile loan agreement and get your loan funded.
Make your Payments – Make sure to pay on time.
Get your Title back – make sure you get your motorcycle title back in a timely manner.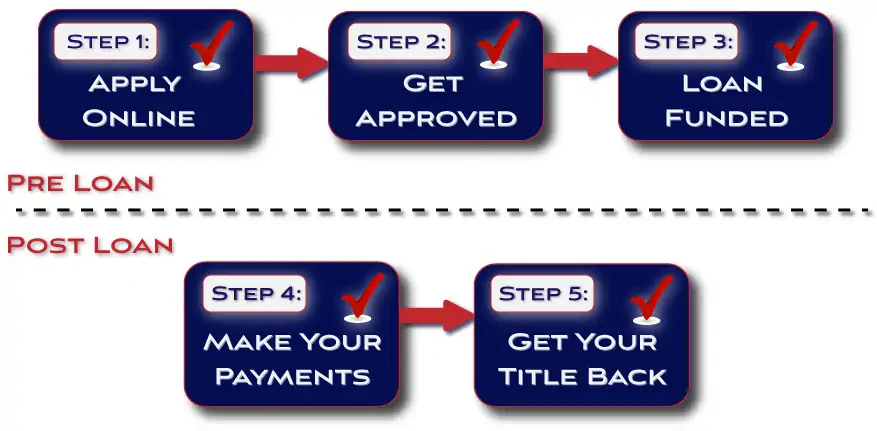 The process for getting and completing a motorcycle title loan is no different than the process for any other title loan. There are steps to complete prior to loan funding, and, just as important, after loan funding.
Assuming you meet the requirements described previously we suggest the first step to getting a motorcycle loan be preparation. 
While some title lenders may recommend jumping right into applying, in our experience taking a little time to prepare usually pays off on the long run.
There is plenty of information on our site about preparation; from finding the right payment to taking pictures. Once the preparation step is complete the next step is applying with the lender you choose.
Motorcycle Title Loan Locations
With many title loan locations and online options, finding a title loan near you is fast and easy. Simply decide whether you prefer an in-person title loan or one completely online.