When you have an urgent financial need and do not have the funds to cover the expense, a solution may be a car title loan. Get fast access to the cash you need using the equity in your vehicle with a car title loan in Florida.
From the sandy beaches of South Florida (Miami, Palm Beach, Ft Lauderdale), to Tampa Bay, to Orlando and Jacksonville, a car title loan may be an option worth looking in to.
Title Loans are not the right choice for everyone, despite what some companies may have you believe. Before moving forward with a title loan in Florida, make sure you understand how title loans work and whether or not you make a good candidate.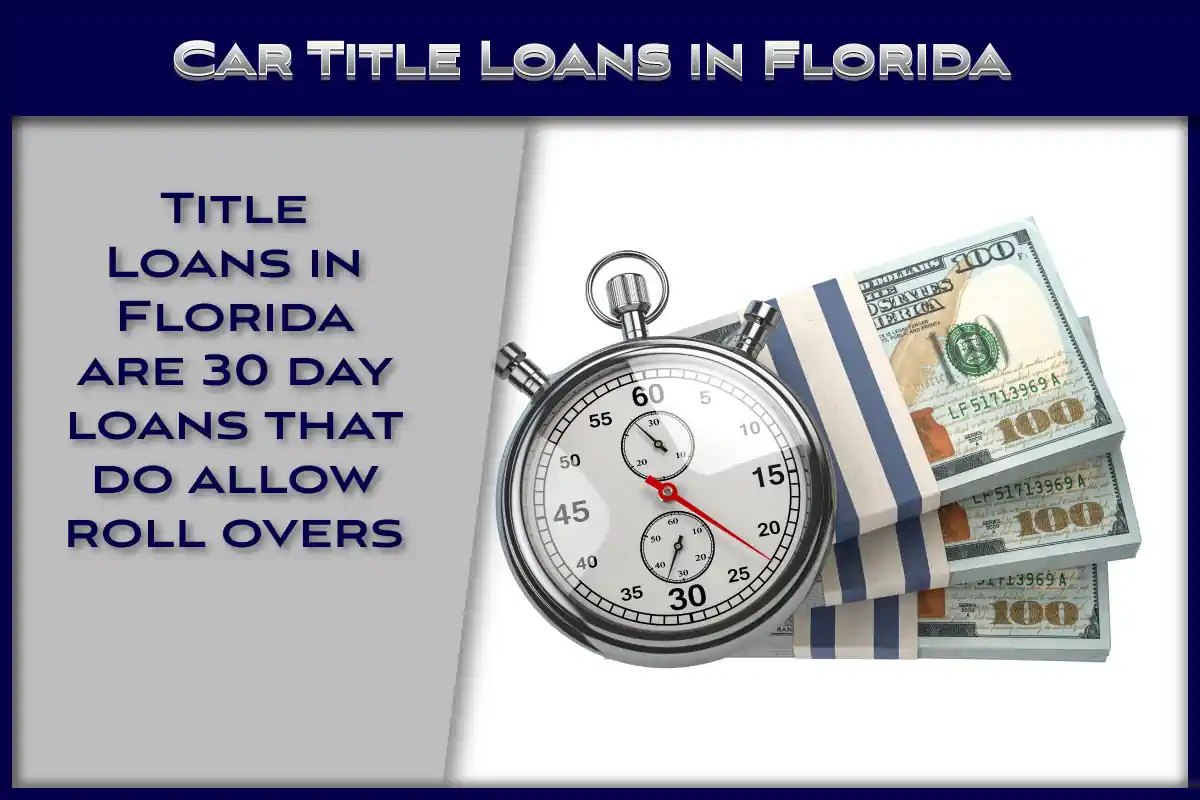 Florida Title Loan Candidate
To be a good candidate for a title loan in Florida you will need a paid off vehicle, have a short term financial need, and a means of repaying the loan.
Repayment can be income from regular work, commissions, annuities, tax refunds, and other expected payments. There are additional requirements including vehicle insurance and a lien free title.
What is a Car Title Loan?
A car title loan is a fast and easy way to borrow money using your vehicle's equity. Cars have become significantly more expensive over the past couple of decades.
As a result in many people have a significant amount of equity in their vehicle after making their final payment (or paying for the vehicle in cash).
This equity can be used as a source of credit for an emergency financial need. Access to this equity is accomplished with an auto equity loan, also known as a car title loan.
Many people in Florida own vehicles with a large amount of equity.
A title loan provides fast funding based on the value of the vehicle. This means you can get a car title loan in Florida regardless of your credit score. The vehicle is used to secure the loan. This has both benefits and risks.
The benefit is the value of the loan does not require good credit. The risk is the lender can repossess the vehicle if you default on the loan. This is similar to a car loan when you purchase a vehicle.
If you stop making payments, the dealer or bank will repossess your car. This is why it is critical to make sure you have the income to repay the loan.
How do Car Title Loans work in Florida?
Title Loans are widely available in Florida including Orlando, Miami, Tampa, Jacksonville, and other major cities. They work differently than other states with some important distinctions to keep in mind when shopping for a title loan in Florida.
Loan terms are limited to 30 days. You will need to repay the full loan amount within 30 days of borrowing.
Roll overs are permitted. This means you can extend the loan; but keep in mind roll overs can get costly.
Interest rates are limited to:

30 percent per annum computed on the first $2,000 of the principal amount,
24 percent per annum on that part of the principal amount exceeding $2,000 and not exceeding $3,000, and
18 percent per annum on that part of the principal amount exceeding $3,000. 
Just like any other location, the most important decision you can make when getting a Florida car title loan is choosing your lender.
Not all lenders are created equal and many charge very high rates and excessive fees. Be sure to read reviews to find out how a lender treats their customer and what they really charge.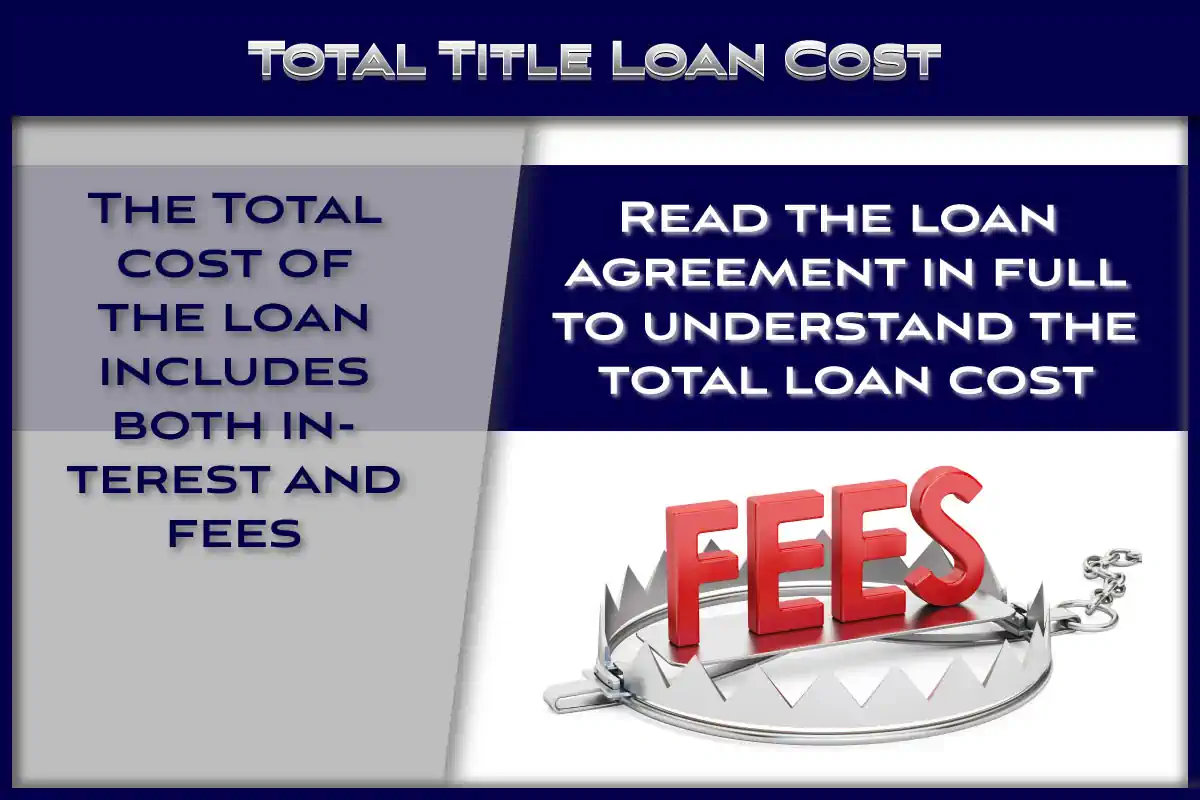 Where can I find more Information?
Need more information about Car title loans in Florida? One source is the Florida Title Loan Act chapter 537 of the state code. This is the section that defines how title loans are regulated in Florida.
How much do Car Title Loans in Florida Cost?
Car title loans in Florida vary in cost depending on the lender and type of loan. While the interest rates for title loans are capped at 30% APR, lenders may charge other fees. This is why it is important to read the loan agreement.
Where can I get a Car Title Loan in Florida?
Car title loans are widely available in Florida. These include the following Florida areas:
Tampa Title Loans
Getting a title loan in Tampa and the Tampa Bay area is easy. Simply inquire online to find out more.
Miami Title Loans
Car title loans in Miami allow you to use the equity in your vehicle to get fast cash. Most Miami title loans are completed the same day.
Ft Lauderdale Title Loans
Ft Lauderdale is a bit north of Miami and has just as many car title loan options.
Orlando Title Loans
Home to some of the nation's most visited areas, Orlando also has plenty of title loan places. Orlando residents should be able to find a title loan near them without any problem. Find out more about getting the best car title loan in Orlando.
How to get the Best Title Loan in Florida
When shopping for a title loan in Florida, or any other state, always read the loan agreement in full. Make sure you understand all terms and conditions before agreeing the the loan.
This is especially true with a Florida title loan as there may be fees that are not charged in other states.
Usually, one of the most important factors of a title loan is the interest rate. The interest rate is used to calculate interest on the loan and will factor in to your total title loan costs.
The Florida Title Loan Act limits the interest rate; so make sure to understand the total loan cost. To get the best Florida title loan find a lender with the lowest fees with a payment plan you can afford. Never borrow more than you can repay.