A car title loan that you can get completely online with no inspection and no store visit is a fairly new concept.
Just like a traditional car title loan, they are a way to borrow money using the equity in your vehicle as collateral. This makes them secured loans.
Completely (100%) online title loans are a convenient alternate option to visiting a storefront lender, especially today.
A trip to your local title lender may not be necessary to get a fast title loan.
As we have written about before, there are several different types of online title loans. Each type of loan has both benefits and risks (advantages and disadvantages) related to how each works.
If you are new to title loans it is worth learning how they work. If you are simply shopping for the best title loan that does not require a vehicle inspection then feel free to inquire now.
---
---
Needing a Completely Online Title Loan
Needing a car title loan can be stressful. Often they are used as a last resort for emergency expenses when all other alternatives and options have been exhausted.
Adding to that stress is the difficulty of finding a reputable lender. Then, once you find a lender, you need to try to make sense of the actual costs of the loan and ensure it is reasonable.
Sometimes the total cost can only be determined after applying for and spending time completing the online title loan process. This can be disappointing especially if you are in a hurry.
Going through the process only to find out at the last minute that the costs are excessive is not what anyone wants to deal with especially when they have a pressing financial issue.
The Process takes Valuable Time
Completing this process takes both time and effort. This of course is occurring while you still have the emergency expense to take care of.
This is not a great position to be in and some lenders (not all) know that and may try to take advantage of it. Be aware of this when reading the loan agreement.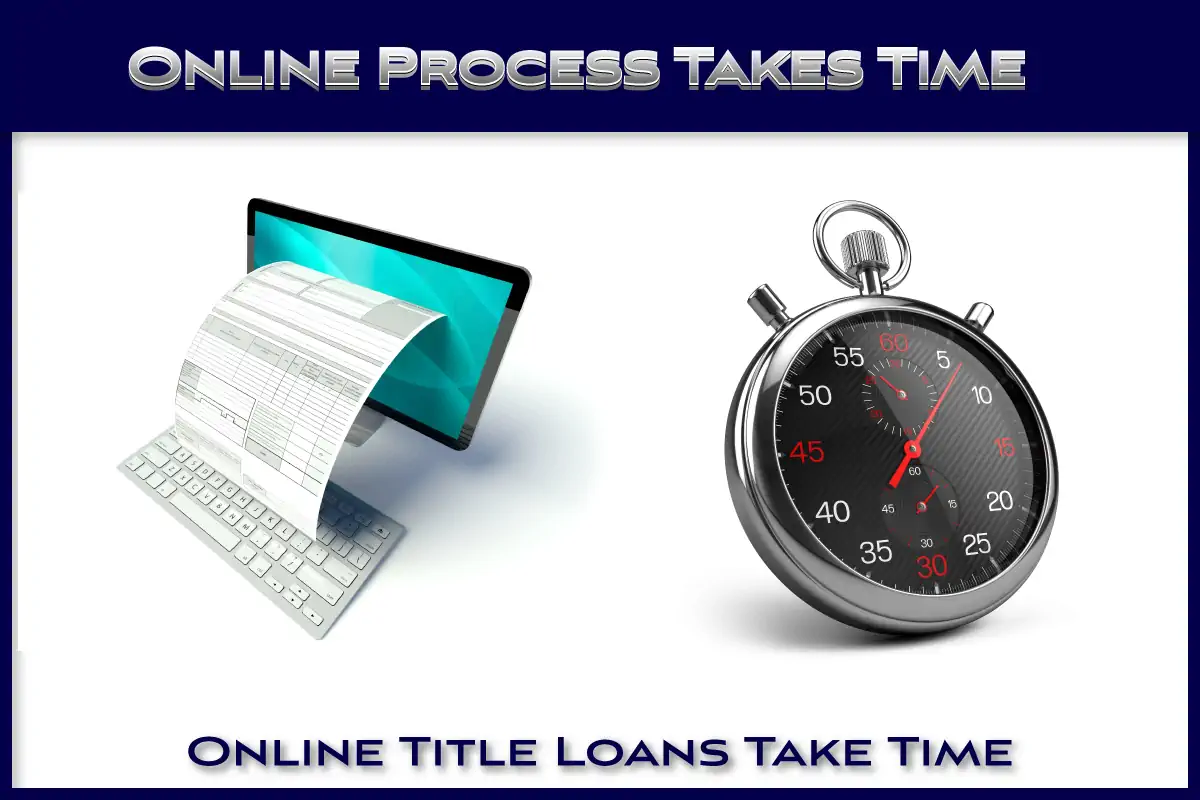 We try to help simplify this and make getting an online title loan easier by providing a real time estimate at any time before applying for a completely online title loan.
Simply use our car title loan calculator to get cost related details. Another recommendation to speed up the process and eliminate any wasted time and effort is to prepare for the loan before applying.
By completing some of the preparation steps prior to contacting a lender you can shorten the funding and approval times, sometimes significantly.
Before we cover preparation, we'll outline the different types of online title loans that are available.
Types of Completely Online Title Loans
As mentioned there are several types of online title loans. This includes those with or without a store visit, with or without inspection, and with or without phone calls.
In some cases, the lender will come to you to complete an inspection if you cannot make it to their location. The table below summarizes the types of loans, and the following sections detail the similarities and differences.
| | | |
| --- | --- | --- |
| Completely Online Title Loan Type | Advantages | Disadvantages |
| No Inspection | No need to bring the vehicle to an inspector | Appraisal value may not be 100% accurate |
| No Store visit | No need to visit lender's location | Inspection by third party maybe required |
| No Phone Calls | Can be completed 100% online | A quick phone call can save time |
| No Inspection and No Store Visit | No need to visit lender or an inspector | Appraisal value may not be 100% accurate |
There are multiple types of completely online title loans, each with advantages and disadvantages.
---
As shown in the above table each type of completely online title loan has advantages and disadvantages. Take the time to prepare for the loan and weigh the benefits versus risks to find the best title loan for your situation.
Below we'll explain in a bit more detail each type of completely online title loan and some of the differences between them.
No Inspection Title Loans
The first type of loan is one with no inspection. The inspection is typically used by the lender to appraise the vehicle and assign a value to the vehicle. This is more difficult to do without performing the appraisal in person.
Instead, the lender uses vehicle pictures and a history report to perform what we call a "virtual appraisal". This is why providing clear and accurate pictures of you car is critical to getting one of these loans.
There is only so much you can portray through pictures and often the value assigned to the vehicle may be less than if it were appraised in person. This is the main disadvantage of this type of loan.
If you do not need to borrow close to 50% of your vehicle value, then this may not be important to you. On the other hand, if you need to borrow as much as possible, try to provide as much relevant information to support you vehicle's value.
This can include items like maintenance records and anything else that supports what your car is worth. Pretend you are purchasing a car online without seeing it in person; what information would be important to you?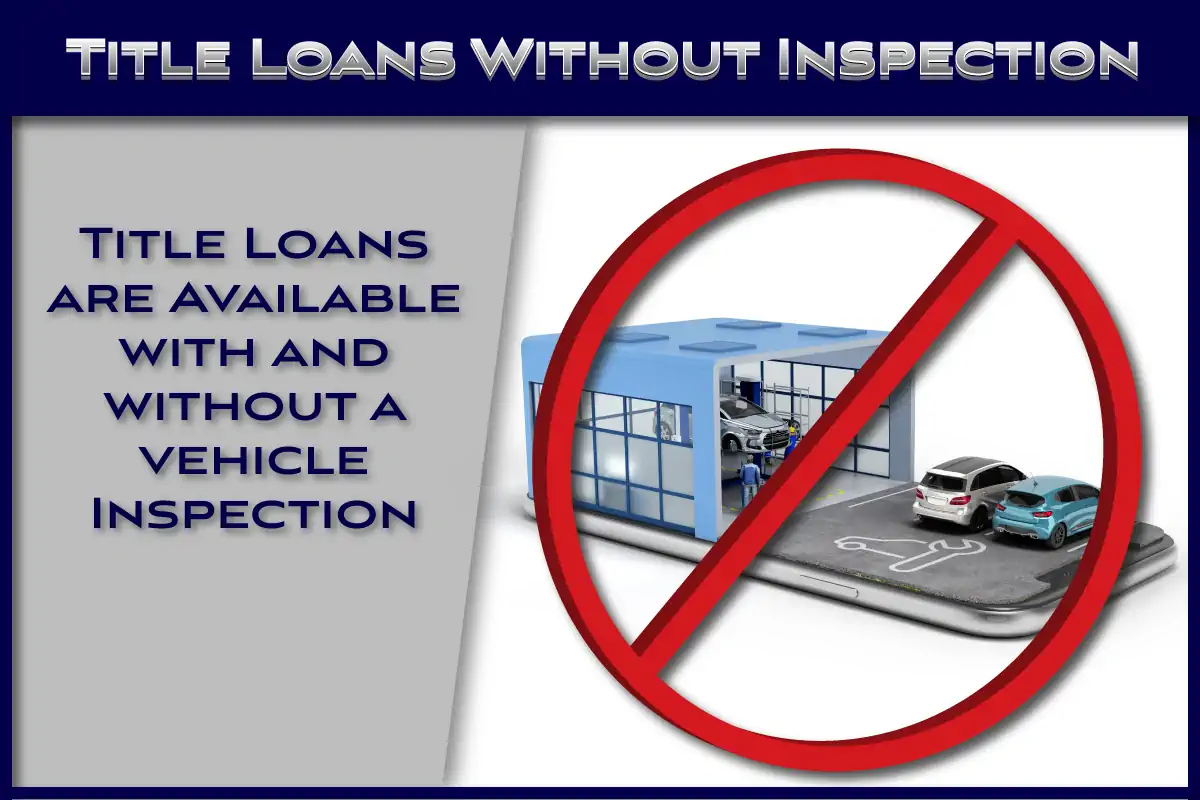 Title Loans with No Store Visit
The next type of loan is one with no store visit. It is important to note here that some title loans with no store visit do require an inspection by either a third party or, in some cases, the lender will actually come to your home to perform the inspection.
This is not always the case, so be sure to ask if it is important to you. It varies by lender and by state. If you fall into the category of needed to borrow close to the maximum, then this may be a better way to get a more accurate value assigned to your vehicle.
Completely Online Title Loans with No Phone Calls
Sometimes completing the title loan process without any phone calls is a desire. This can be for various reasons. Maybe you are busy and unable to make or take a phone call. Perhaps you simply don't have time or prefer not to.
You can get a title loan online with no phone calls, although the lender needs some way to communicate with you to verify information. This can be email or text.
The reality is a quick call with the lender can save time. The call is usually to verify information and confirm what you submitted online.
No Inspection and No Store Visit
The final type of loan is one without an inspection or a store visit. We've already described loans with no inspection; that description fits here as well.
With this type of loan there is no visiting a lender or an inspector, and there is no lender visiting you. These are literally completed 100% online.
It is important to note that if there is a problem with your loan, you may not have a location to go to. Also, make sure that the lender you choose accepts a payment method that makes it easy for you to keep your loan up to date.
How to Prepare for a Completely Online Title Loan
We recommend preparation as the first step for any title loan process. This is especially true for completely online title loans with no inspection because of the additional requirements for vehicle pictures.
Preparing for the loan prior to applying can save you time and effort. It will also help ensure your loan is funded fast without unnecessary delays.
---
---
Preparation Step 1 – Gather Documents Required to meet the Requirements
The first step to getting a title loan completely online with no store visit is to gather all required documentation. This includes the following:
Lien free Title
Drivers License
Insurance Information
Proof of Income
Vehicle Pictures
We recommend placing all required information in a single file or folder. This way when it comes time to apply you have everything ready.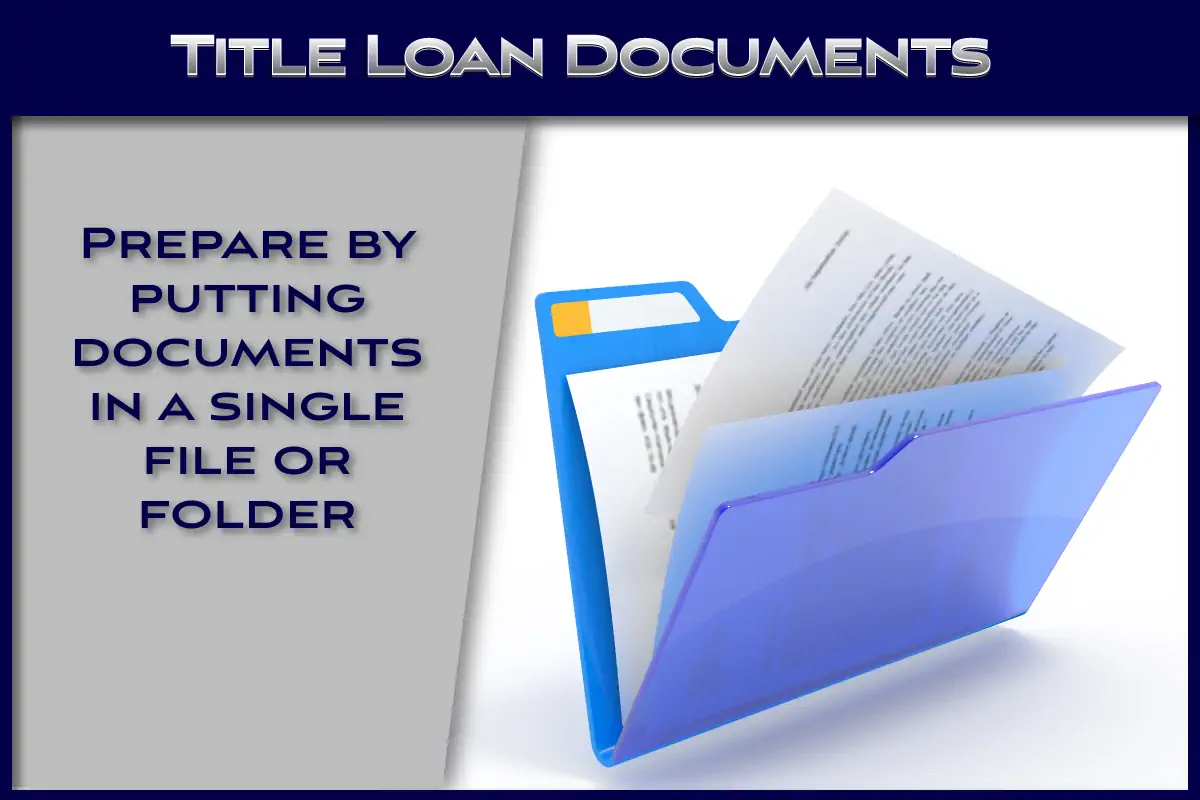 Preparation Step 2 – Taking Vehicle Pictures for a Virtual Inspection
One of the main differences between an in person loan and a completely online title loan is the need for vehicle pictures. This is for good reason. The lender will not actually get to see the vehicle in person.
The lender still does need to appraise the vehicle. The most efficient way to do this online, without an inspection, is by examining pictures of the vehicle. You will need to upload pictures over the internet.
These pictures allow the lender to virtually appraise the vehicle meaning you can get the loan without a vehicle inspection. This will include the following:
Vehicle License Plate
VIN Number
Interior (front and rear)
Vehicle Exterior (front, rear, and both sides)
Under the hood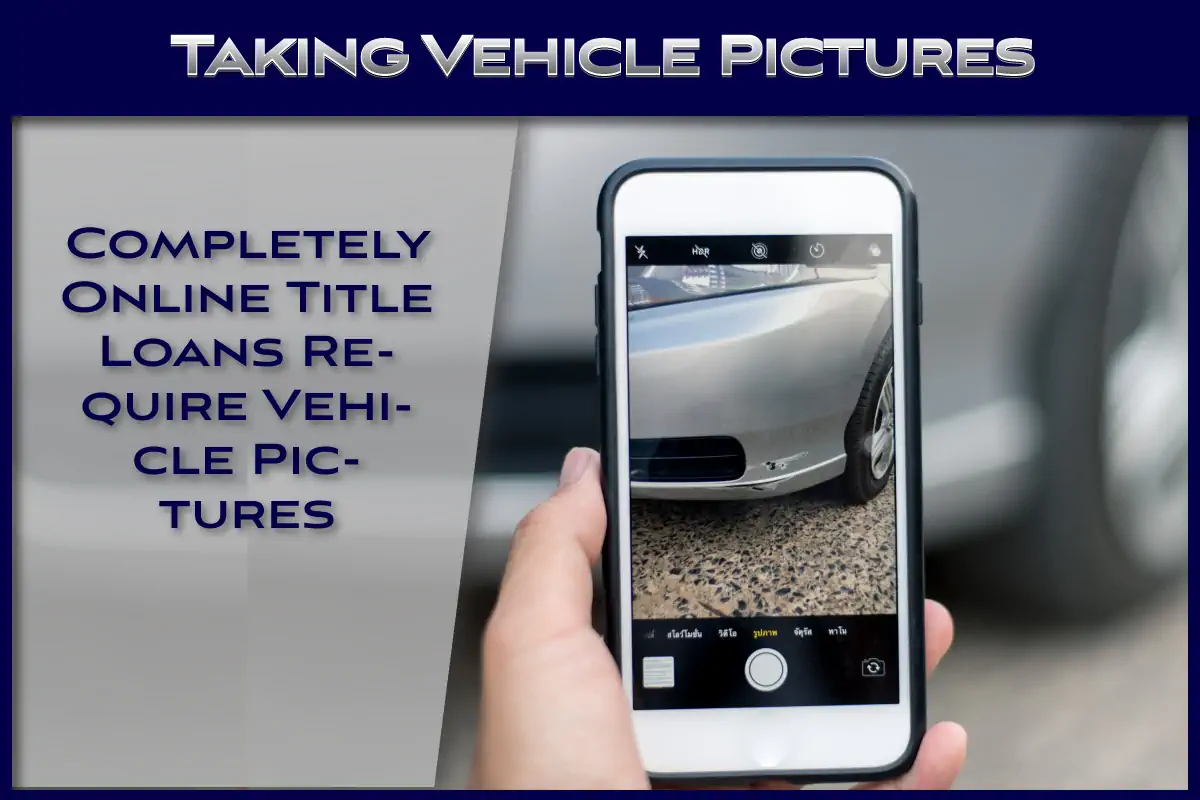 The more detailed and clear your pictures are the better. Make sure to include any items that may affect the value of the vehicle such as body damage.
How to get a Completely Online Title Loan
Now that preparation of information is complete, the process to get a completely online title loan is easier. It is still highly recommended to take some time to find the best title loan.
Online title loans can and do vary widely between lenders. Finding a lower cost loan with minimal fees can make the repayment process much easier. Once you find the lender, the process is fairly easy.
Generally, the process can be broken into the following high level steps:
Apply online
Get approved completely online
Get funded with no inspection or store visit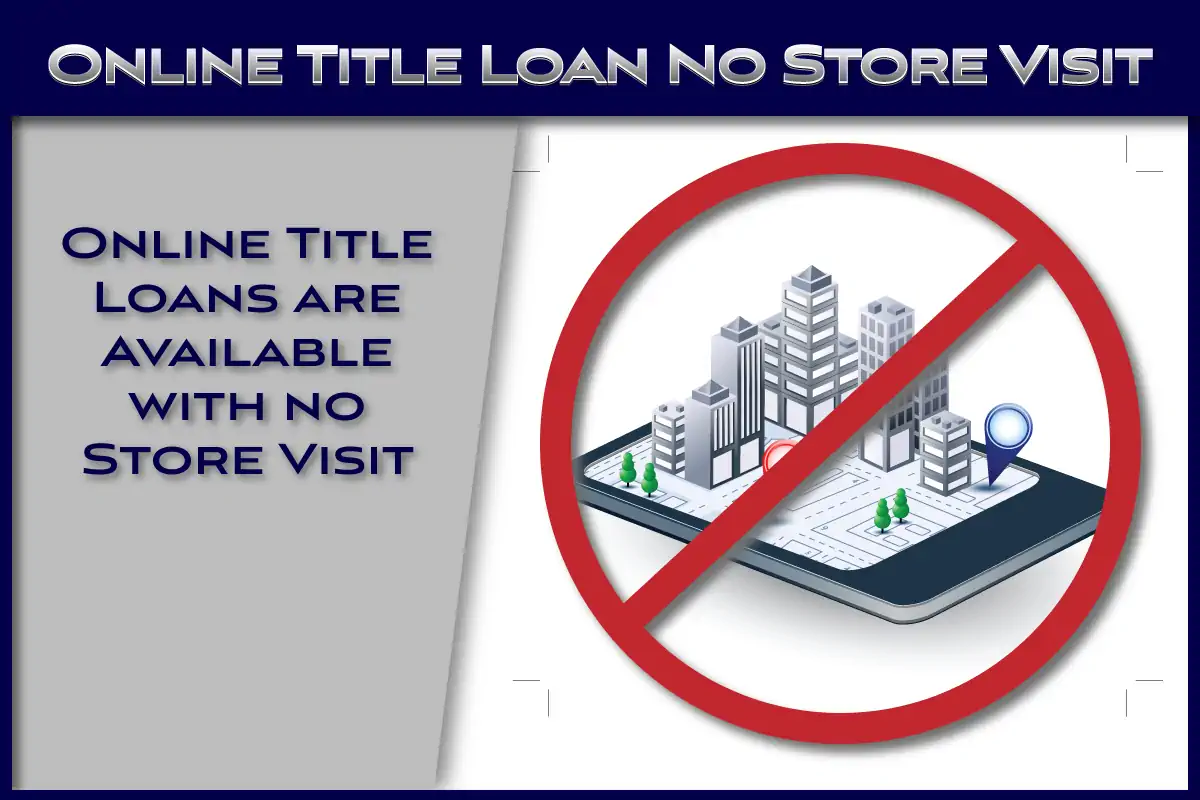 Applying for a No Inspection Title Loan Online
Then, you will start the process by filling out an online application. Typically this process starts with a simple form on the lender's website. Once you find the lender you want to do business with, fill out the form to start the process.
Additional Requirements for internet Title Loans with no Inspection
Some internet lenders have additional requirements. This may include personal references, information on your employer, and in some cases a credit check.
In many cases the credit check is a soft inquiry that does not affect your credit score. This is typically done to verify both your identity and address.
Every lender is different, so be sure to check before applying if that is a concern.
Completely Online Title Loan Funding
Unlike an in person title loan, a completely online title loan is often funded electronically. It is important to note that funding timeframes are different from approval times.
While approval can be close to instant, funding takes longer. Online title loans with direct deposit are one of the fastest title loans.
Risks with Online Title Loans without a Store Visit
It is important to point out that some title loans with no inspection do come with risks. As you would probably expect, the more risk associated with a loan in most cases equates to higher interest rates. Why? The answer is simple.
As with many other things in life, the actions of a small number of people affect the larger group. Some customers seek to avoid an inspection for the wrong reason. There is a defect with the vehicle that would be noticed in an inspection.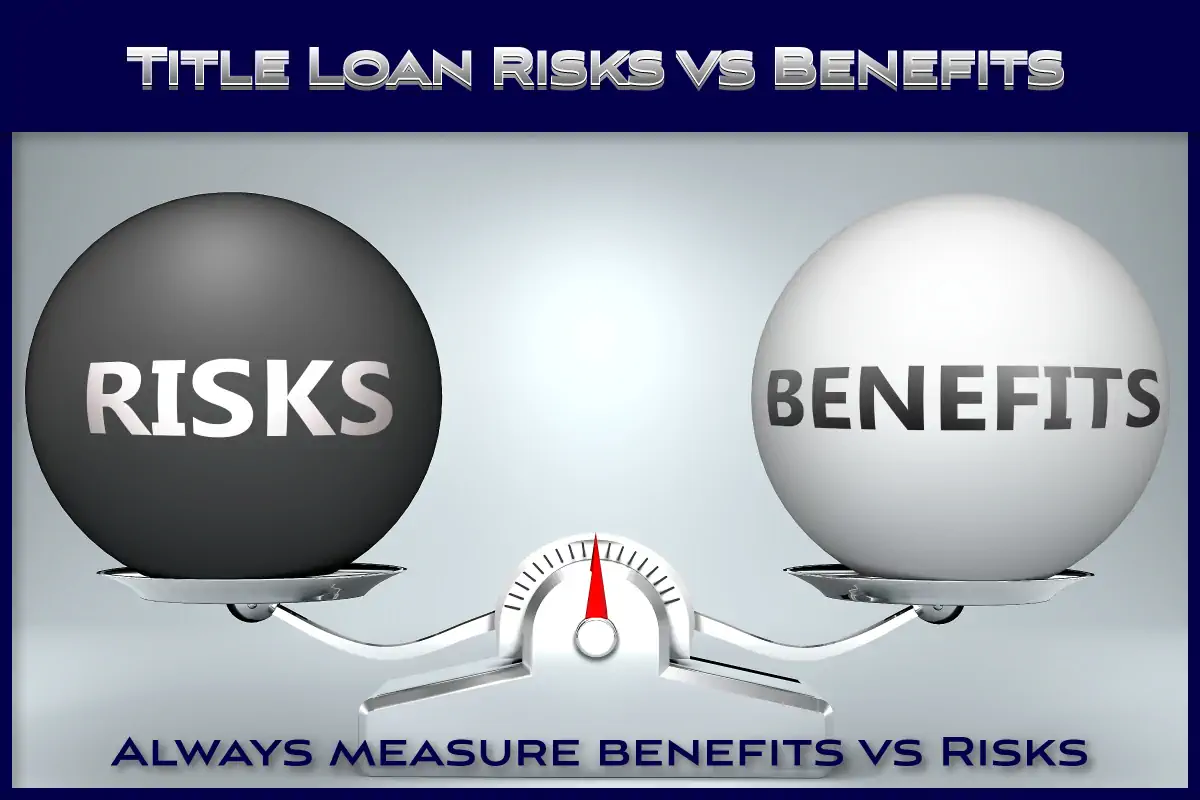 This would lower the value of the vehicle, and as a result, reduce the loan amount. The defect could be a mechanical issue that is easily masked with photos. If the vehicle was inspected in person the defect would be uncovered.
If and when these customers default, the lender may not be able to recover the cost of the loan. As a result, the interest rate for everyone is increased to make up for this.
So, if you have a vehicle that has nothing to hide, you can reduce the risk by providing as much information as possible.
This can include service and maintenance records. If you have aftermarket equipment provide those details. Be sure to include anything else to help an online lender accurately appraise the vehicle without inspecting it.
Put yourself in the lender's shoes for this part of the process. Pretend you are purchasing a used vehicle online without the ability to inspect or drive the vehicle.
Risks for Title Loans with no Phone Calls
Sometimes a quick phone call will allow the lender to verify information quickly. The risk associated with a title loan online with no phone calls is a slight delay in the process.
If the lender has to exchange several emails to clarify information, this will take some time. This is more important for a 24 hour title loan where every minute counts.
Completely Online Title Loan Costs
As mentioned the cost of an online title loan with no inspection can be slightly higher depending on the lender. The higher cost is a result of the higher risk.
This is not always the case; but it is worth getting multiple quotes. This will help you find the best title loan company for your situation.
Why pay more for a completely Online Title Loan with no Inspection?
As discussed, the risk to the lender can be greater greater without a vehicle inspection. In some cases they may offset this by increasing the interest rate.
Be aware of this risk as you prepare for, or are in the process of, applying for an online title loan with no inspection.
The risk for you, the borrower, is if you miss a payment the lender may contact your employer and/or your references. This is something to take into consideration when weighing how much a no inspection title loan is worth to you.
Find the Best Title Loan
To avoid paying more for an online title loan with no inspection you can also find the lender with the best interest rates. Fast Title Lenders specializes in low interest title loans at competitive rates.
As we have mentioned before, take some time to find a lender you feel comfortable with that offers fair terms. During the application process provide detailed information to support the value of the vehicle.
Another challenge or difficultly associated with needing an online title loan is finding accurate information. There are so many 'articles' online today that either have a bias or make little to no sense because they were create by content generators designed to rank in search engines for certain keywords.
Where to find Online Title Loan Information
Finding factual and useful information about online car title loans can be difficult. Many articles about online title loans on the internet today have some sort of bias or are simply spun content that make little sense.
This can be incredibly frustrating for borrowers. It is worth the time to find accurate information to help in the decision of whether or not a title loan makes sense. Understanding where the information is coming from can help.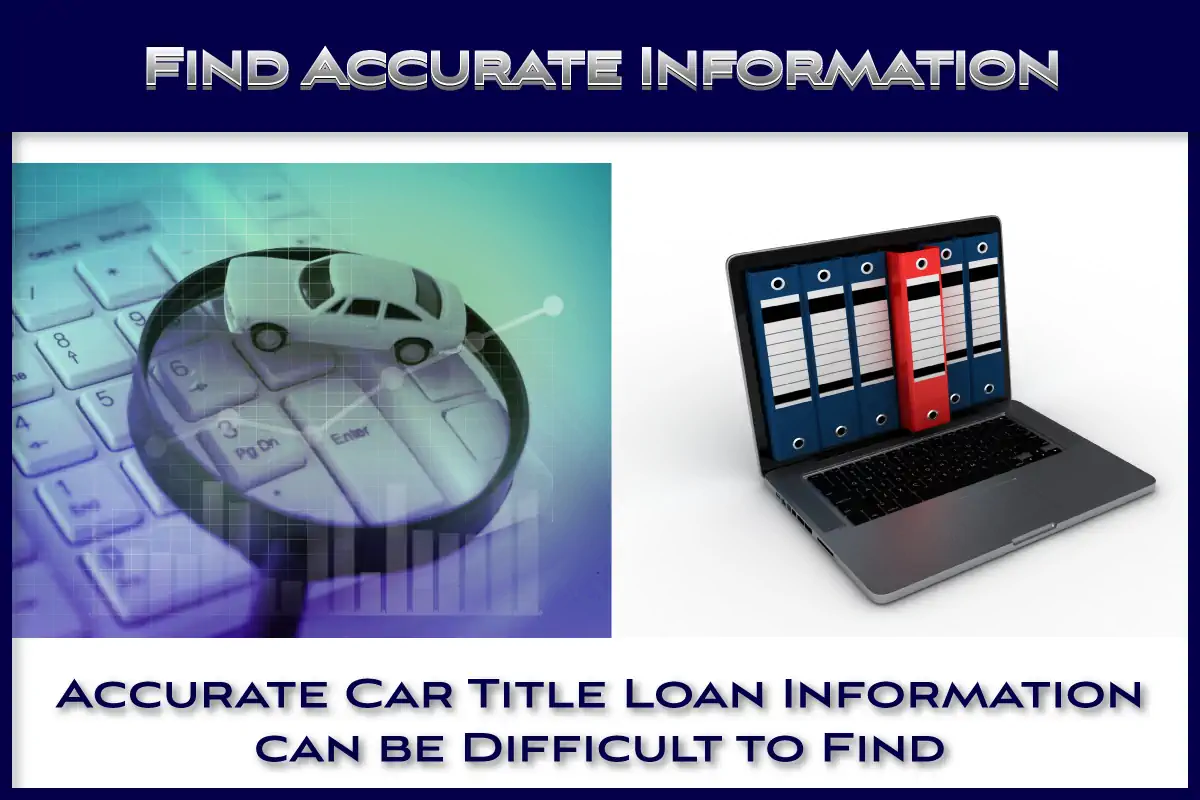 Online Title Loan Information from Lenders
Many lenders publish articles and content related to online title loans. Some of this is useful, some is not so useful. Often they claim title loans are great. This is obviously to try to generate business.
Some of these articles tend to claim their title loans are the answer to all of your problems and getting instant cash is as simple as clicking a button.
Obviously, this is not always the case. Use your judgement when reading information online.
Useless Content for Search Engines
If you are searching for the best completely online title loan than we're sure you have run in to quite a bit of this. The other type of articles and content on the internet from lenders is designed for search engines instead of humans.
These are the seemingly illogical articles, with no real subject or point, stuffed with phrases trying to rank for a certain search terms.
These are meaningless long articles with phrases like "If you need a 24 hour title loans place near me, do not worry". Yes, this is in quotes because it is an actual quote from an article online.
We could go on but we're sure you've run into plenty of these if you're looking for a decent title loan so we don't need to. You know what we mean.
When you find something resembling one of these articles we suggest moving on, your time is better spent elsewhere.
Online Title Loan Information from Competitors
Competitors to title lenders often do the opposite. They publish articles that paint online title loans in a very negative light. Many of these articles claim title loans are bad and should be avoided at all costs.
Often the true cost of title loans are exaggerated in these articles, to help drive business to competitors. This, unfortunately, makes it even more difficult to find the real cost of a title loan and does a disservice to readers.
The truth is most online publishers have an agenda. Title lenders want you to get a title loan. Their competitors (banks, credit card companies, Payday lenders, etc) do not want you to get a title loan.
This makes it challenging to find factual information. Try to find some unbiased sources of information and go directly to the title lender to find out their costs and terms.
The process for getting a title loan completely online is similar to the process for any other title loan. One of the key steps, that is often not mentioned, is preparation.
We emphasize preparation for any loan because it can significantly influence the outcome.
Preparing for the loan will help ensure there are no delays. Preparation also helps find the best title loan company for your needs. This includes gathering all required documents and taking pictures of the vehicle.
Motorcycles and Trucks
What about completely online motorcycle and truck title loans? The process, requirements, and cost is the same for motorcycle title loans; the only difference is the vehicle.
Conclusion
A completely online title loan with no inspection or store visit may sound like a convenient option. This is especially true today with more products and services offered online.
An in-person car title loan may also be an option if you have local lenders and are able to visit there locations. To learn more read the definition of a car title loan from Investopedia.
Before committing to an online title loan, or any car title loan for that matter, make sure to weigh the extra information required versus the convenience of not visiting the lender.
Evaluate any additional cost associated with the completely online loan. Then, determine if one makes sense for you. Once decided, always read the loan agreement in full before signing.
If the reason you want to avoid the inspection has to do with a defect in the vehicle, you may want to consider what your long term plan is. Getting any loan without planning on repaying is not recommended.
Can I get a Title Loan Completely Online?
Yes, completely online title loans are now available. They do have some additional requirements, one of which includes detailed vehicle pictures. In today's environment the ability to complete a financial transaction like a title loan with no store visit is important.
Are there Online Title Loans with no Phone Calls?
Yes, title loans without phone calls are available, however typically a lender will call you to verify information. If this information can be verified through email, text, or other means, than the need for any phone calls is eliminated.
How is Vehicle value determined with a completely online title loan?
For title loans completely online there is no physical inspection. This makes the appraisal a "virtual" appraisal where the lender will take the vehicle pictures, combined with a vehicle history report, and assign a value based on this information. To help ensure your vehicle is valued accurately provide detailed pictures with any other documentation to support its value (service records, aftermarket equipment verification, etc.).