Car title loans are a fast and easy way to borrow money using the equity in your vehicle as collateral for the loan. Many vehicle owners have a significant amount of equity in their vehicles after paying off any existing loan and/or paying cash for the vehicle.
This means they have equity in their vehicle that they can access without having to sell it. Getting access to the equity in important. In these uncertain times, especially when savings and other credit options are stretched thin, having the option of using your car to borrow money fast can be a necessity for many.
This is especially true for life's unexpected which often happen at the least opportune times. The ability to get a fast title loan is a benefit for many vehicle owners.
Can I get a Car Title Loan without a Bank Account?
Yes, you can get a cat title loan without a bank account. Car title loans, like all loans, have certain requirements. Having a bank account is not one of the main requirements.
It is worth noting that for a direct deposit title loan a bank account will be necessary. This makes sense as the lender will need somewhere to deposit the funds.
Are Payday Loans Different?
Payday Loans, on the other hand, are very different from title loans and do require a checking account. Car title loans and Payday loans are often discussed as similar loans which is simply not accurate.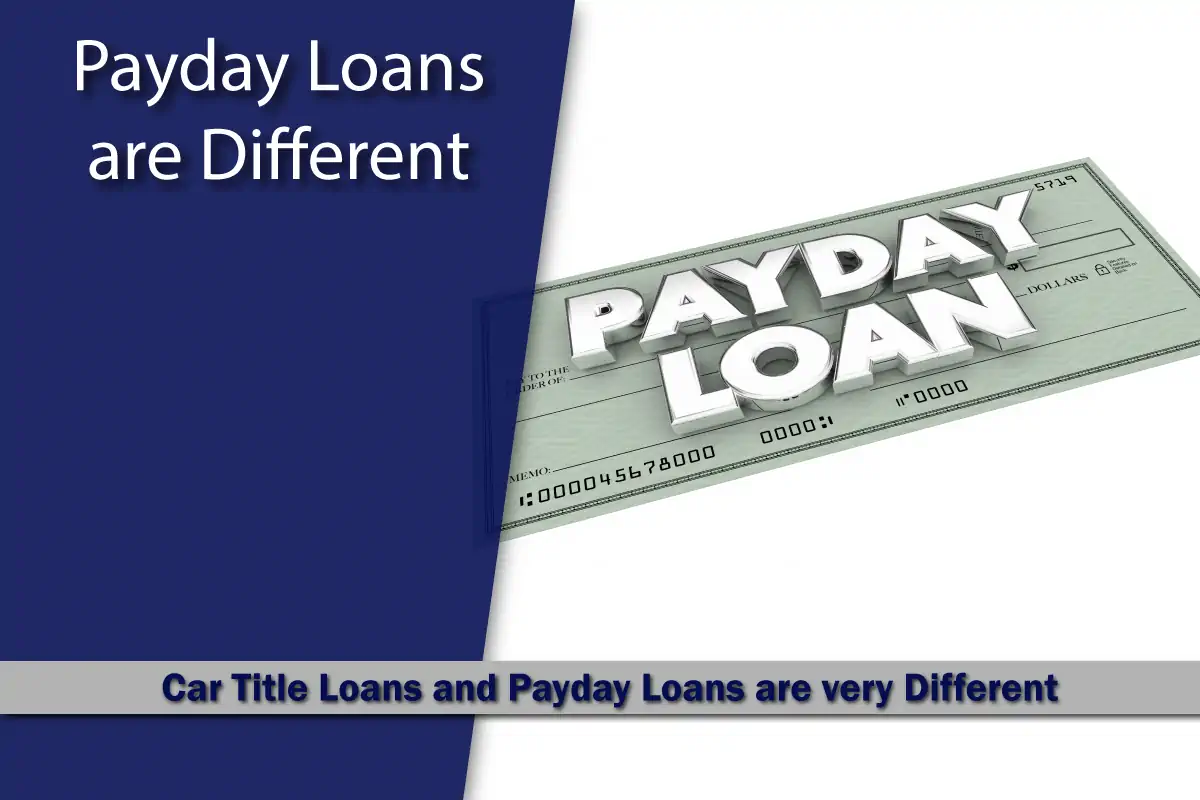 A Payday loan requires you to write a post dated check to the lender. This obviously requires a checking account. Payday loans are unsecured loans with very short time periods (use the Payday Loan Calculator to check costs).
Car title loans, on the other hand, are secured loans. The vehicle is collateral for the loan and the repayment period can be significantly longer than a Payday Loan. This does not mean you should make a car title loan a long term loan. Doing so will increase the total loan cost substantially as discussed in our title loan costs article.
How to get a Title Loan with no Bank Account
The process for getting a title loan without a bank account is described below and is very similar to getting a car title loan with an account. The only real difference is the funding method.
Step 1 – Prepare
We always recommend step 1 for any car title loan be preparation. Regardless of whether or not you have a bank account you should prepare for the loan.
Preparation enhances your ability to get the best title loan for your situation and helps ensures your loan is completed fast with no delays.
By preparing you make sure the loan is the right decision and make sure you understand how to avoid a loan with very unfavorable terms. Try the car title loan calculator to get any idea of different repayments costs and terms.
Step 2 – Apply
After the preparation step you should have found the best title loan company for your loan. Now it is time to start the application process. This is typically as simple as filling out a short form on their site.
Step 3 – Loan Approval and Completion
For purposes of this post we combined loan approval and completion into a single step. We assume you valued your vehicle in preparation, and made sure you meet the title loan requirements.
The title lender will provide you with a loan agreement to sign. Make sure to read the loan agreement in full. It will specify all terms and conditions.
This includes how your loan will be funded and what payment methods are accepted. This is where not having a checking account may cause a challenge.
Loan funding, especially for online title loans, is often completed through direct deposit. This is not the only method. Others include a paper check and a debit card. These other methods do not require a checking account.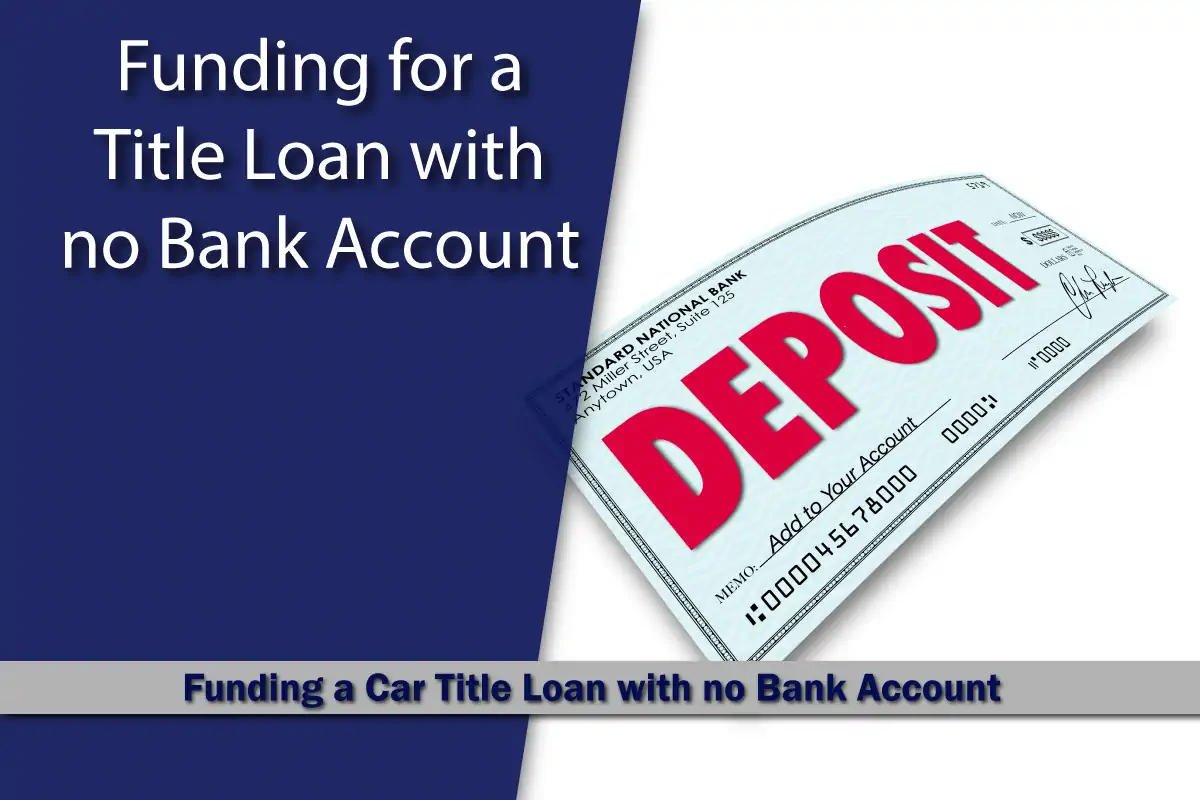 Car Title Loan Servicing
After getting your car title loan without a bank account funded you will need to continue with loan servicing. This primarily consists of making your payments.
If it is a single payment title loan, then you will only need to make one payment at the end of the loan term.
Monthly installment title loans, on the other hand, require payments each month until the loan is paid off. Make sure to have a payment method that does not require having a bank account.
This may be through sending a Western Union payment, a prepaid debit card, sending a money order in every month, or other method that does not require a bank account that the lender accepts.
Challenges of getting a Title Loan with no Bank Account
The two main challenges to be aware of when getting a car title loan without a bank account include loan funding and loan payments. The challenge with loan funding is not being able to get funded by direct deposit or bank wire.
These two methods are fast ways of funding that may be faster than a paper check or debit card. If time is a key factor this is something to consider.
The second challenge has to do with making payments. As mentioned, as long as you work out a payment method that the lender accepts than you should not have a problem. If you mail in a money order, be sure to do so with enough time to spare.
Remember missing a title loan payment can result in late fees. Missing multiple payments can result in repossession. Having the option to pay online the date the payment is due is a convenience.
Perhaps this can be accomplished with a prepaid debit card. This means you could make you title loan payments online even without a bank account.
Conclusion
Getting a title loan without a bank account is possible. While it may be easier, for multiple reasons, to have a bank account prior to getting a title loan it is not a necessity.
Simply perform the adequate preparation steps and find the best title loan company for your situation.