An online title loan is simply a title loan that allows you to complete the loan process online without physically visiting a lender. Some online title loans, or more specifically online title lenders, do require an in person vehicle inspection.
This inspection can be done by the lender or by a third party acting on the lender's behalf. The reason for the inspection is to verify the vehicle information provided as well as to assess its condition.
For purposes of this post, we'll assume the entire loan is completed electronically with no in person visits. These types of online title loans are also referred to as either completely online or no inspection online title loans. This means getting a title loan near your location is much easier.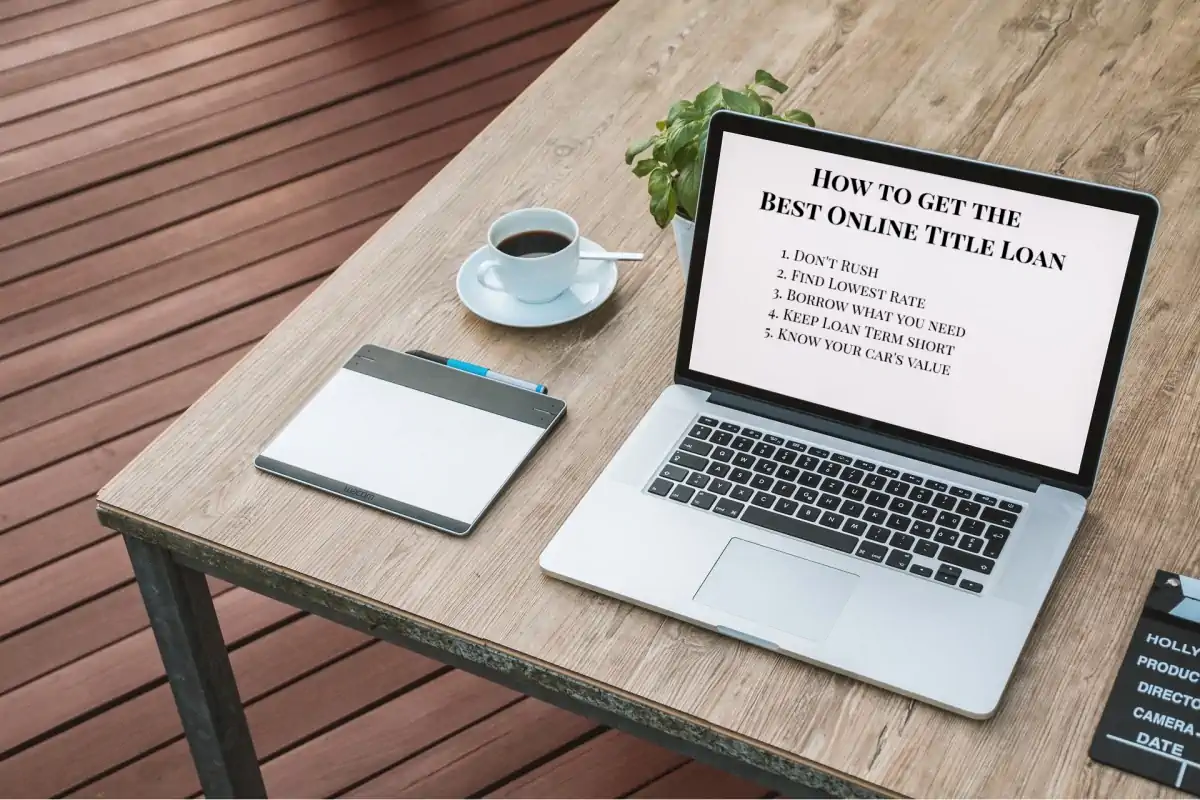 We will cover how to make sure you find a top notch online car title loan should you choose one. This will also include how to avoid the least advisable loans with excessive repayment terms.
A car title loan is a way to borrow money to solve a financial problem; it should not become a problem in itself.
There are five keys to getting a the best online title loan which we'll cover shortly. Many consumers often overlook at least a couple of them.
Following these five keys can make the difference between a loan that solves your problem and a loan that causes more problems. Following them can make sure you don't end up with a title loan that is either difficult or impossible to repay which can result in repossession.
No borrower wants to lose their vehicle. This risk can be minimized by following each of the key suggestions discussed below. Before we cover the keys, we want to make sure the concept of a car title loan online is clear.
Vehicle Equity as a Funding Source
Typically, a financial emergency is a stressful situation. This fact is exacerbated when the financial emergency is very time sensitive. It can make some borrowers forget to focus on key aspects of the loan and simply wish to solve their short term problem. This is understandable, but to get the best online title loan, some thought and time is required.
When you don't have readily available savings or other means to cover the expense, there is another source of fast funding if you own your vehicle. This source is the equity in your vehicle. If you have a vehicle with equity you can use the equity to get an online title loan and you can do so very fast.
Often, the search for the fastest solution, like the closest title lender or the first search result, is the path chosen to solve the problem temporarily. As we discuss below, this can result in a very high cost loan that often leads to regret.
It is possible to rush into a title loan and end up with a great lender. You may even find one with low rates. Unfortunately, this can also lead to a very high interest loan with terms that are not favorable. To be on the safe side, take a bit of time and do a little research before choosing your lender and signing the loan agreement.
It can be difficult to tell whether or not the title loan company you are applying with offers loans at lower rates with favorable terms and conditions. The fact is title lenders have a negative stigma for a reason.
Common Challenges with Finding Title Loans Online
Getting a car title loan online can be both confusing and challenging. There are more lenders and additional title loan companies that advertise in the space today. Online title loans are not available in all states which further adds to the confusion.
Add to this the stress that accompanies needing a title loan in the first place and you can see the difficulty that finding the top online title loan poses.
Often, car title loans are used to cover urgent and emergency expenses. These are life's unexpected surprises that cause a cash flow shortages.
These are usually very time sensitive events and rushing to the first or closest lender is a common first thought. The thought is that all lenders are equal so the first one you find will be the same as any other lender.
It is important to realize that this is very far from the truth. In fact, unlike payday loans, car title loan interest rates and total costs vary widely from lender to lender.
The last thing consumers in a financial jamb need is a title loan with rates higher than necessary. The best way to avoid this is to take the time to shop for an online title loan just like you would for a large purchase.
Quick Definition of an Online Title Loan
An online title loan is a secured loan that allows you to borrow money using the equity in your vehicle. Basically, you put up your vehicle as collateral for the loan. In exchange for pledging your vehicle, the lender provides funds with repayment terms. In fact, many online title loans can be completed within 24 hours.
If you fail to repay the loan the lender can repossess the vehicle. This makes finding a title loan with affordable payments extremely important.
The benefit of an online title loan is the streamlined and optimized title loan process. We have made improvements to the process that makes it very easy to apply for a title loan online. There is no credit check or commitment.
Five Keys to getting the Best Car Title Loan Online
The focus of this post is helping consumers find a fair title loan at the best rates. This also requires avoiding some of the least reputable lenders. Simply following the five keys detailed below will help ensure you find a favorable car title loan.
We prefer everyone get a fair and affordable title loan. The five keys to getting the best online title loan we cover include:
Don't rush
Find the lowest rate
Borrow only what you need
Keep the loan term short
Know what your car is worth
1. Don't rush into the Loan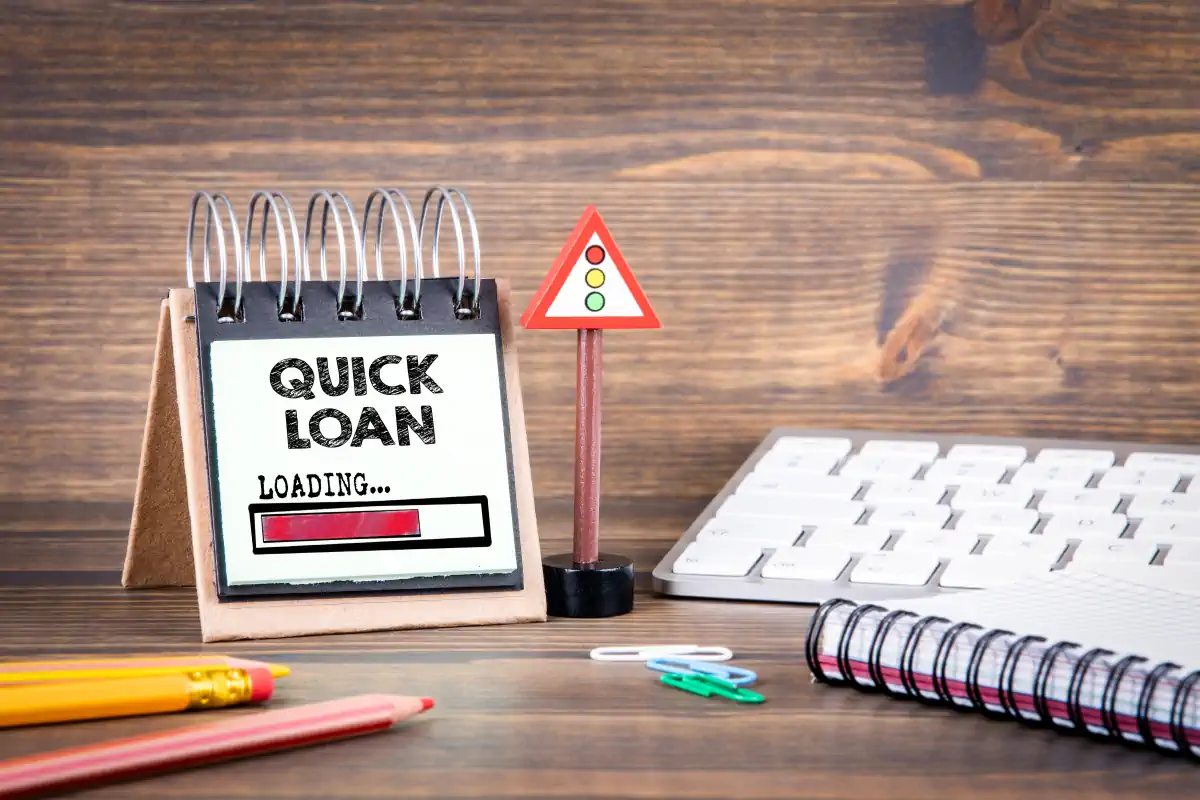 Unfortunately, when you are in a hurry to solve a financial problem, this is when you are least likely to take the time and effort required to vet the lender. You are also less likely to read the loan agreement in full to understand all terms.
Additionally, the stress of the financial situation can lead to a rushed decision without fully comprehending the loan.
This is what many, not all, title lenders are counting on. This is how they can charge the high rates and fees that result in excessive costs. Instead of rushing into the loan find a fast lender with a streamlined and optimized process.
The biggest tip we can give to anyone shopping for an online title loan is get several quotes from lenders. Treat it like a large purchase and find the lender with the best deal.
Then, read the loan agreement in full before signing. Read it again, slowly, and make sure you fully understand every term and condition.
If you don't agree with something, ask a question. If the lender won't change it, move on to another. There are plenty of online title loan companies. Don't get stuck with a very high interest loan you can't repay.
2. Find the Lowest Rate Lender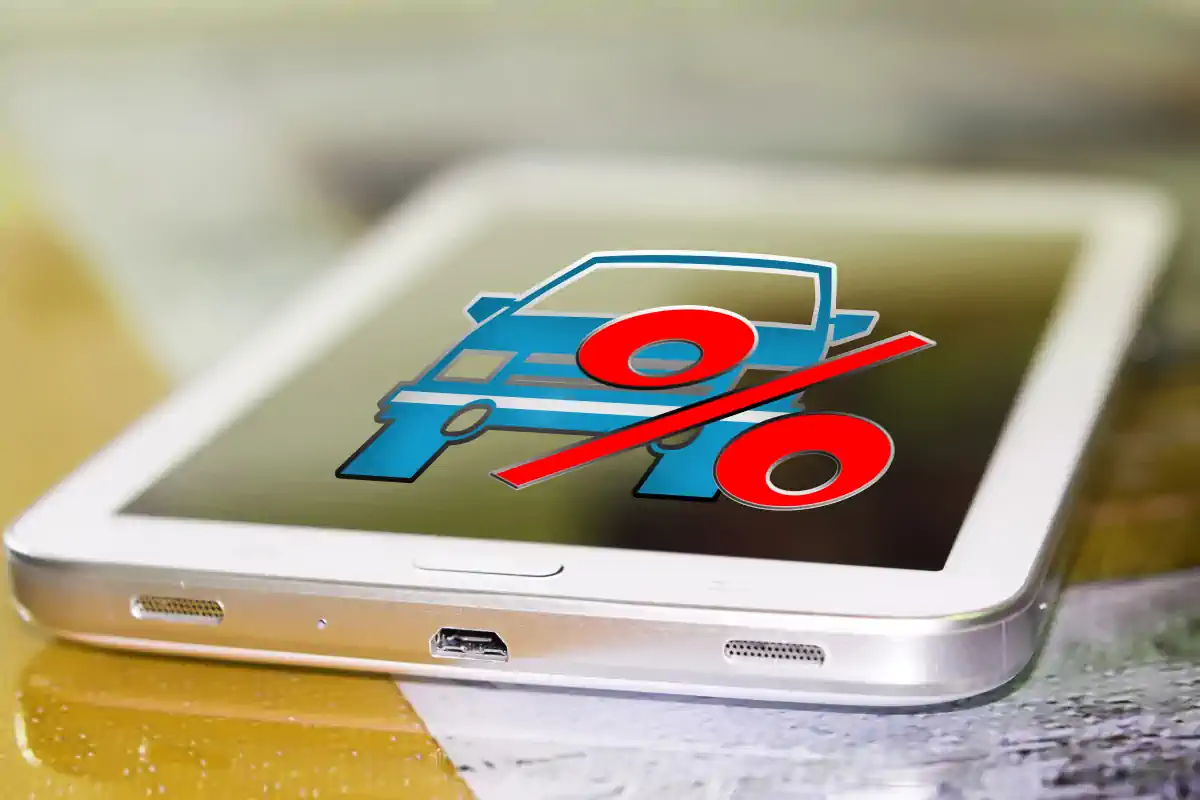 Car title loans are expensive compared to most other loans, regardless of how you look at them. There are, however, some lenders offering lower rates than many of the larger lenders that charge the maximum allowable rates.
Finding one of these lenders can save you a significant amount of money over the loan term. There are several lenders charging lower rates, but you will need to look further than the first search result.
Finding a decent lender can take a bit of research. If you're reading this post that is a great start. Feel free to visit our site and apply or just learn more about title loans at low rates and how they work.
You will also need to decide what type of online title loan to get and whether or not your are able to visit the lender to let them see the vehicle. While it is possible to get a title loan without showing the vehicle; this is not always an option.
3. Borrow only what you Need
This is another very important aspect of getting an online title loan. Many lender's site's include statements like "most cash!", These often encourage borrowing the maximum amount you qualify for.
This is not a good idea. The more you borrow, the more interest you'll end up paying. Figure out what you need to solve your financial emergency and borrow that amount.
Every dollar you borrow is another dollar you will need to repay with interest. Do not let the lender convince you to borrow more than you need simply because you qualify for that amount.
What if the Lender's Minimum Amount is High?
This is more common is states where smaller dollar loans have an interest cap. California car title loans, for example, usually start at $2501 to avoid the small loan interest rate cap. As a result some online title loan companies have high minimum loan amounts.
If a lender is insisting you borrow a certain amount that is more than you need, ask them to make an exception.
If you can't find a company in your state that will lend you what you need and is insisting you borrow more than you need, then make a payment immediately following the loan. Make sure they have no prepayment penalty before doing so.
For example if you need to borrow $1,000, but the title loan company insists you borrow $2500, then make a $1,500 payment as soon as the loan is made. This will minimize the amount of interest you are charged over the loan term.
4. Keep the Loan Term Short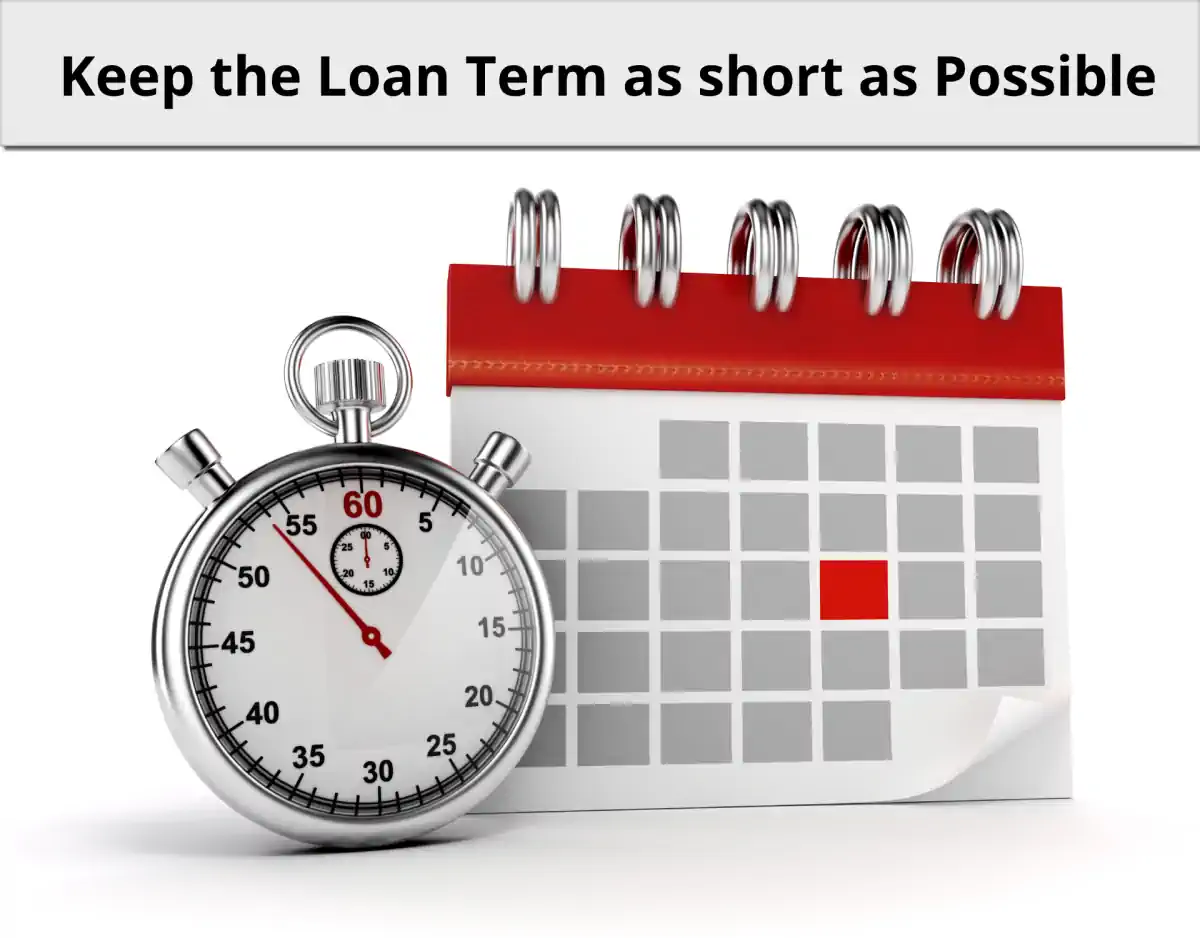 Another key to getting the best online title loan is keeping the loan term as short as possible. You need to make sure the amount borrowed meets your financial need, and that the loan term results in a monthly payment you can afford.
Use the car title loan calculator to figure out different payments for different loan amounts and terms. Find the shortest term that results in a payment you can easily afford.
Why Keep The Loan Short?
The reason to keep the online title loan term short is to minimize the cost of interest. The best title loans have the lowest costs and reasonable interest rates.
To keep the costs low, you need to make sure not to make the loan too long. Interest charges increase dramatically as the loan term increases for title loans.
The table below shows an example loan with four different terms: 6 months, 1 year, 2 years, and 3 years. As you can see the 2 and 3 year loans are significantly more in total cost. The sad part is the monthly payment is not decreased very much.
Interest charges increase dramatically as the loan term increases for title loans.
This means that the total loan cost for longer loans is several times the original loan amount. In some cases this can be more than the vehicle is worth. This is the reason keeping the loan as short as possible is a key to getting a favorable loan.
This doesn't mean you have to repay the loan within 30 days. It is still possible to get a 12 month and even a 24 month loan with affordable payments.
Find the best title loan company with low interest rates and get a few quotes. Our title loan calculator let's you compute loan loan costs and repayment schedules for any amount and various terms.
5. Know what your Car is Worth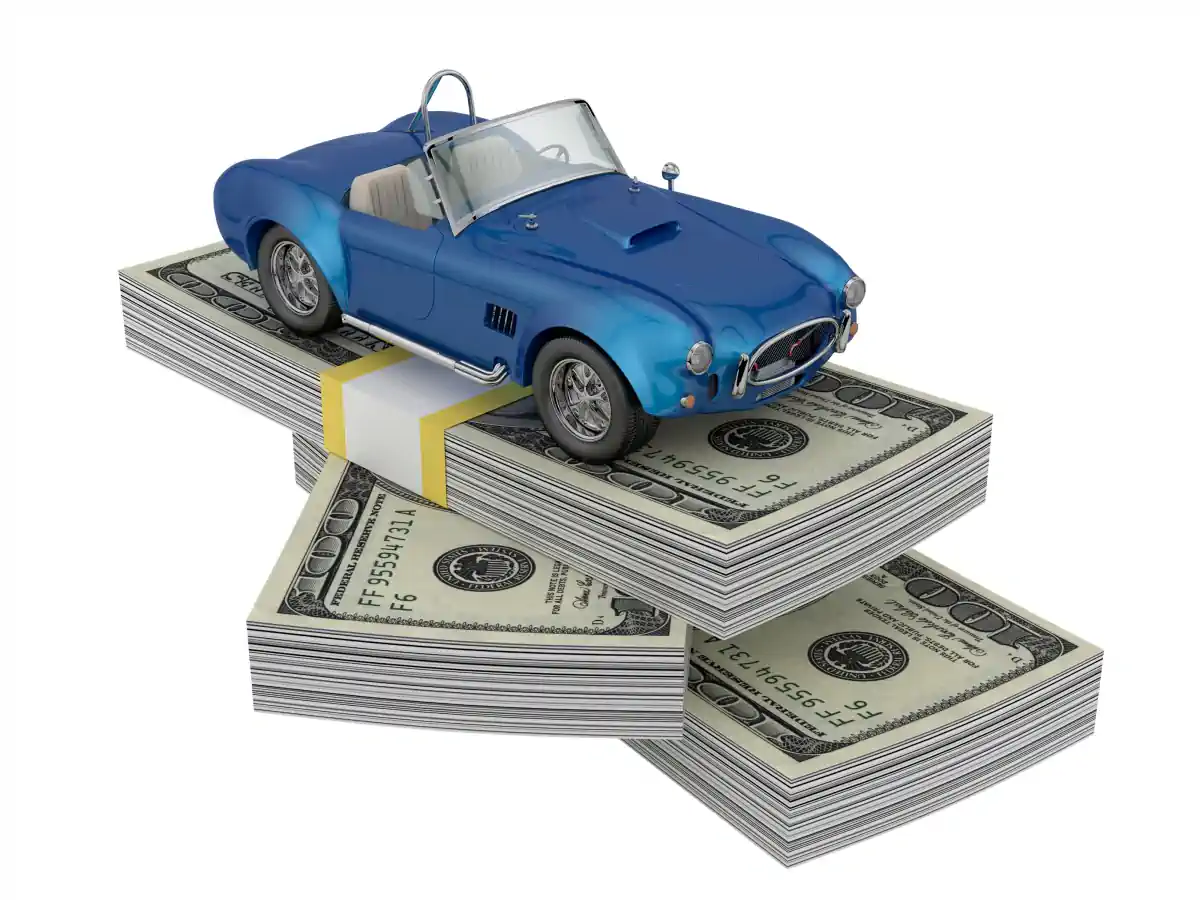 This is another factor that is often overlooked when preparing for a title loan. It is generally a good idea to understand how much your vehicle is worth. Car title loan amounts are based on your vehicle's value. Knowing this prior to getting the loan is important.
Title Loans are limited to a percentage of your vehicle's value. This is usually 50%. With an online loan, the lender never gets a chance to see the vehicle and has to assign a value based on information you provide.
If you have already performed a thorough appraisal yourself you will be able to provide this information faster and answer any questions that may come up. This is especially important for title loans that don't require the car.
What does the Online Title Loan Lender use to Value my Car?
Since there is no physical inspection or appraisal, the lender will use the information you provide as well as a vehicle history report. The information you provide will include:
Vehicle Year, Make, and Model
Vehicle Mileage
Condition (Exterior, Interior, and Mechanical)
Pictures (Exterior, Interior, and VIN)
Additionally, the lender will pull a vehicle history report. This will provide information including the number of owners, any salvage or rental history, and accidents, and other information that may affect what the vehicle is worth today.
You can get one step ahead by getting a vehicle history report to make sure the information is accurate and to understand any adjustments to value resulting from the report.
Next Steps
If you followed the five keys to getting the best online title loan you will have a much better chance of getting a loan with more favorable terms and conditions. Find a few lenders and ask for a quote. Compare quotes and go with the lender offering the best title loan for your situation.
---
---
How much do Online Title Loans Cost?
Costs for online title loans can and do vary widely. These variations are a result of different interest rates and loan lengths. As an example, here are some costs for a $2,000 title loan for different terms in months.
6 Month, 12 Month, 24 Month, 36, and 48 Month Loans
As we discussed, keeping your loan as short as possible is the best way to keep your costs down.
Monthly Payments and Total Loan Costs:
To illustrate what happens to costs as you extend a loan we will show several terms for the same loan amount. For simplicity, the interest rate for each of the loans is the same 10% per month (120% APR).
Many online title loans have higher rates than this, and some have lower. The monthly payments and total loan costs for the $2,000 title loan for each of the terms are shown in the following table:
Loan Length
Monthly Payment
Total Loan Cost for a
$2,000.00 Loan
6 Months
$459.21
$2,755.26
12 Months
$293.53
$3,522.36
24 Months
$222.60
$5,342.40
36 Months
$206.69
$7,440.84
48 Months
$202.08
$9,699.84
Monthly Payment and Total Title Loan Costs
As you can see from the table, lengthening your loan past 12-24 months does not significantly decrease your monthly payment. In fact, the difference between the 36 month and 48 month loan is less than $5 a month.
What is does do is significantly increase the total loan cost. While the monthly payment only decreased by $5 for the 48 month loan, the total cost increased by over $2,400. That is excessive and more that the original loan amount. This is definitely not advised.
Summary to get the Best Online Title Loan
Needing a title loan is no fun. It is a difficult decision to make during a difficult time. Take a step back, don't rush, compare lenders, and keep the loan amount and term reasonable.
Finding a loan with an affordable payment should be a priority. Remember, you are pledging your vehicle as collateral.
Online title loans are getting easier to complete. Make sure to find a lender with reasonable rates and follow the top three tips for getting an online title loan. Always read the loan agreement in full. If you don't understand a clause in the agreement then clarify it with your lender.
Make sure you understand each and every payment you are required to make. Also learn how to make your payments and make sure the method is convenient.
Finally, if it doesn't feel right it probably isn't. Trust your gut and walk away from a loan before committing if something seems off. Learn more about title loans here: https://www.consumer.ftc.gov/articles/0514-car-title-loans. The FTC provides some information that can also help avoid some of the least advisable lenders.