Online title loans are available to most customers today, only in slightly different formats depending on where they are located. It is important to note that not all states permit title loans and some states require in-person portions of the loan process.
As a result, some traditional lenders are offering what they call "Online Title Loans" that allow customers to complete at least part of the process online.
Other lenders, some new to the industry, are offering what they call "Online Title Loans with no Inspection". With these loans, the entire process is completed online with no store visit or physical vehicle inspection.
Like any other loan, or financial service for that matter, both of these options have benefits and risks associated with them. Depending on your specific circumstances one may be better suited for your needs. Understanding the benefits and risks associated with all types of online title loans is an important part of preparing for the loan.
This post discusses the types of online title loans available, the benefits and risks associated with each, how they work, requirements, and costs.
Additionally, unfortunately there is no such thing as an "Instant Online Title Loan", although many companies are advertising them.
Types of Online Title Loans:
As discussed, there are several types of online title loans including 24 hour title loans. For purposes of this article, we'll discuss the two main types.
These include the more widely available online title loan from a traditional lender and the "completely online title loan with no inspection and no store visit".
Online Title Loan from a traditional brick and mortar title loan company.
The first type of online title loan is very similar to a traditional title loan, except that part of the process is completed online. This usually includes the application and a portion of the administrative part of the loan.
As the borrower, you complete a portion of the paperwork and send in pictures of your vehicle. Also, you agree on a tentative loan amount pending a vehicle inspection. We'll discuss the details of how these online title loans work shortly.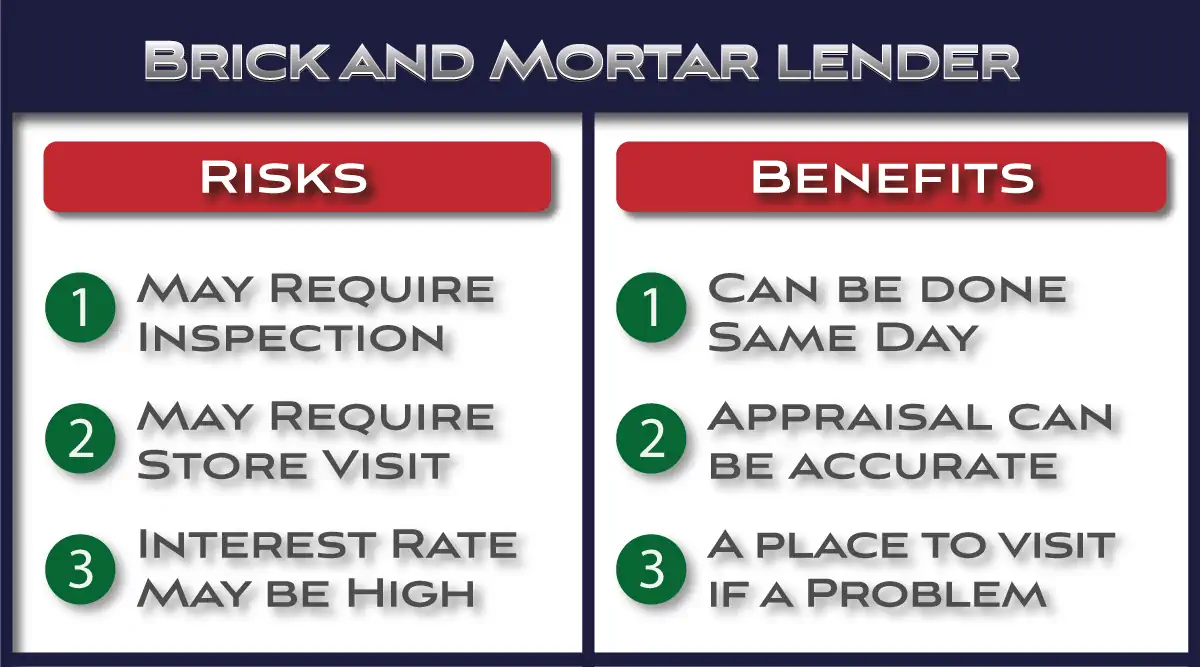 Completely online Title Loan or "Online Only" Title Loan.
The other type of Online Title Loan is the "Completely Online Title Loan with no Inspection". These loans are offered by some lenders and the entire process in completed online and through the mail ("Online Only Title Loans"). These include lenders with no US location.
For these loans, you do not have to visit the lender at any time. In fact, in some cases, the lender has no physical location. There are advantages and disadvantages to both types of online title loans versus traditional title loans.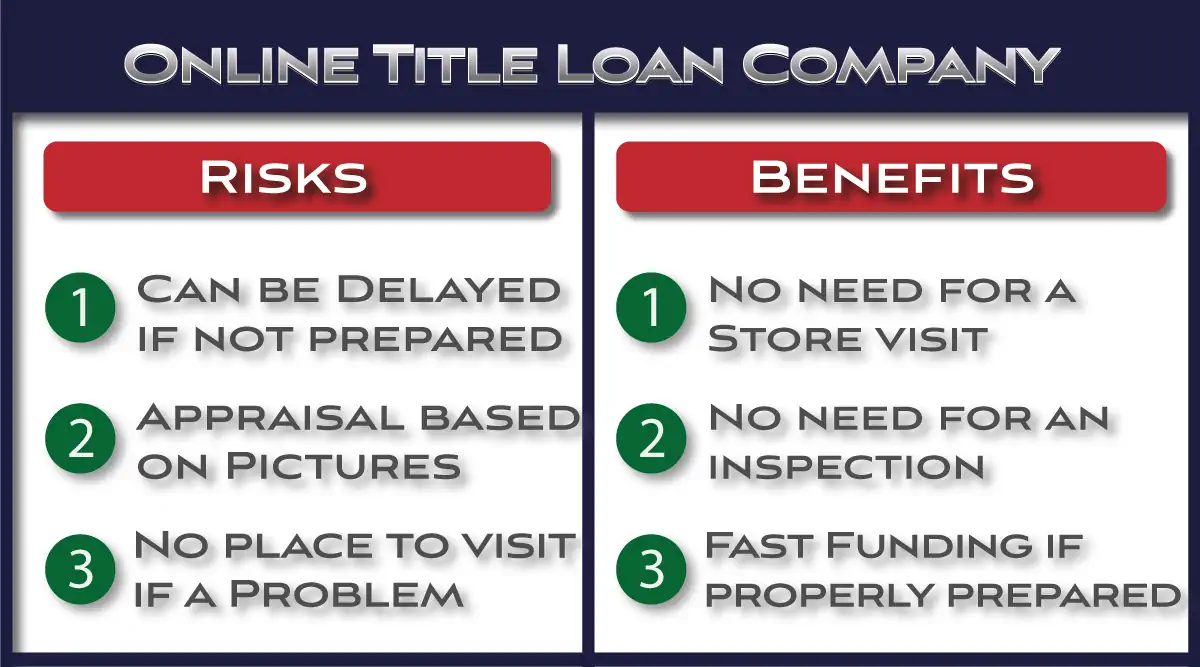 This post discusses how each type of loan works, the requirements, benefits, and costs. We hope this helps you make a decision when considering an online title loan.
How does an Online Title Loan Work?
The first type of online title loan, from a lender that offers traditional loans, starts with an online application. This application is similar to the application you fill out when you visit a lender. It requires your personal and vehicle information.
You submit the application and wait for someone from their underwriting department to review it. This is usually done quickly because title loans are one of the fastest and easiest ways to get a loan.
Learning how to get a title loan only takes a few minutes and can help you understand the complete process.
Once approved, the lender will send you a loan offer. The offer is contingent upon a vehicle inspection, identity confirmation, and signature on the title loan agreement.
This part of the loan process is very similar to going to a brick and mortar lender.
You will have to drive to the location designated by the lender to complete the process. This will include a vehicle inspection, providing your title, and signing the loan agreement.
Depending on the lender, you may receive your funds later that day or within the next few days. Preparing properly like Fast Title Lenders recommends helps ensure same day online title loans.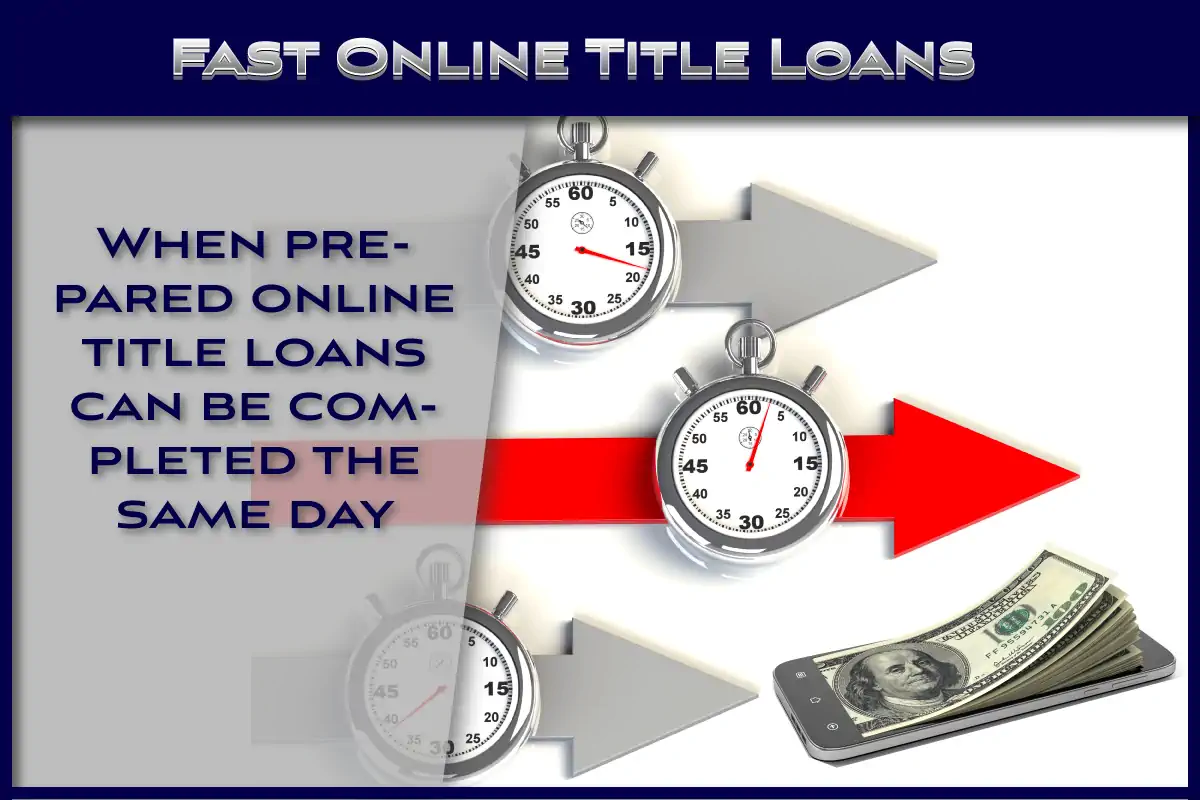 From that point on, the loan works the same way any other title loan from that lender works. You make your payments and communicate with the lender the same way you would if you had completed the loan in person.
As always, make sure to make your payments on time as defaulting can result in repossession.
How does a No Inspection Online Title Loan work?
As mentioned, there are title loan companies offering online title loans that do not require a physical vehicle inspection and complete the entire process online and through the mail.
This process begins with an application, similar to the previous type of loan, however it does require additional information. These are often call Online Title Loans with no Inspection.
Online Only Title Loan Requirements:
You will need to provide a copy or picture of your Title, Drivers License, and additional supporting documents (proof of income, proof of insurance, etc.). Additionally, you will need to send pictures of the vehicle's exterior, interior, and odometer. Learn how to take pictures for an online title loan.
Some online only lenders collect additional information related to your employment, previous residences, and personal references (as many as six). They may also run a credit check so be sure to ask before applying.
Once they have all of your information, the title loan company will send you an offer letter and mailing label. You will need to print both of them. The offer letter usually has an identifying code on it.
In most cases, you will place the letter inside the vehicle so the code is visible through the windshield.
Then you will take a picture and send it to the lender. You will use the mailing label to send them your vehicle title. They will fund your loan after they receive the title and verify your information.
This process can vary and takes longer than visiting your local lender.
Making Payments:
Once funded, you make your payments following the lender's instructions. Depending on the lender they may accept payments by debit card through an online portal, or may require a Western Union payment every month.
It is important to find out how the lender accepts payments to make sure it is convenient for you.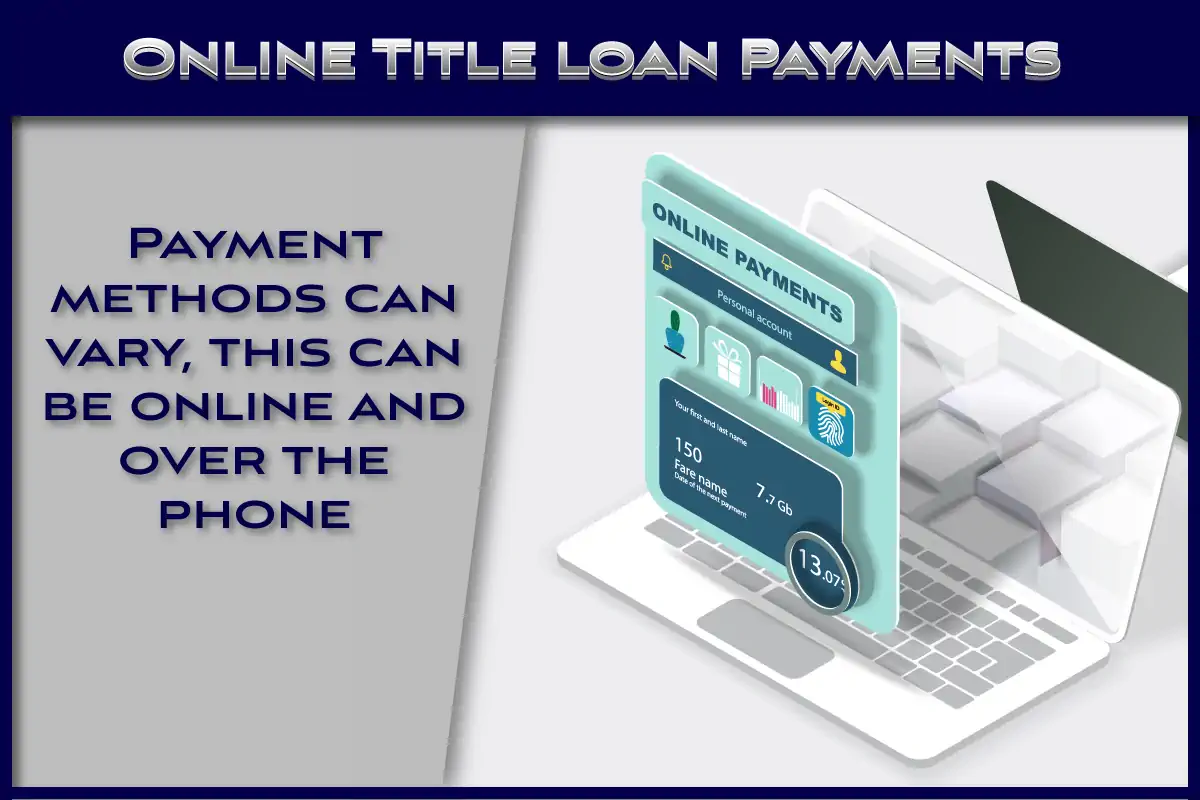 Definitely confirm it is a payment method you are comfortable with. If you miss a payment and your car gets repossessed, not having a local office to call or visit may add a layer of frustration.
Benefits of Online Only Title Loans:
As discussed there are two different types of online title loans. The first is a loan with a traditional loan company where part of the process is completed online.
There is not really any benefit to this type of loan unless you can negotiate a lower rate as a result of the lender's decreased overhead.
If you are paying the same rate, you are better off just visiting the lender. Your loan will be funded that day, you will not have to wait for the cash, and you will also have somewhere to go to deal with problems if needed.
The benefit of the second type of online loan, the completely online title loan, is that you do not need to leave your home. This assumes you can print out the necessary documents and mailing label if necessary.
For those without a local lender this can be a significant plus. Not having to drive to a lender, especially if one is not close, is a significant benefit that can save a lot of time.
Risks and Drawbacks of Online Only Title Loans:
In addition to benefits online title loans also have drawbacks, or risks. This case is no different. We can make a comparison to online shopping for anything to describe the drawbacks.
You have to wait for your funds just like you have to wait for whatever you ordered online to be delivered.
Similarly, if there is a problem with your transaction (in the case a Title Loan), there is no local store or office for you to go to. This is similar to purchasing a product form an online retailer and having no store to return an online purchase.
A summary of the drawbacks to dealing with an online lender:
Waiting for your funds.
Going without a Title if there is a problem with the loan.
Having no office to visit to make payments or deal with problems.
Interest rates can be high.
Some completely online title lenders also require additional personal information. This usually includes your work address and contact number and several (sometimes as many as 5-6) references.
Be aware that if you miss a payment with an online lender they may contact your work and any of the references you provided.
Online Title Loan Costs:
The costs of online Title loans can vary depending on the Interest Rate and fees associated with the loan. In the states where title loans are permitted and regulated, the interest rate is usually capped and the fees are also limited. Still, the rates can vary significantly from state to state and lender to lender.
The fees associated with the loan and the interest rate may be high. Remember you are pledging your vehicle as collateral.
---
It's worth taking a look at how the lender operates and finding out exactly what your costs are. Also, don't forget to find out how to make your payments and the process for getting your title back.
These vary from lender to lender as well. Understanding title loan costs in general will help you decide if the cost is worth the convenience.
---
---
Conclusion:
Online Title Loans can be a convenient option if you are willing to deal with the potential drawbacks. This may be a viable option if you live in an area that does not have local title lenders.
As with any title loan, make sure to do your research first and find out the reputation of the lender you choose to do business with. Feel free to use our car title loan calculator to estimate costs associated with the loan.
Over time, the reduced overhead associated with online lenders should bring rates down. Unfortunately, convention business rules have not applied to this type of business. If they did, several lenders (competitors) within very short distance should have already decreased rates. Only time will tell.