If you are looking for a car title loan one of the first questions you will ask is "What do I need for a title loan?". Title loans are one of the easiest loans to qualify for because they are secured by the vehicle used for the loan.
Like all loans, car title loans have certain requirements. you will need to meet some criteria to be able to successfully apply for, get approved, and get the loan funded. This is what you will need to get a car title loan.
What do I need for a Title Loan?
To get a Title Loan, at a minimum, you will need the following: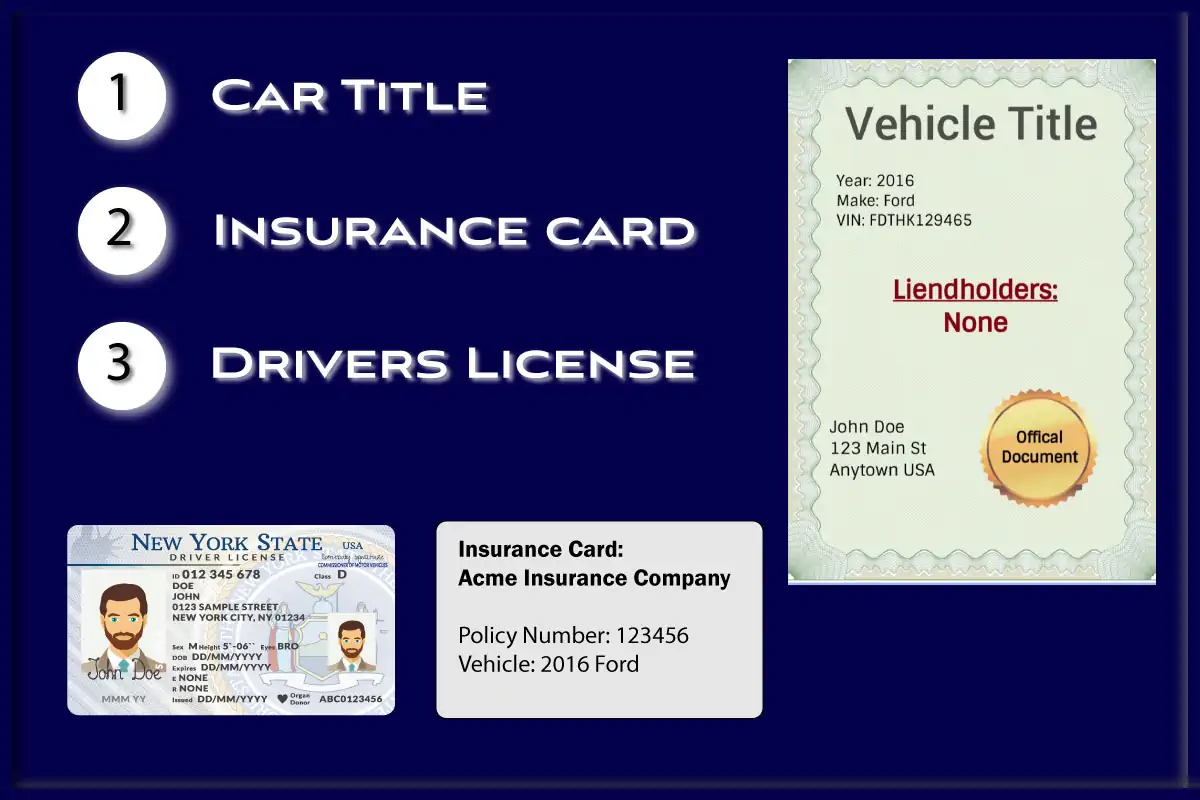 A Vehicle
Lien Free Title
Drivers License
Not all vehicle owners have a copy of their title. In some cases it may be possible to get a title loan without the title, but it is generally easier when you have a lien free copy. In addition to these three general requirements different lenders may require additional information. We discuss this in detail in our title loan requirements, so we will summarize here.
Each lender has specific requirements defining what you will need to get a title loan.
In addition to the three previously listed items, you may also need:
Insurance Information
Proof of Income
Proof of Address
What do I need for Most Title Loans?
These items should be enough to get a title loan with most lenders (they are with Fast Title Lenders). Not all lenders require all of these items, so you will want to check with your lender to confirm exactly what you need to get a title loan.
Fast Title Lenders, for example, considers the Title to count as proof of address, so an additional document is not required. Some lenders will require a utility bill or bank statement to verify address.
Other Title Loan Requirements
In some cases, certain lenders may require additional information and/or agreements. To get a title loan with these lenders, you may be required to provide these additional items. These requirements are not as common, but still possible depending on the lender you choose. These additional items can include:
A spare key
A GPS device placed in the vehicle
Roadside assistance and/or service plan
What kind of Credit do I need for a Title Loan?
One of the benefits of a car title loan there is no credit check. This means you can get a title loan with good credit, bad credit, or no credit. You are using your car as collateral so your car is your credit. This usually means no hard inquiry on your credit report, but check with your lender if this is a concern.
What do I need for a Title Loan Online?
If you are considering an online title loan you are probably wondering "What do I need for a title loan online?". Online Title Loans usually have some additional requirements. This is particularly true for online title loans with no inspection and no store visit.
Because the lender does not have the opportunity to verify the conditional of the vehicle, they may require additional information to feel comfortable making the loan. If you are considering one of these loans, make sure you are comfortable providing this information. Additional item required for some online title loans include:
Vehicle pictures – pictures of all sides of the outside of the vehicle, the inside, the VIN number, and the odometer.
Personal references – Some online lenders require several personal references.
Employment point of contact – most online title lenders ask for an employment POC.
How much do Title Loans cost?
When shopping for a car title loan you are probably concerned with the actual cost of the loan. Title loan costs are directly related to the interest rate which is determined by the lender. Fast Title Lenders specializes in the lowest rate title loans at a fraction of the cost of other lenders.
Our Title Loan Calculator provides detailed title loan cost information. This, combined with our online application, makes getting a title loan with us fast and easy. Additionally, our title loan costs guide details how title loan interest works to help understand title loan costs.
What do I need to get a Car Title Loan – Summary
Car Title Loans are easy to qualify for, do not require a credit check, and are usually funded fast. Car Title Loans are meant to be short term loans, and when used responsibly can be the solution to a short term financial problem. If you are new to title loans, read our Complete Guide on How to get a Title Loan to learn more about how title loans work, how title lenders operate, and how to get the best deal on a title loan.