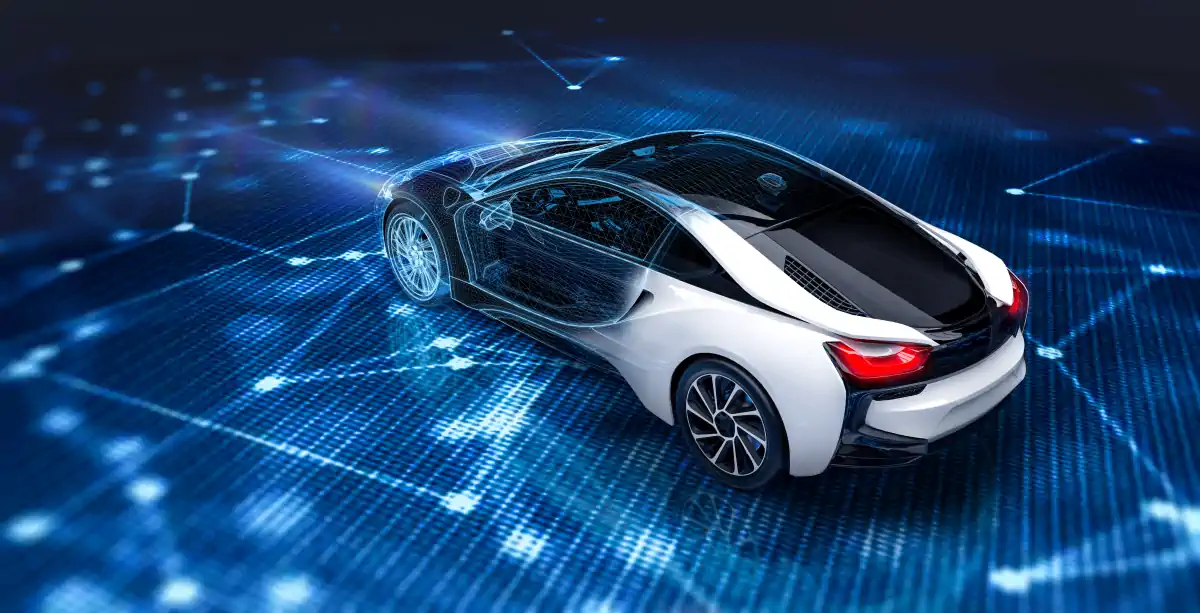 Online Title Loans
Car Title Loans Online made Fast and Easy:
Lowest Rates
Same Day Cash
Instant Approval
Free Quote 24/7
Online title loans are becoming more accessible to borrowers in states that permit these loans. Getting a title loan online is now possible without the need to visit a lender in person. In many cases the entire process can be completed directly from the comfort of your home.
In fact, you can complete an online title loan and have it funded the same day. This makes finding a title loan near your location much less important than finding an online title loan with the best rates and terms.
Covid-19 has changed the way we shop for and complete many financial services and transactions. Additionally, this had made online options for these services more important than ever. Fast Title Lenders specializes in online car title loans with easy and fast approval, a streamlined and optimized process, and your car is your credit.
What is an Online Title Loan?
An online title loan is a fast and easy way to borrow money using the equity in your vehicle as collateral for the loan. The best title loans have competitive interest rates, no loan origination fee, and no pre-payment penalty.
Some online lenders can take longer to fund than others. A direct lender will usually fund the loan quickly. If speed is important to you, then make sure to confirm funding times with your lender. Same day or 24 hour title loans are an option.
How do Online Title Loans Work?
Online car title loans work similar to in person vehicle title loans, with a few extra requirements. Many of the same practices apply to both types. To get a completely online title loan, first, make sure you meet the requirements.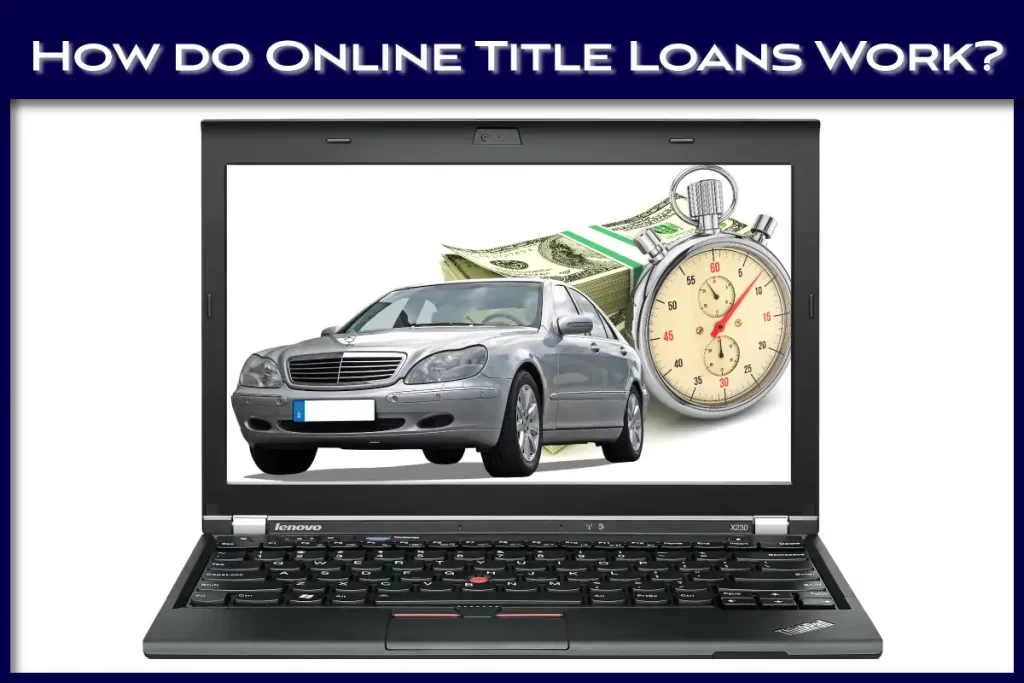 Additionally, you will want to ensure you make a good candidate, not everyone does. We recommend as the first step for any title loan, to use the title loan calculator to find a loan amount, and term, with a monthly payment that fits your budget.
Make sure you are able to afford the monthly payment. This is critical as missing payments on any title loan can result in the loss of your vehicle. The lender places a lien on your vehicle when you get a title loan. Defaulting on the loan can result in repossession.
Next, fill out the easy online application to start the process. Additionally, be prepared to take pictures of the exterior and interior of the vehicle including the odometer and VIN number.
General Online Title Loan Requirements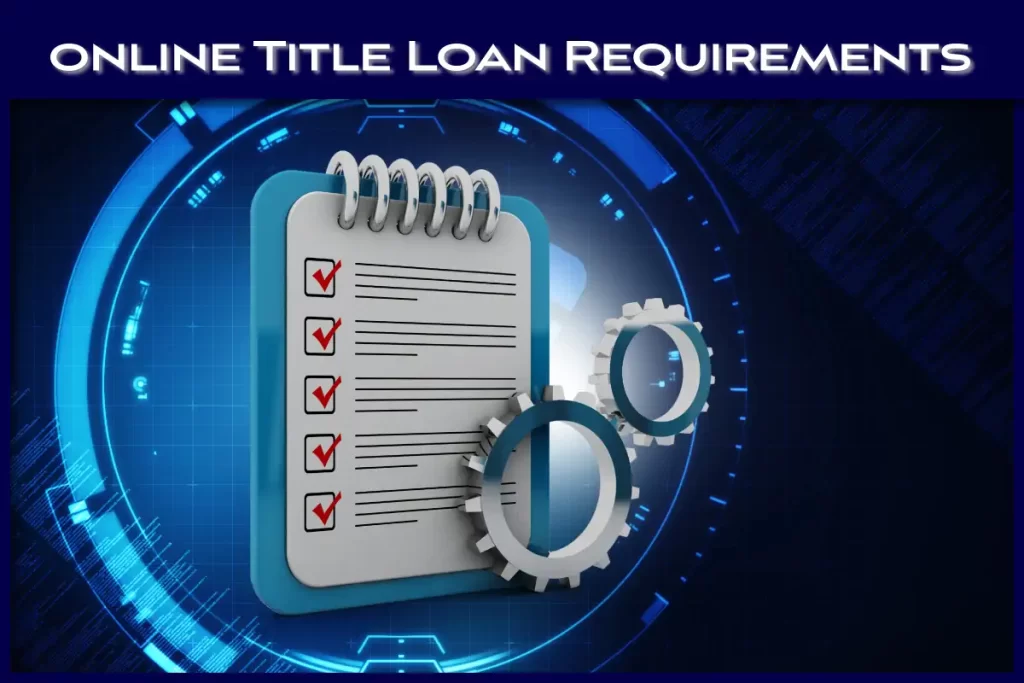 The requirements for online title loans are similar to the requirements for a loan from a brick and mortar location. The key difference is the requirement for vehicle pictures to allow for a "virtual inspection" of the vehicle's condition and confirmation of the vehicle's mileage and VIN number. Learn more about what is required to get an online title loan.
To qualify for a completely online title loan, from a direct lender, make sure you have the following:
Lien free title
Valid Drivers License
Proof of Insurance
Proof of Income (or ability to repay the loan)
Vehicle pictures (or the ability to take them when needed)
There are multiple types of "online title loans" and each will have slightly different requirements. In general, the requirements listed above will suffice depending on the lender. Some additional requirements may include:
Proof of Address
References
These additional requirements are meant to verify the location of the vehicle and the borrower; given that the process is completed online.
Lower Rates equal Better Online Title Loans
Shopping for an online title loan can be both confusing and challenging. A number of lenders and online title loan companies now advertise on the internet. This can make it a challenge to find a reputable company that charges reasonable rates.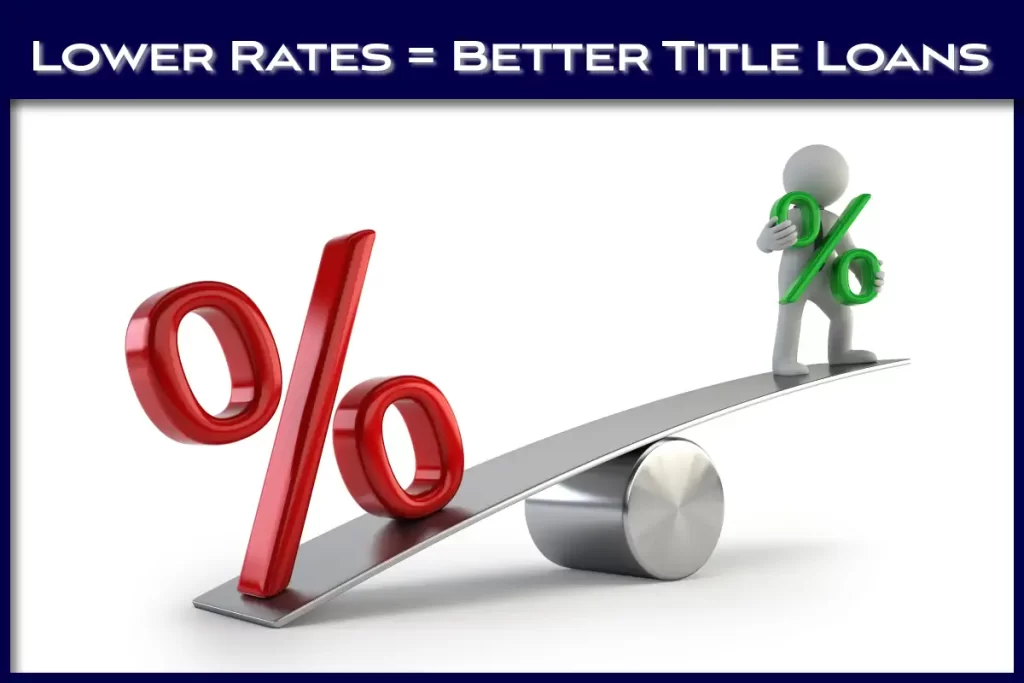 Fast Title Lenders has earned our reputation as one of the best title loan companies by following the principles we were founded on; honesty and transparency. This includes providing information related to online title loans, how they work, different types, and when they should and should not be used.
For example, they are short terms loans for short term financial problems. Some lenders have started making loans that last several years. This can be very costly, as illustrated in our title loan costs article.
Online title loans are not long term solutions and should not be used as such. Trying to make a title loan long term only results in excessive costs that can be very difficult to repay.
Online Title Loans at a Lower Cost
The reason we can offer better and cheaper title loans is because we offer lower rates than most other lenders. This equals lower payments for the same loan. Additionally, keeper the loan term short will help reduce the total loan cost significantly.
Choosing your lender is a critical step in the loan process. Additionally, understanding how these loans work is important to being able to make an informed decision. An informed decision is the best decision.
These loans can be expensive and alternatives should always be considered. Additionally, unless you are completely sure about ability to repay the loan they should be avoided.
---
Different Online Title Loan Types:
At a high level online title loans can be divided into two main types. Some loans can be completed 100% online, while others require some parts of the process to be completed in person. They include:
Completely Online (100% Online)
Hybrid Online
A summary of each different type is provided in the following sections:
1. Completely Online (100% Online)
Completely online title loans with no store visit are becoming more widely available to customers. In fact, if you live in a state that allows car title loans, chances are you will have access to an online option. You may be able to get a car title loan completely online with no store visit.
This means you may be able to get a car title loan with no need to visit the lender during any part of the process. These loans are approved and completed online quickly and begin with an online application.
There are two types of these loans; with and without inspection. For loans that require a third party inspection you will need to visit this inspector before your loan is funded. These are title loans without brining in the car.
If you are unable to do this or prefer not to, you can get a loan with no inspection and no store visit. These types of online car title loans use the information provided by you to determine the value of your vehicle.
No Inspection and no store visit
Online title loans with no inspection and no store visit mean you are not required to visit the lender or a third party inspector. The lender will appraise your vehicle virtually and assign a value using the pictures of the vehicle and a vehicle history report.
There are both advantages and disadvantages to this type of loan.
Because the lender is unable to inspect the vehicle, the value placed on the vehicle may be lower than if the appraisal was done in person. These loans, with no inspection, can be for situations similar to the following:
You are unable to drive the vehicle to the lender or third party appraiser as a result of the vehicle being in storage.
The location of the vehicle is not near any lender or third party inspector, so driving to one would be an inconvenience.
The vehicle value is significantly more than twice the value of your requested loan amount, so a slightly lower appraisal does not affect your loan.
These loans allow you to complete the entire process online without the need to visit a lender or inspector. You will need to provide accurate and recent pictures of your vehicle to verify its condition and VIN. These are also referred to as instant online title loans by some lenders. These could be a solution for those looking for a title loan online no credit check no inspection.
2. Hybrid Online
Hybrid online title loans have a part of the process is completed online and a part is completed in person. These loans are often from lenders with brick and mortar locations.
Generally, the application and some of the paperwork is completed online; and the vehicle appraisal and loan funding is completed in person. In some cases if the loan requires an inspection this is the part of the process that is completed in person.
This type of title loan has a number of benefits and drawbacks. The main benefits are speed of getting the loan and the ability to have a place to go if there is a problem.
The loan is funded fast; usually as soon as you visit the lender. The main drawback is the need to visit the lender. Many searching for car title loans online are looking for a completely online solution.
Online Title Loans with Inspection
One type of hybrid online title loan is one with an inspection, either by the lender or by a third party. These loans are similar to completely online title loans with the additional requirement of visiting a third party appraiser (or inspector) prior to loan funding. The rest of the loan process is completed online.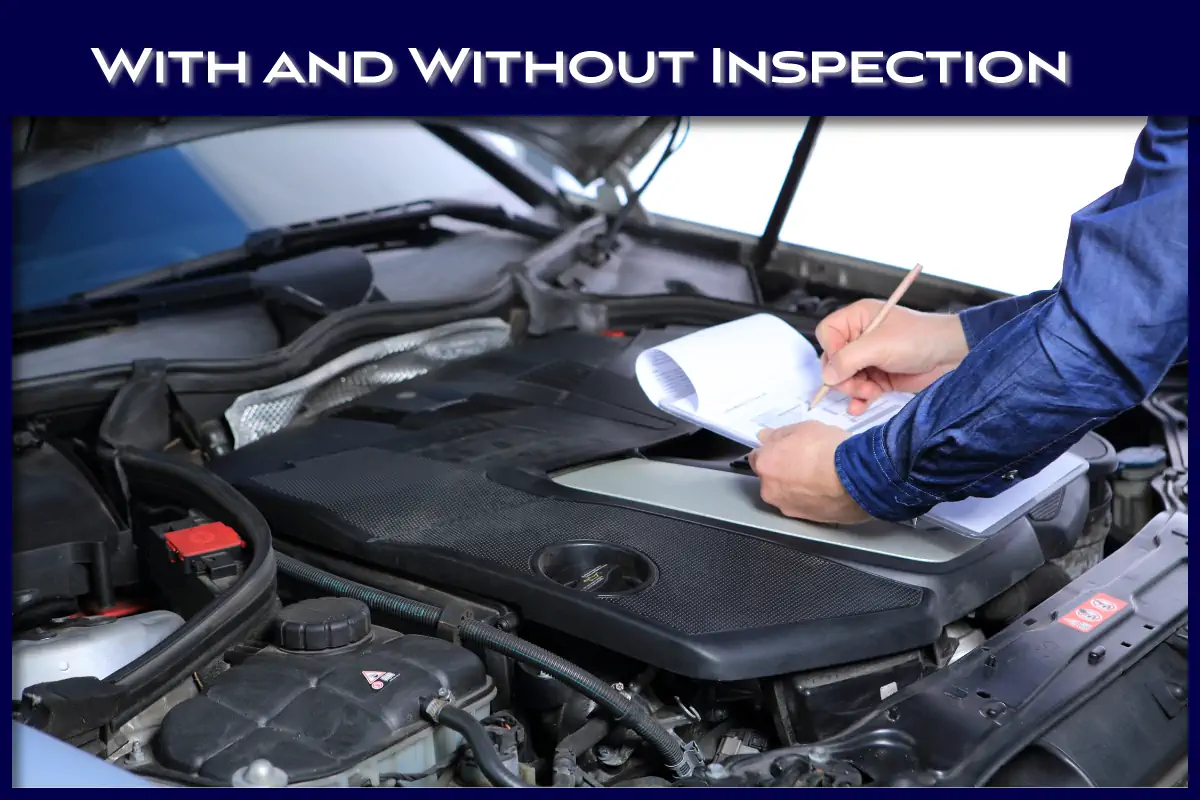 You provide the lender with your information including vehicle pictures and other requirements. A contingent offer is made and you visit the appraiser for a vehicle inspection to confirm your vehicle information. This has both benefits and drawbacks.
The main benefit is the value if the vehicle is assessed in person which can result in a more accurate valuation. The main drawback is you need to visit the appraiser; versus the completely online process that can be completed entirely from home.
Online loans that require an inspection allow the lender to accurately appraise the vehicle. The inspection can take place at the lenders location or a third party appraiser the lender works with.
If the lender has a location in your area, this may be the fastest way to complete your loan. Additionally, because the lender can see your vehicle, the vehicle value may be more accurate than just going off of pictures.
---
Online Title Loan Process Overview:
The online title loan process is streamlined and optimized. This removes wasted time and ensures the loan is completed fast. When we refer to the process, we are talking about the high level process of:
1. Apply, 2. Get Approved, 3. Loan Funding, 4. Make your Payments, and 5. Get Your Title Back.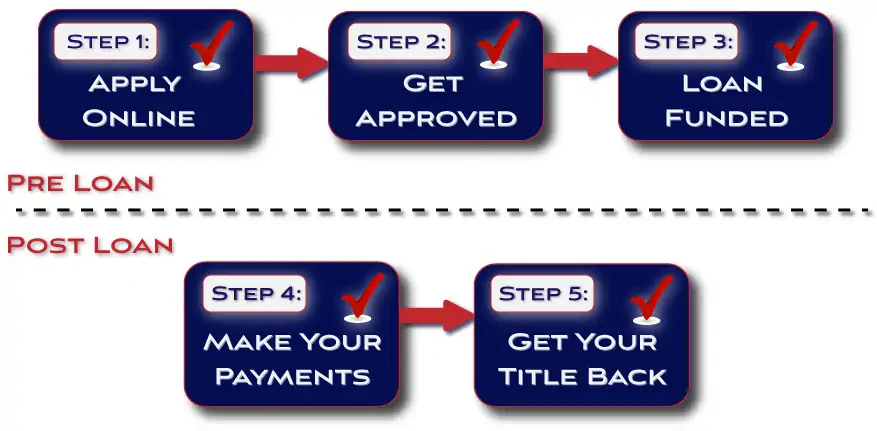 This process applies to each type of car title loan online and includes:
1. Apply:
All online loans allow you to at least begin the loan application process online. Usually you can apply online with a quick and easy approval process with no credit check. Apply 24/7.
2. Get Approved:
To receive approval and a loan offer, the lender must place a value on the vehicle. This part of the process varies depending on what type of loan you are applying for and the contents of you loan application.
This can either be completed in person or online. To complete it in person, you visit the lender or third party appraiser. To complete it online you will need to send in pictures of your vehicle and title.
3. Funding:
Similar to the loan offer, loan funding can be completed in person or online. If you completed the loan offer online then funding will likely be completed online. The lender will fund your loan by one of several methods including direct deposit into your bank account, debit card, or mail you a check.
4. Payments:
Finally, once your loan is funded you make your payments just like any other title loan. Try to find easy payment options that allow you to pay online or over the phone. Our goal is to make it easy and convenient for customers to make payments, not difficult. If your lender requires you to visit them for every payment, you need to make sure that is feasible.
5. Get your Title Back
The final step is easy and is complete following completion of the last payment. You get your title back and our done with the loan. Most borrowers say this is the best part of the process.
---
Preparing for an Online Title Loan
Preparation is key for any title loan and even more important for online options. Online title loan preparation is a step that is not often discussed by other companies, however Fast Title Lenders believes all customers should take the time to prepare.
This includes both finding the best loan and getting your information ready for applying.
Our recent post about getting the best online title loan covers the preparation steps in detail. This includes finding the best title loan company, having information ready for applying, taking vehicle pictures, loan funding, and repayment.
Taking Vehicle Pictures
Perhaps the biggest difference in requirements for car title loans online versus in person is the need for vehicle pictures. While this is not an overly complicated task, it is important to pay attention to the details.
Remember, the lender will not be able to inspect your vehicle in person, so the more details you can provide related to your vehicle the better.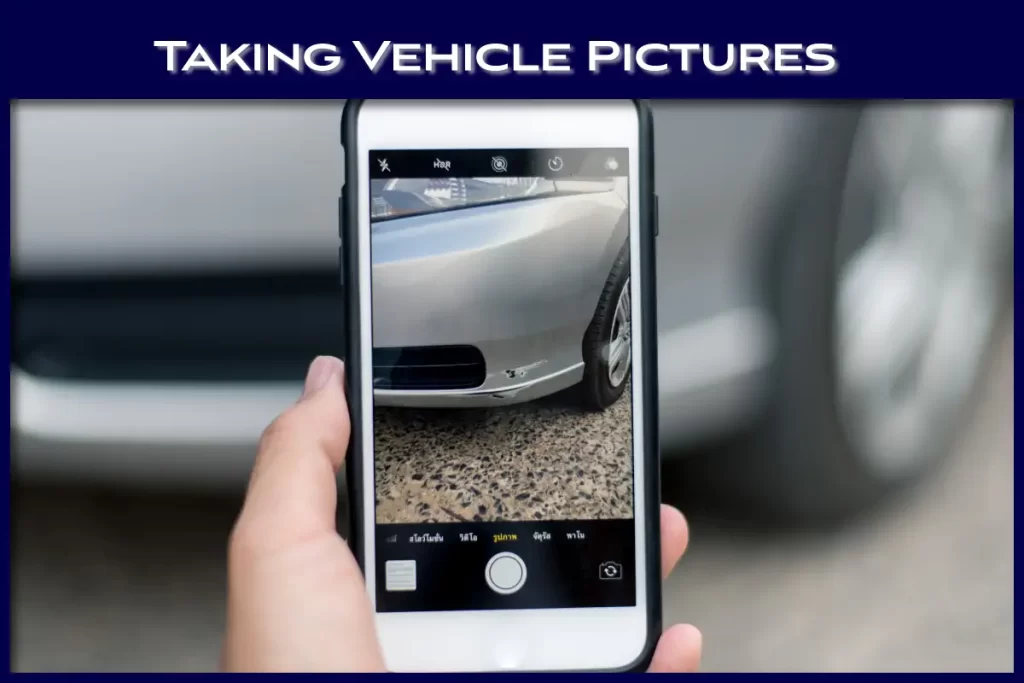 You will want to include pictures of the front, rear, both sides, interior, and VIN. Also, if there is anything addition (like body damage), make sure to capture that in the images. This will give the lender the details they need to make an accurate appraisal. Learn more about how to take pictures for an online title loan.
Online Title Loans Direct Lenders:
Title loans can be initiated from a direct lender, an affiliate of a direct lender, a broker, or a title loan company. Some title loan companies also act as intermediaries helping you find the closest lender in their network.
Additionally, some states have regulations where the lender is a third party. In these cases the title loan company acts as a broker and the lender is a third party.
This can all be confusing. Like some other financial transactions it can be easier to go directly to the lender. Your choice of which type of company to work with is your decision; just make sure to always read any agreement in full before signing.
Direct Lender Benefits
There are several benefits to getting an online auto title loan with a direct lender, with the most obvious being you can complete the process without the need to leave your home. This can be a benefit if you need a title loan for a motorcycle, especially during winter months.
Regardless of whether you choose a direct lender or a broker, make sure to find out the costs of the loan before signing a loan agreement. Get several quotes and compare costs.
You will need to be prepared and equipped to take clear pictures of your vehicle. Also, you may need to wait for your funds to be direct deposited or mailed. With a regular title loan you can visit the direct lender and get the cash in about 30 minutes.
Funding Timeframes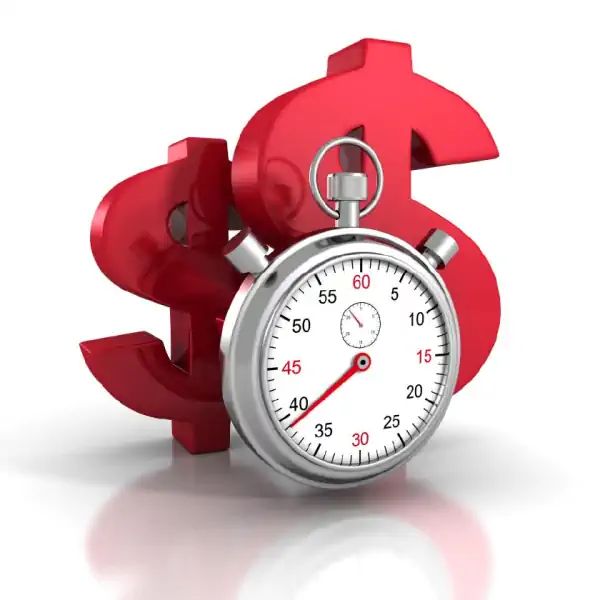 Some lenders are advertising "Instant Title Loans". The reason is simple, users are searching for the term so lenders are advertising it.
Unfortunately, no title loan is funded instantly. In fact, some "Instant Title Loans" actually take longer to fund than traditional title loans. Before proceeding with the loan agreement make sure to find out how long it will take to fund your loan if this is important to you.
If you need cash immediately, make sure to confirm with your lender the funding time frame. Fast online loans is a more accurate description than instant. Generally, title loans are funded fast. This is especially true when compared to other loan types.
There are cases where funding can take longer than expected. Meeting the requirements before applying will help ensure your title loan online is fast. Also, an instant online title loan with direct deposit is usually fast.
---
How much can I Borrow?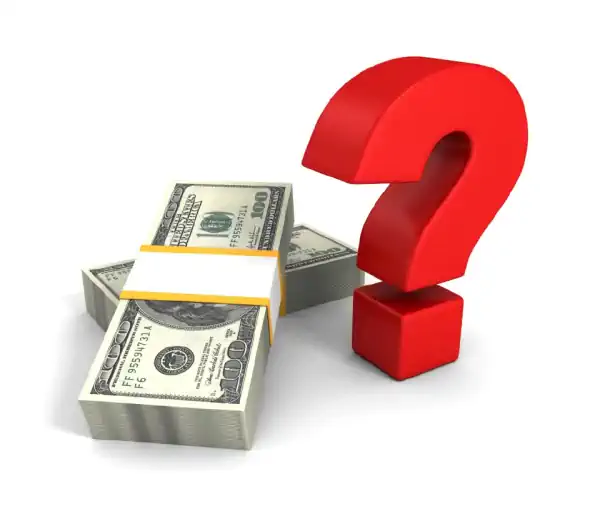 How much can I borrow with a car title loan online? The answer depends on the value of your vehicle.
The amount you are able to borrow with an online auto title loan is very similar to a brick and mortar loan. The maximum is usually 50% of the fair market value of the vehicle assuming you have the ability to repay the loan.
For example, if the vehicle is worth $10,000, then the maximum amount you could borrow would be $5,000.00. This is assuming you have income to support the payments.
Borrow as much as you need based on the vehicle value and ability to repay the loan. To check another loan amount and payment use our car title loan calculator.
In addition to the question "How much can I borrow?", it is also important to ask "How much will this cost?". Car title loan costs are key to deciding if one will meet your needs.
Understanding the cost is also a key to being able to negotiate an affordable title loan. We frequently publish cost, process, and other information about all things title loan related.
This ranges from telling customers not to borrow the maximum amount when it doesn't make sense to providing information on how to get the best deal.
---
Are Credit Checks Required?
Fast Title Lenders does not check credit, however some online lenders do. There is a good reason for this. There are some lenders advertising loans far exceeding 50% of the fair market value of the vehicle, with some as high as 85%.
Cars depreciate (decrease in value) over time. Making a title loan for 85% of the fair market value presents a higher risk for the lender and is not allowed in many states.
Specific state maximums are shown here on page 2. As vehicles depreciate a default is more likely to result in a loss for the lender if they have to repossess and sell your vehicle. Make sure if you apply with another lender to find out if they check your credit.
Bad Credit or No Credit:
One of the benefits of a car title loan is your car is your credit. This means you can still qualify even if your credit score is not perfect, meaning bad credit is usually not a problem.
You use your vehicle as collateral for the loan, therefor your vehicle is your credit and loan amounts are based on vehicle equity and not your credit score (good or bad credit is usually fine).
How Vehicle Value can Affect your Loan
The value of your vehicle is an important aspect in a title loan transaction. So, make sure you have a good idea of your vehicle's value before applying for a loan. Typically, you can borrow up to 50% of the vehicle value.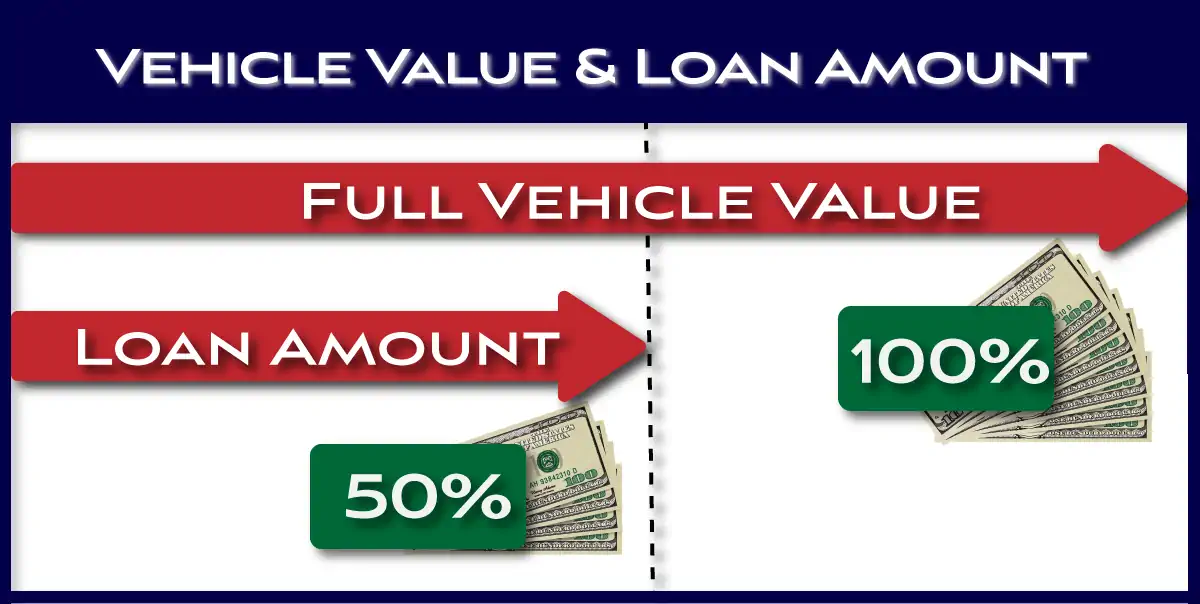 There are several ways to estimate the value of your vehicle. All start with an honest assessment of the vehicle's condition (interior, exterior, and mechanical).
Mileage also plays a big role in the calculation. Once you have an honest assessment of the condition and the mileage, use one of the online vehicle valuation tools like KBB and NADA.
Finally, vehicle history also plays a role in calculating your vehicle's value. This is especially true for loans with no inspection, as the lender will not have a chance to see the vehicle in person. Carfax and Autocheck are the two largest providers of vehicle history reports.
Cost Control Tips
When getting a title loan online, or any car loan for that matter, do not focus solely on the monthly payment. While it is definitely important to ensure you monthly payment is affordable, it is just as important to ensure your loan is affordable. Some online lenders are amortizing these loans for 24, 36, and even 48 months.
A longer loan term does lower your monthly payment, but, as the rate increase the effect this has on the total loan cost can be significant. As the rate increases, increasing the loan term can have unexpected affects.
For example, a $1,000 title loan with a 36 month term and a 15% per month interest rate costs over $5,400 to repay. That is not an affordable loan for most borrowers. To see other loan amounts and rates with graphs check out our post on what these loans really cost.
Online Title Loan Refinance
For borrowers that may already have a title loan it is possible to refinance the title loan online. This is an option for those looking to improve the terms of their loan agreement. There are multiple reasons to consider refinancing an existing loan:
Lower your rate
Reduce the monthly payment
Renegotiate the payment terms
Change the length of the loan
This is not an exhaustive list, there are certainly other reasons as well.
Summary
Online title loans, with no store visit, and with no inspection, are, in many terms, a lot like regular car title loans but with some additional requirements and risks. Choose the type of loan that best meets your needs.
These risks can add up to costs and in some cases even a credit check. As with all loans, it pays to do your research and find the best lender, with a good reputation, offering decent terms. At Fast Title Lenders we have done our best to provide related information to help inform potential customers about online title loans.
This includes providing alternatives to title loans. It is important to look at all options before signing any loan agreement. Doing so will help avoid getting stuck with a loan you can't get out of that is nearly impossible to repay.